Southport some extra bounce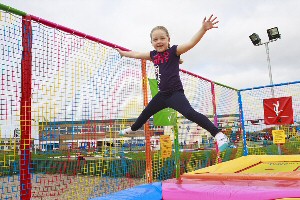 FAMILIES holidaying in Southport over September 2012 and onwards may now have an additional spring in their step thanks to a national trampoline manufacturer, supplier and retailer. Super Tramp has supplied Pontins Southport Holiday Park with a 6-bed trampoline system so that young people staying at the park will be able to get fit while on holiday.

Martin Schofield, Chief Executive Officer of Super Tramp, explained:- "Trampolining is good for your health and co-ordination and it is a fun and easy way for people to exercise. We worked closely with staff at Pontins Southport Holiday Park, which is located on Shore Road in Ainsdale, to make sure they had the right system to meet their requirements. We supplied the park with a 6 bed Modular Trampoline System. Each trampoline is competition size and powered by 110, 11 inch springs, which help to give the user lots of bounce."

Pontins has been operating for more than 60 years and provides traditional family holidays at 5 coastal locations across the UK.

Mark Teare, General Manager at Pontins Southport Holiday Park, said:- "We decided to install the trampolines because it is a fun way for youngsters to get some exercise while they are staying with us. Super Tramp helped us to choose the best trampoline system for our needs and we were particularly drawn to how colourful and eye-catching they are. Our visitors have already been making good use of them and they are proving to be very popular. Similar systems will soon be installed at our four sister parks across the country."

Super Tramp was founded more than 25 years ago when it introduced the first garden trampolines into the UK. Back in the 1980s the family-run business was pioneering, now it is seen as one of the nation's best-known suppliers of trampolines to retailers and consumers.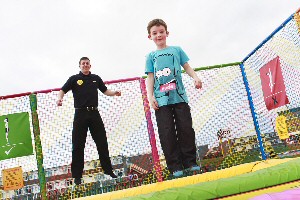 Martin added:- "We are delighted that visitors to Pontins Southport Holiday Park have been enjoying the trampolines. We are looking forward to helping the company install similar systems at its other parks."
Since Super Tramp's launch it has extended its product range, while constantly striving to ensure safety and performance. It now offers a collection of trampolines suitable for garden play and family entertainment. Martin continued:- "We pride ourselves on customer service and attention to detail – for example, all our trampolines are equipped with the exact number of springs needed to give the recommended user the best bounce possible." Super Tramp trampolines are available for all the family and can fit in most outdoor spaces and gardens of all different shapes and sizes. It also stocks trampoline replacement and spare parts to fit most trampolines, including other brands too.

Review of busking policy
THE MAYOR of Liverpool has announced an extensive review of the City's street entertainment policy, with the aim of bringing forward amended proposals. Discussions with all stakeholders; including representatives of the busking community; follow a legal challenge to the recently introduced policy. It had included the introduction of permits, an increase in the number of official pitches and a booking system designed to make the system fairer by giving more buskers the opportunity to perform.

Mayor Joe Anderson said:- "Buskers are an essential part of the vibrancy of Liverpool City Centre and, contrary to some of the misleading and overblown commentary about the changes, it was never our intention to limit their activity. The aim was to put arrangements in place which would benefit buskers by bringing about a fairer system which gave opportunities to more performers and increased the public's enjoyment of the City Centre atmosphere. What we were aiming to do was tackle issues such as loud music blasting out for hours on end which city centre businesses rightly complain to us about. This policy was agreed at the beginning of June at a public meeting of the Cabinet, after consultation and input from a number of interested parties, including buskers. In August a written objection was received from lawyers acting on behalf of one of the buskers, threatening legal proceedings. As well as contesting the overall policy, the lawyers also brought a completely unnecessary emergency application to try and prevent us from reserving the right to restrict an area for busking activity for health and safety reasons at the Mathew Street Music Festival. The Judge threw out that application and found in our favour, agreeing that we had the right to take those steps, given our concern for public safety. While I am satisfied that the proposed policy is lawful and reasonable, I am more than willing to listen to the comments and observations of those who have some concerns. It was always intended to be subject to review and so we will now hold one, to which all interested parties will be invited to contribute. I have never seen the necessity of legal proceedings, as the city council has been more than willing to engage with the parties involved, but the court timetable now in place as a result of proceedings having been issued, would mean that our review would have to be completed in a relatively short time to avoid having to go back to court. That obviously places a time constraint on the review and I don't want it to be rushed in any way, or for anybody to feel they have not had an opportunity to have their say. The common sense approach is for us to agree not to implement the policy so that the unnecessary court proceedings, with the associated costs for both sides, can be brought to an end and we can instead get on with working together to deliver a solution which will satisfy everyone. I am therefore instructing the City Solicitor to contact the Solicitors who brought the Judicial Review proceedings immediately to agree an Order to be put before the court which will stop the legal proceedings."
Airport bosses head for Abu Dhabi World Route Development event
THE Senior Management from Liverpool John Lennon Airport (JLA) along with colleagues from owners The Vantage Airport Group are heading to Abu Dhabi this week to meet with airlines from across the globe at the 18th World Route Development Forum. The conference, taking place from 29 September to 2 October 2012, is an annual global gathering of the world's top airlines and airports and is seen as the meeting place for the world's route development industry. The team attending from JLA includes the CEO, the Commercial Director and other Senior Airport Management who will bemeeting with a number of key decision makers from airlines from the UK, Europe and elsewhere across the globe, as the Airport looks to develop business further. High on the agenda will be the recently completed £12m terminal developments as the Airport team briefs airlines on the significance of these improvements and the subsequent extremely positive feedback from customers now using the airport. Meetings are already booked with approximately 20 airlines during the four day event. Craig Richmond, CEO commented:- "Having invested over £12m in the terminal here at JLA, we believe these recent improvements have created a 'best in class' passenger experience. This event gives us a great opportunity to tell airlines about the changes that have taken place and the opportunities available to develop their business from here as a consequence."