Merseyside's very own Walrus has notched up a 'double first'.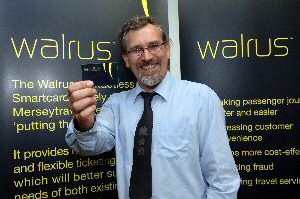 WALRUS; Merseytravel's smartcard, which will help to revolutionise transport in the city region; has marked its first birthday with a UK 'first' in smart ticketing. The 3 month trial of a smartcard 'ticket at home' system, involving 50 members of the public, has exceeded all expectations, and Merseytravel aim to develop the system alongside the full roll-out of the Walrus smartcard next year (2013). In the year since Walrus was launched, work has concentrated on installing all the technical equipment which will allow the system to work across public transport in the region, but the Walrus will 'hit the streets' extensively throughout 2013 and the new at home ticketing system will be part of the programme. The new system allows customers to download smartcard products such as travel tickets instantly onto their card through a reader attached to their PC. "Response to the trial has been overwhelmingly positive, and we can see many benefits, not just for individual customers, but for the travelling public as a whole; reducing queuing, for example. Merseytravel always believes in innovation, and this is a very good example," said Cllr Liam Robinson, Chair of Merseytravel.

Traditionally, smartcard systems mean that the user has to go to a top-up point such as a ticket vending machine or manned kiosk to top up their smartcard, or to buy smart products online and collect them at a rail gate or bus, usually 24 hours later.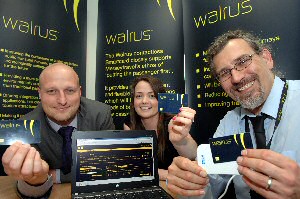 The instant system has been a big hit with Mark Williams from Chester – 1 of the 50 'triallists'. He said:- "As a usual season ticket traveller, having a Walrus card is so much more convenient, it means I don't have to get to the station 20 minutes before my train is due to get my ticket organised which is great and really speeds up my journey." Details of the 'ticket at home' system and the initial trial feedback will be revealed to industry leaders at a 2 day seminar being held at Merseytravel's HQ in Liverpool on 25 September and 26 September 2012.
Liverpool Astronomical Society - Meeting Update
THE next Liverpool Astronomical Society will take place at The Quaker Meeting House, 22 School Lane, Liverpool, L1 3BT, on Friday, 5 October 2012, at 7pm. The meeting will be tagged as:- "The William Lassell Lecture" and looks at:- "The Victorian Transits of 1874 & 1882". The guest speaker on the night will be:- Dr Allan Chapman, from Wadham College, University of Oxford. the event is free to attended and more details can be obtained via calling:- 0151 2208718 or visiting:- liverpoolas.org.

Cold callers banned from another area
DOOR-to- door salespeople are to be banned from another area of Liverpool. A No Cold Calling Zone is being set up to cover 142 homes in Basil Close, Basil Road and Francis Way, Childwall following requests by residents. This follows the success of the City's 1st such zone which was introduced by the City's Trading Standards service in 5 roads in Woolton last year. The main aim of a No Cold Calling zone is to reduce doorstep crime and distraction burglary and, as such, prevent rogue traders. However, it also stops any unwanted cold callers and gives residents the confidence to deter callers who they do not wish to deal with. Cold callers who persist in the area would face prosecution as they would be seen as carrying out aggressive acts. The zone is not designed to prevent people from distributing leaflets or catalogues. It is also not designed to stop people on legitimate business such as gas, electricity and water meter readers. It has been now been officially launched on 27 September 2012, at a community event, attended by the Lord Mayor, Councillor Sharon Sullivan, Luciana Berger MP, local councillors, Merseyside Residents Network, Merseyside Police as well as residents.
"Our first no cold calling zone has proved to be a major success. It has stopped a constant stream of callers at houses and has been warmly welcomed by the residents. I am confident that this new zone will have the same effect. It means vulnerable people cannot be preyed on by rogue firms. And, even with legitimate traders it stops people feeling pressured into buying goods. We always said that if the initial zone was successful we would look at extend it to other areas if that is what is wanted by residents." said Councillor Ann O'Byrne, cabinet member for housing.

Local councillor Jeremy Wolfson, added:- "There is solid support from the residents for this scheme and the impetus for it came from them. There are a lot of elderly residents in these roads and they feel they are being pestered by constant callers. This zone will give them some peace and quiet."

Paul Taylor Chairperson of Merseyside Residents Network (MRN) said:- "Cold Calling is a area that MRN are passionate about, we are delighted to be able to assist in anything that prevents vulnerable and general members of the community staying safe from this type of activity."

A questionnaire completed by residents found unanimous support for the idea. This support was also reflected. in a meeting to explain the principles of the zone. The zone will be clearly marked with notices on lampposts and with stickers on doors.
Trust launches streamlined wheelchair service
WHEELCHAIR users in north Sefton and South West Lancashire will benefit from a new streamlined service from Monday, 1 October 2012. Southport and Ormskirk NHS Wheelchair Service brings together 2 teams on to a single site at Pimbo in Skelmersdale, serving users across Southport, Formby, Chorley, South Ribble and West Lancashire. There will be no change to clinics that run at Southport, Skelmersdale, Chorley and Leyland, and home visits will continue as normal where patients are housebound. The service provides and repairs wheelchairs for NHS patients who have a permanent illness or disability. Referrals are accepted from GPs, occupational therapists, physiotherapists, consultants, district nurses, and palliative or special care nurses. The service, which is operated by Southport and Ormskirk Hospital NHS Trust, is managed by Yvonne Baron. She said:- "With a single point of contact, we can provide a more streamlined and efficient service for our patients and customers and benefit from the team's considerable expertise being all in one place." The centre is open from 8.30am until 4.30pm, Monday to Friday. Telephone:- 01695 559142.