South Liverpool is going cycling mad this autumn
SUSTAINABLE transport organisation Sustrans has recently taken over guided bike rides in the south of the city, as part of their 'Fresh Air Miles' initiative. The family friendly rides, led by volunteers, have been re-launched under the banner of 'Cycle Liverpool South'.

Cyclists of all abilities are welcome to take part in the free rides, which continue the success of the city's popular Cycle Aigburth and Cycle Speke rides.

The Sustrans rides leave:-
► from Aigburth, every Sunday at 10.30am; meeting at Mossley Hill Hospital Car Park, Park Avenue.
► From Speke, every Saturday at 10.30am; meeting at Speke Fire Station, Cartwrights Farm, off Speke Hall Avenue.

Taking in the sights and sounds of south Liverpool, the rides use local cycle routes to visit places like the Mersey Promenade, Calderstones Park, Speke Hall and Speke Garston Coastal Reserve.

The routes, which include on road stretches, are led by trained volunteer cycle leaders, who are on hand to help improve people's confidence and develop their cycling skills.

Rides last for approximately 90 minutes; except for the ride on the last Sunday of every month, which is 2 to 3 hours long and is designed for more confident cyclists who want to explore further; visiting Liverpool Loop Line, Croxteth Hall and Hale Lighthouse.

The rides are open to all, but under 18's should be accompanied by an adult, and participants must have a roadworthy bike. If you don't have a bike, don't worry! A limited number of pool bikes are available to book in advance; you can email:- Alice.Rickwood@sustrans.org.uk.

Liverpool City Council's Cabinet Member for Transport, Councillor Tim Moore, said:- "Cycling in Liverpool continues to go from strength to strength, with an ever growing programme of free events. The Sustrans rides are a great opportunity for adults of all ages, young people, families, cycling enthusiasts and biking beginners to get out and about, discover some of south Liverpool's hidden gems, meet new people and get some exercise. There is so much on offer for cyclists across Liverpool at the moment; so if you've been thinking about taking up cycling for the first time, or building on your skills, there's never been a better time to get on your bike."

Amanda Dufresne, one of the volunteer ride leaders, said:- "I love cycling and the way it has changed my life. I only learned to ride a bike 3 years ago and now couldn't imagine life without 2 wheels. I want to encourage as many people as possible to take advantage of the amazing benefits and immense fun that cycling has opened up to me."

The Cycle Liverpool South rides complement a range of other free bike rides taking place across the city.

Choose Freedom North Liverpool is funded by the Department for Transport, through the Local Sustainable Transport Fund who runs regular rides for adults in and around the north of the City. Rides take place on Tuesdays, 1pm to 3pm (for all) and Thursdays 10.20am to 12.30pm (women only), starting at Breckfield and North Everton Neighbourhood Council, Breckfield Road North. An additional community ride takes place on Friday's, 11am to 12.15pm, leaving from Everton Park Lifestyles Centre, Great Homer St.

The 'Liverpool Wheels for All' rides use adapted bikes to make cycling accessible for individuals, groups and families who are unable to ride a 2 wheeled cycle, due to a physical and/or learning difficulty, in a safe, traffic free environment. Rides take place every week at Greenbank Sports Academy, Wavertree Sports Park, and Walton Hall Park.

Liverpool Community Health's free Cycle for Health rides, which take place from Monday to Friday in different parts of the city, help people get back on their bikes even if they haven't cycled for a while. And the Liverpool Visually Impaired Tandem Club, which runs weekly sessions, welcomes new members who want to develop their skills on a bicycle made for two.

For more information about all the free cycling programmes on offer in Liverpool, visit:- liverpool.gov.uk/cycling and click on 'Bike Rides'. To book a place on a 'Wheels for All' session, email:- danielcoonancp@gmail.com.

Competition for Scare Kingdom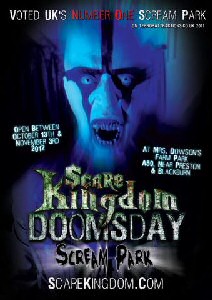 THE end of the world is nigh and it is destined to be HELL on earth this Halloween as the gates to Scare Kingdom DOOMSDAY Scream Park re-open at its Lancashire location on 13 October 2012, for the 4th consecutive year, running on 15 dates until Saturday, 3 November 2012, inclusive.



With 4 new, evening scare attractions PLUS a range of new scare frights, this year's Scare Kingdom is set to be the most frightening to date with heavy emphasis put on the year's 'deathly' demise of the world as we know it where DOOMSDAY spells terror, horror and gruesome gore like never before as the fright factor is ramped up to FULL on FEAR!
For tickets/details visit:- scarekingdom.com or call Ticketweb on:- 08444 77 1000.
Scare Kingdom Scream Park is located at Hawkshaw Farm Park, Longsight Road, Clayton le Dale, Blackburn, Lancashire, BB2 7JA.
Competition... before your demise, on at the end of the world, why not enter our competition to win tickets to the Preview Night, on the 12 October 2012? With We have 5 pairs of tickets, with thanks to Scare Kingdom, to give away. The Preview Night tickets are not available to members of the public on this date, unless specifically invited, so this is a big thing to attended!!! All you have to do to enter is answer a simple question and send us (Southport Reporter) a reply with your full name, address and phone number. Also you must be over 16 years of age! Put in the subject line of the email:- "Dooms Day" or "Scare Kingdom". Entries must be in by 00.01hrs GMT, 10 October 2012.
What is the date of the first day public are able to enter the event?
Good luck! Email your information and answer to us via:- news24@southportreporter.com.
Terms and conditions:- We will pick 5 emails with correct answers on them and let winners know they have won by email.

No other communication shall be entered regarding the competition with any one other than the winners. Only one pair of tickets can be won pair family. By entering you agree to your details being passed on to Scare Kingdom, to let us get the tickets to you, should you win one of the pairs. No members of staff or family members of the following businesses can enter:- Scream Parks UK, AtmosFEAR! Entertainment Group for Scare Kingdom Scream Park Ltd., PBT Media Relations Ltd or PCBT Photography. Judges decision is final. No perches necessary to enter. Atmosfearuk.com reserves the right to denied entry to the location/event.
3 MEN BAILED OVER AFFRAY AT PREMIER INN, ALBERT DOCK, LIVERPOOL
3 of the 4 men arrested following a disturbance at the Premier Inn Albert Dock hotel in Liverpool have been released on police bail pending further enquiries. They are:- a 32 year old man from north Liverpool arrested on suspicion of affray; a 27 year old man from North Liverpool arrested on suspicion of affray, assault and possession of a controlled drug; and a 23 year old man from Maryport, Cumbria who was arrested on suspicion of affray. A 22 year old man from north Liverpool who was also arrested on suspicion of affray and possession of a controlled drug remains under arrest and in police custody at this time. A 22 year old man from the L12 area of the City, who was taken to hospital following the incident, remains in a stable condition. Merseyside Police has referred the Taser discharge to the Independent Police Complaints Commission and cannot comment any further at this time.