UK AT GREATEST RISK OF IDENTITY FRAUD IN EUROPE
THE UK is at the greatest risk of identity fraud throughout Europe, according to new independent research. As National Identity Fraud Prevention Month since the 1 October 2012, a taskforce of partners from the public and private sector embark on a month-long initiative to help UK residents combat personal identity fraud in four simple steps.

'Don't let it be you' is the message of this annual campaign which addresses the issue of ID fraud and is backed by Action Fraud, CIFAS - The UK's Fraud Prevention Service, Equifax , Norton by Symantec, Get Safe Online and Fellowes.

According to the research commissioned by Fellowes especially for the joint initiative, 24% of residents in the UK has been touched by identity fraud compared to 17% average across Europe. Identity fraud is more rife in the UK than any other European country, including Russia, where 20% are victims. Impact can be financial loss; in some cases up to £30,000 per victim; plus a negative credit rating.

Scarily, 75% of the UK population has been exposed to ID fraud. The most common scam is a fake email supposedly from a person's bank requesting a return email with personal information to update security details (52%). The incidence rate for this type of scam is significantly higher in the UK than the rest of Europe (31%). And it's not just hackers and cyber criminals targeting British households: 10% of people in the UK have been targeted with scams requesting paper based information to be sent through the post, where fraudsters could use personal details to potentially commit identity fraud.

People are becoming far too complacent with the security of their personal details in printed documents, such as bank statements and bills as well as their online information. Research shows that 47% of Brits are not taking basic precautions such as consistently shredding paper documents with personal information before discarding.

Financial loss
Personal ID fraud can result in financial loss. In extreme cases houses have been purchased in victims' names although on average it has cost victims £1,076.

However, the average cost per victim in Germany is far greater with a staggering £28,666 that has been taken in the average case, with victims in Italy suffering losses of £13,180 per victim.

Time taken
Findings show that it takes on average 7 months before UK victims realise they've had their identity used by someone else, another 3.4 months to resolve the situation and in some instances these 2 phases could take up to several years.

In Belgium and Italy, victims are far quicker at identifying unusual activity on their financial accounts, taking on average 4.8 months and 5.6 months respectively. It takes victims in Poland more than a year to realise that they've suffered from identity fraud while the Dutch take even more time (18.5 months) to recognise that they have been victims.

Neil Munroe, spokesperson for the campaign comments:- "Stealing your personal information is where most fraud begins. With a stolen ID a fraudster can effectively become you - taking money, buying property, setting up bank and phone accounts all in your name. We are all using computers for shopping and socialising with friends and we are receiving more post than ever before, whether it's a bank statement or a piece of direct mail. This leaves us all open to risk from ID fraud if we do not take action to protect ourselves. The small simple steps required to protect someone's identity should become as routine as locking your door when you leave the house. If you don't protect it, a fraudster or someone else will take it. It can take almost four months to get your identity back, and in some cases years."

Advice and Guidance
To help combat online and offline identity fraud, the taskforce has launched its new online resource 'Don't let it be you' providing consumers with advice, guidance and support to reduce levels of attack.

When it comes to identity fraud, prevention is always key and this year's campaign highlights these four simple steps to protecting identities:-

► WATCH for anyone asking for personal information on line, by letter or phone

► ALERT your bank about any problems with your bank & credit cards

► SHRED all documents containing personal or sensitive information with a cross-cut shredder before throwing it away

► PROTECT your post against redirection and theft, then report unusual delivery delays.

Declan Jones goes back to the future at Aintree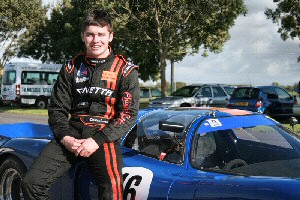 LIVERPOOL-based teenager Declan Jones made his debut in a Chevron B16 at Aintree last weekend. The 17 year old, who is competing this year in both the Michelin Ginetta GT Supercup and the French V de V Championship, was taking in the track day on the 1.5 mile Aintree Club Circuit as part of his preparations for his next 2 hour V de V race at Magny Cours over 26 October to 28 October 2012.

In total he did at least 50 laps in the Peter McLaughlin-owned Chevron B16; which incidentally is up for sale; running in 8, 10 to 15 minute sessions during the course of the day at what was once the home of the F1 British Grand Prix, and fondly regarded as the 'Goodwood of the North'. Although no official times were taken, the Halewood Village, based youngster's best laps were all just under the minute marker.

"It was great to get behind the wheel of the Chevron B16 today for the first time. It is a lovely car to drive and I felt comfortable in it straight away. It has got to be the most powerful car I have driven. Obviously it is not as quick through the corners as the Ginetta G50, but the G50 has got various aero bits on it. But it is definitely a really fantastic car to drive. I am really looking forward to competing in it now at Magny Cours. Obviously we will be able to work on it a little bit more there. At Aintree we had to be a bit careful, because there is a golf course in the middle of the track and the odd tree dotted around the perimeter. You could push it, but I'll be able to push it even more at Magny Cours." said Declan.
Declan's dad and manager, Kelvin Jones meanwhile confirmed that the Chevron B16 ran without a hitch. Kelvin explained"The test went really well. I actually built this car about seven years ago for Peter [McLaughlin], who is of course the CEO of Chicago Soft, one of Declan's two main sponsors and one of my customers. He has sent the car back to me now to sell it in Europe for him and we are taking it to Magny Cours to show it off. We installed the engine on the Friday and we were up at Aintree the following day so Declan could give it a shakedown and get a bit of experience behind the wheel. Interestingly Declan is now possibly the youngest ever driver to pilot a Chevron around Aintree and that is a nice little footnote given this is the track where Chevron founder Derek Bennett use to take the cars and test them in the 1960s and 1970s. In fact it is the track where the Chevron B16 first ran and Derek arrived with a B16 and broke the track record. In the last session, Dec was flying and was even outpacing this big M1 McLaren with 600 brake horsepower. He really enjoyed himself and the car was perfect. It looked very impressive. I'd like to thank Liverpool Motor Club for organising the track day; they did a great job and the organisation was superb. Aintree is very special to everyone in this part of the country and it has a great history. It was the place Sir Stirling Moss won his first grand prix and to see Dec driving around there was really enjoyable. It was a really useful day for us. The rain stayed away too! We couldn't have asked for more."
Declan will now be out in action again this coming weekend when he heads to Silverstone, over 6 October and 7 October 2012, for the penultimate round in the 2012 Michelin Ginetta GT Supercup. Declan's driving partner for the French V de V event at Magny Cours has still to be confirmed.
'Top of the Pops Live'
has been cancelled
LIVERPOOL Empire Theatre have told us that the show due to on Monday, 26 January 2013 called:- 'Top of the Pops Live, has been cancelled' has been cancelled. Flying Entertainment have confirmed the announcement. Derek Nicol, Producer and Joint Managing Director, said:- "We have taken the difficult decision to cancel the tour. We apologise for any inconvenience caused and wish to reassure anyone who has purchased a ticket that they can obtain a full refund from the point of purchase."