Karen Potter Craven Minor JFL

Results Week Ending 30 September 2012
Under 9
ANOTHER great victory this week, from Formby JSC Under 9 "Whites" against Formby Athletic at Formby Cricket Club. Under terrible weather conditions the boys took control from the start with 2 great goals from Dan Griffin, another from Jack Lemmens following a flowing passing move. Further goals from Joe Blanchard, Toby Gladwin and a looping header from Harvey Cartwright. Athletic pulled a goal back in the 2nd half.
Crosby Stuart 6-1 Hesketh Colts
Formby Athletic 1-6 Formby JSC White
S&A Amateurs Red 3-1 Formby JSC Black
Southport FC Black 5-0 S&A Amateurs Blue

Under 11 Premiership
Southport Trinity 5-2 Birkdale R

Under 11 Championship
Redgate Rovers 2-3 Crosby Stuart
Hesketh Colts 1-9 Formby Athletic

Under 12 Championship
S&A Amateurs 1-0 Southport Trinity

Under 14 Premiership
Town Green 2-5 Kirkby Woodpecker

Under 14 Championship
Southport FC Yellow 5-0 Redgate Green
Hesketh Colts 1-8 Real Waterloo

Under 15 Premiership
Southport Trinity 4-0 Birkdale United

Under 15 Championship
Redgate Rovers 7-1 S&A Amateurs

Under 16 Championship
Marine 3-3 Formby JSC Black

Fixtures Week Ending 7 October 2012
Under 9
Town Green v Crosby Stuart
S&A Amateurs Red v Trinity Blue
Hesketh Colts v Birkdale United
Redgate White v S&A Amateurs Blue
Formby JSC Black v Redgate Yellow
Southport FC Yellow v Formby Athletic
SC White v Burscough
Trinity White v Southport FC Black

Under 10
Formby JSC Black v Birkdale United
Formby JSC White v Redgate Green
Redgate Black v Southport FC Juniors
Colts Blue v Formby FC Juniors
Trinity Blue v Town Green
Colts Green v Trinity White
Ormskirk v Formby JSC Rangers
S&B Rangers v Colts Red

Under 11 Trisconi Cup
Southport Trinity v Formby Athletic
Birkdale Black v Birkdale R
Birkdale S v Redgate Rovers
Hesketh Colts v Formby JSC
S&A Amateurs v Southport FC Juniors
Crosby Stuart v Formby FC Juniors

Under 12 John Disley Cup
Birkdale Black v Formby JSC White
Southport FC Juniors v Town Green
Billinge v Formby JSC Black
Southport Trinity v Birkdale Hawks
Redgate Black v Hesketh Colts

Under 13 Tom Galvin Cup
Formby JSC v Great Crosby
Redgate Rovers v Birkdale R
Southport FC Juniors v Southport Trinity

Under 14 Allen Langfeld Cup
Great Crosby v Burscough Green
Southport Trinity v Burscough
Jaguars Red v South Sefton Borough
Kirkby Woodpecker v Town Green
Redgate Green v Birkdale United
Redgate Yellow v Real Waterloo

Under 15 Tom Owens Cup
Birkdale S v Maghull Youth
Town Green v Sefton Rangers
Formby JSC v AFC Liverpool
Burscough v Skem Athletic
S&A Amateurs v Southport Trinity
Hudson Celtic v Birkdale Black

Under 16 Adam Bell Cup
Ormskirk West End v Southport Trinity 3-1
Prescot Cables v Formby JSC White
Birkdale United v Colts Blue
Burscough v Formby FC Juniors
Mitch v Formby JSC Black
Redgate Yellow v Skem Athletic
S&A Amateurs v Burscough Green
Marine v Hudson Rangers
Colts Red v Redgate Green

Under 18 Geoff White Memorial Cup
Town Green v Birkdale United
Maghull Youth v Formby Dons
Great Crosby CPSOB v Jaguars

More choice for patients at new outpatient pharmacy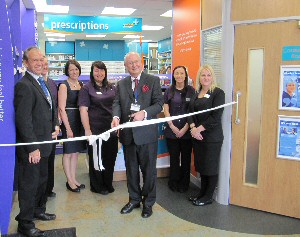 A new pharmacy is giving patients with outpatient prescriptions more choice at Southport and Ormskirk hospitals. Southport and Ormskirk Hospital NHS Trust has struck a 7 year deal with Rowlands Pharmacy to operate the dispensary at the entrance to Southport and Formby District General Hospital.

All patients are given the option of collecting their dispensed prescription from a local branch of Rowlands or having it delivered to their home at a time convenient to them.

"Patients can still wait for their prescription to be dispensed in the Rowlands outpatient pharmacy at Southport but our collection and delivery service is proving extremely popular," said David Young, Outpatient Dispensing Project Manager for Rowlands.

The new pharmacy was officially opened by Trust chairman Sir Ron Watson CBE. Prescriptions for inpatients continue to be dispensed by the Trust pharmacy

Adrian Brown, Chief Pharmacist at the Trust, said:- "In common with many local trusts, we decided some time ago to identify a suitable partner to deliver outpatient dispensing services. Not only has this development led to greater efficiencies and cost effectiveness to the Trust, but has enabled my team to focus on improving our services to inpatients. We have been very pleased with results in the short time since our partnership with Rowlands Pharmacy has been in operation."
WOMEN IN PUBLIC SERVICES WILL BE WORST HIT BY REGIONAL PAY PLAN
WOMEN will be the main losers in any regional pay arrangements which will cut pay, so a plan to cut public sector pay in this region is a further attack on women who are already bearing disproportionately the burden of this recession Labour Party conference told by GMB.

533,400 of the total of 775,800 public sector workers in the North West region are women. That is 68.8% of all public sector workers in the North West region. All public sector workers in the region make up 25.3% of all employees in the region. So women employed in the public sector in the North West region will be worst hit if the Tory Government plan for regional pay is not stopped GMB told the Labour Party conference in Manchester today.

In Cumbria there are 34,800 women public sector workers out of the total of 48,200 public sector workers resident the area. That is 72.2% of all public sector employees resident in Cumbria and is the highest in the region. Next with the highest proportion of women public sector workers resident in the area is Blackburn with Darwen with 71.7%. This is followed by Bolton with 71.3%, Tameside 71.2%, St. Helens 71.1%, Rochdale 70.4%, Wirral 70.1%, Liverpool 69.7%, Halton 69.5%, Wigan 69.5%, Lancashire 69.3%, Cheshire West & Chester 9.2%, Manchester 68.8%, Cheshire East 68.5%, Oldham 68.3%, Knowsley 68.2%, Stockport 68.0%, Blackpool 66.0%, Salford 65.5%, Bury 65.4%, Trafford 64.3%, Sefton 64.0% and Warrington 63.8%. The full figures for all 23 areas in the region are set out in the table below.

For the UK as a whole women employed in the public sector make up 64.9% of all employees in the public sector. These figures are from a new analysis by GMB of the official data in the Annual Population Survey April 2011 to March 2012 for the number of workers in public services resident in each area. The data was published ahead of the debate at the Labour Party Conference in Manchester on public sector pay (scheduled for Tuesday, 2 October 2012, morning session).

Paul McCarthy, GMB Regional Secretary in the North West said:- "65% of all those employed in the UK public sector are women. They will be the main losers in any regional pay arrangements which will cut pay. So a plan to cut public sector pay in this region is a further attack on women who are already bearing disproportionately the burden of this recession. Women believe that this Government is making them pay for the economic crisis in Britain rather than the elite in financial sector who caused it. What worries women workers in the public sector most is the impact and effect that the governments attack on their earnings will have on their family and in particular the children. If regional pay is implemented it will cut pay and be a further devastating blow for local economies in the North West. For some reason Tories have a problem with women workers in the North West. They just don't like to see them doing well. Government should be having an economic policy that puts money into people's pockets, so people can go out and buy goods and services therefore injecting demand in the economy."