More trust in dentists than doctors
THERE is a long held view of the traditional family GP widely trusted within the community, always on hand to dish out advice. But new research reveals that dentists are winning the race for trust, as 88 per cent of people surveyed in a new poll3 confirmed that they have a very high degree of trust in their dentist, even greater than in their doctor.

The poll, conducted by Bray Leino, also revealed twice as many people (19.7%) value their relationship with their dentist over their doctor (9.9%). The level of trust is reflected in the amount of people following advice from their dentist, with more than three in four people (76.4%) deciding how often they went for a check-up based on when their dentist recommended.

It isn't all good news, as the research also points to almost two in every three people not visiting the dentist for at least three years, while 27% of people who don't visit their dentist cite fear as the reason for not doing so.

Psychologist Emma Kenny explained:- "Trust underpins much of our motivation in life; when we feel that someone is on our side and has our best interests at heart it makes sense that we will act in accordance with their suggestions. Dentists are such important people in our lives for the whole of our lives, ensuring that our dental health and hygiene remain at a high level and encouraging good levels of self-esteem. It's great to see how such important health professionals figure in the nation's opinion."

Chief Executive of the British Dental Health Foundation, Dr Nigel Carter OBE, discussed the impact of the research on current attitudes towards oral care. Dr Carter said:- "The research is very encouraging. The excellent relationship that clearly exists between the patient and the dentist will hopefully result in oral health improvements throughout generations. There is a culture developing where patients will only visit their doctor when there is a problem. It is reassuring to see so many people actively choosing to seek preventive measures rather than simply waiting for something to go wrong. Those who still choose not to visit their dentist may do so for genuine reasons, and fear certainly is one, but advances in technology and the number of nervous patients means more provisions than ever before are available to treat them. The more the patient trusts their dentist, the more likely it is they will brush their teeth for 2 minutes twice a day using a fluoride toothpaste, cut down on how often they have sugary foods and drinks and, as the survey suggests, the more likely they are to visit their dentist regularly, as often as they recommend. And it doesn't stop with advice. An excellent level of trust and communication will mean both the patient and the dentist would be happier discussing treatments that aren't quite as basic. If you trust your dentist, then even as purse strings continue to tighten, you're more likely to follow their advice if they recommend a course of orthodontic or cosmetic treatment. The key is visiting as often as they recommend."
Regional Chefs Set to Vie for Pizza Crown
IF you thought pizza making was as easy as slapping out a piece of dough then adding cheese and tomato sauce; then think again...... Roberto Cinti (Roberto's) from Southport is set to take pizza making to new heights as he vie's to become North of England's number one pizza chef. Also joining Roberto will be Alex Lawless, from Little Pizza Kitchen, Waterloo, Liverpool, who will also be taking part.

With ingredients as diverse as Boursin Cuisine cheese, harissa with rose petals and Roquito chilli peppers, these 2 will make up 7 top pizza makers from the region will be beating a path to Bolton on 9 October 2012, at Stateside Foods Ltd. in a bid to win not only the North England's pizza making crown, but also grab the title as Britain's Pizza Chef of the Year.

The road to the overall UK crown starts the day before at the Scottish heat of the 'Pizza Chef of the Year Award 2012' competition and then moves on to Bolton, organised by the Pizza, Pasta and Italian Food Association which this year has received a record number of entries. Each competitor will be asked to harness all their creative skills to come up with a unique pizza in front of a panel of judges drawn from the industry, with winners then going through to the national finals in London in November. In all there are 4 separate sections to the Bolton competition and to win the contestants will have to come up with something very special to meet the judging criteria which requires entries to be innovative and commercially viable as well as looking and tasting good.

Education Commission is launched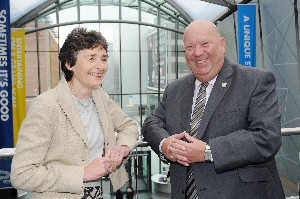 THE Education Commission set up by the Mayor of Liverpool has been officially launched. The Commission is chaired by former Education Secretary Estelle Morris, Baroness of Yardley, who told an audience of Liverpool head teachers and education stakeholders at the BT Convention Centre that the Commission has been tasked with:-

► Reviewing Liverpool's progress and achievement against national and international benchmarks.

► Identifying areas of underachievement and groups that need more support.

► Setting a vision for the education of young people in the City.

► Working with schools and partners to respond to the Government's agenda of school autonomy, and building on the successful partnership between schools and the local authority .

Mayor Joe Anderson said:- "Liverpool has made tremendous strides in education over the last few years. Exam results are at record levels with GCSE results better than the national average. We have more schools classed as good or outstanding by OFSTED than any other big city and none are failing. But despite the progress, we are not complacent and I want every child in the city to achieve their full potential. The Commission will come up with a series of recommendations to identify how we can go further and faster, and make sure every child gets the opportunity to leave school with relevant qualifications that enable them to forge a decent career."

The Commission is being supported by a wider group representing Liverpool head teachers and governors, Liverpool Community College, the Diocese and Archdiocese and trade unions.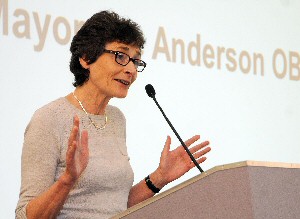 Commission Chair, Estelle Morris, said:- "The last time I worked with Liverpool over a decade ago, there was considerable concern about the level of achievement. Now, thanks to the strong partnership between the city council and schools, it is a service that has seen substantial progress. This is a pivotal moment for education in Liverpool, due to the significant and wide ranging shift in the Government education agenda. There has never been a more timely and appropriate moment to take stock of where we are and be clear about our ambitions for the future. The Commission is looking forward to working with those involved in education in Liverpool to devise a series of recommendations, for the Mayor and others to consider."

The Conference also heard from Professor David Woods and Dame Sue John, who are both highly respected for their work in raising standards. They talked about their role with the London Challenge, raising standards in schools in the capital. The Commission will take evidence from a cross section of expert witnesses including young people, businesses, universities and cultural institutions, and members will visit a variety of schools within the City. It will submit an interim report by Christmas and final recommendations for the Mayor in Spring 2013 with clear principles and practical recommendations for the city council, the Department for Education and the Liverpool Learning Partnership. At the event; in the BT Convention Centre; the new Liverpool Learning Partnership was launched. It will see schools, academies and the local authority all working together on a set of agreed standards.