The role of opioid substitution treatment in reducing HIV transmission
PEOPLE who inject drugs (PWID) can significantly reduce their risk of HIV infection with the use of opiate substitution treatments such as methadone, as suggested by an international team of researchers in a paper published on:- bmj.com.

Injection drug use (IDU) is a major risk factor for the transmission of HIV and AIDS and HIV / AIDS accounts for nearly one fifth of the burden of disease among people who inject drugs. It is estimated that around 5% to 10% of HIV infections worldwide are due to IDU. Methadone and buprenorphine are the main forms of drug prescribed for addicts and are frequently prescribed as opiate substitution therapies (OST). There is good evidence to suggest that OST reduces drug-related mortality, and some of the behaviours associated with injecting risk, but to date there has been no quantitative estimate of the effect of OST in relation to HIV transmission.

Authors from around the world (US, Canada, Europe and Australia) therefore carried out a review and pooled analysis of several published and unpublished studies from multiple countries (including USA, Canada, UK, the Netherlands, Austria, Italy, Thailand, Puerto Rico and China) to determine the association between OST and HIV transmission amongst people who inject drugs. The 9 studies looked predominantly at males between 26 and 39 years old and totalled 819 incidences of HIV infection with 23,608 person years of follow-up.

After analysing these studies, authors found that OST was associated with a 54% reduction in risk of HIV infection among PWID. There were differences between the studies, including different background rates of HIV infection: this made it impossible to calculate an "absolute risk reduction" for HIV infection that would translate to all settings. And not all studies reported adjustments to the intervention to take account of other factors that might influence the association between OST and HIV infection. But the impact of OST on HIV was strong and consistent in further analyses in the paper. There was weak evidence to suggest that longer duration of OST exposure may be associated with greater benefit.

Matthew Hickman, the study's Principal Investigator and Professor in Public Health and Epidemiology at the University of
Bristol said:- "Increases in HIV incidence have been reported among people who inject drugs in a number of different countries in recent years and there is now strong evidence demonstrating the association between OST and the reduced risk of HIV transmission."

There are several countries where OST remains illegal or severely restricted. The authors say that this study calls for a global scale up of harm reduction interventions in order to reduce the transmission of HIV among people who inject drugs; especially in countries with high rates of HIV.

An accompanying editorial praises MacArthur and colleagues for showing the extent to which OST reduces the transmission of HIV. Linda Gowing from the Discipline of Pharmacology at the University of Adelaide argues however that questions do still remain as further evidence is needed regarding other forms of OST such as buprenorphine. She argues also that as the benefits of OST may be lost when treatment stops, especially if this is not voluntary or relapse to injecting drug use occurs, then policy makers should focus on maximising retention and uptake of people onto OST.
Go-ahead on the new Royal takes a step closer
APPROVAL of the new Royal Liverpool University Hospital moved a step closer after the Trust's plans received the full backing of the regional health authority; NHS North of England. Work on the new £425m hospital development is expected to start in summer 2013. The next stage of the approval process is for the Department of Health and the Treasury to give the final go ahead to the plans. The Trust will then announce the chosen bidder and final design for the new Royal. Helen Jackson, director of strategy and redevelopment said:- "Along with the overwhelming support of the people of Liverpool, our plans have received strong support from commissioners of local health services NHS Merseyside and now NHS North of England. We expect to hear from the Department of Health and Treasury within the coming weeks and we can then decide which of our final bidders, Carillion or Horizon, will be successful and launch the design of the new hospital."

The hospital will take four years to build and around 750 full time jobs will be created for each year of construction, along with guaranteed apprenticeships. 60% of these jobs will be for local people and the plans are to use as many local materials and services as possible. It is estimated that construction of the new hospital will generate £240m into the local economy. Inpatients in the new hospital will be cared for in single bedrooms with ensuite facilities and the hospital will provide access to the very latest equipment and technology to diagnose and treat patients. On the site of the existing hospital will be a state of the art health and life sciences campus that will put Liverpool on the world stage for Life Sciences.
This exciting development will create up to 5,000 new high tech and high earning jobs and could potentially redefine Liverpool's future economy into a 'Science City' on a par with 'Media City' in Manchester.

BIKE RECOVERED IN BURGLARY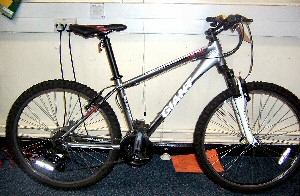 MERSEYSIDE Police have released pictures of a recently recovered bike in the hope of tracing the original owners. The bike was recovered in South Liverpool but it is believed that it was stolen from Sefton sometime before 10 September 2012. Neighbourhood Inspector Jim Atherton said:- "I would urge anyone who has had their bike stolen recently and recognises the bike in the pictures to call Constable Mavrakakis on:- 0151 777 5340 to arrange a meeting. Officers will then conduct checks and ask for proof of ownership before it is released. This is a necessary measure to ensure the bike is reunited with its rightful owner. I would also like to take this opportunity to remind people about the basic steps that you can take to keep your property safe. In particular, officers in Formby currently run an initiative called Operation Dragonfly, that encourages people to register and records details of their valuables for free at Immobilise.com. Immobilise is a database of bikes, mobile phone, lap tops and computers. The Police can access this database and, when stolen goods are recovered, can identify who they belong to and return them. Additionally, electronic chips called 'immobitags' can be bought through the local Homewatch scheme in Formby for a discounted rate. They fit inside the bike frame and are an extra way to protect your bike." For more information on Operation Dragonfly visit:- merseyside.police.uk or call 101 and ask to speak to your local dedicated policing team. Alternatively come along to a crime prevention surgery. Please call:- 101 for more information.
New signs mark park's rail heritage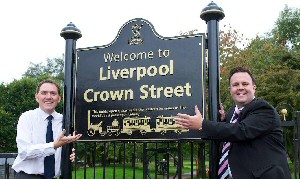 A Liverpool park, which was the site of an important part of railway history, has been given new signs to mark its heritage.

Crown Street Park was created on the site of the terminus for the world's first passenger railway service.

The Crown Street station opened in September 1830 and was the western terminus for the service to Manchester, which could be regarded as the first Inter City Service; with trains being pulled by Stephenson's Rocket, made famous at the Rainhill Trials the previous year.

However, the growth of the railway traffic was so rapid that it was too small and far from the city centre to cope with demand. Furthermore, steam locomotives could only get as far as Edge Hill, as they could not cope with the gradients out of Liverpool, so a cable pulled the carriages the last part of their journey to the station and also goods up from the docks.

Crown Street closed to passenger trains in August 1836 to be replaced by Lime Street Station. It remained as a goods and coal depot until 1972.

The recreation ground which replaced the former coal depot provides valued outdoor space in the inner-city, with the green space being enhanced with a playground and outdoor gym equipment.

Its proximity to Liverpool Women's Hospital and Liverpool University means it also provides a commuting route for pedestrians and cyclists and is popular with students as well as the coal community.

Although the brick ventilation shaft for the Wapping Tunnel, which runs under the park, still remains as a local landmark, there has been nothing until now to let park users and passers by know about the part this site played in railway history and the industrial revolution.

New signs, however, have been installed around the park which says that it was the site of the worlds first passenger rail service terminus.

Local Councillor Tim Beaumont said:- "This is a small way to recognise that this park is on the site of the birthplace of passenger railway transport and it is something that I think the local community should be very proud of. It is an important part of the city's heritage."