Fashion show extravaganza delights Birkenhead shoppers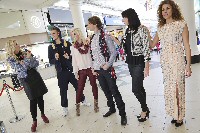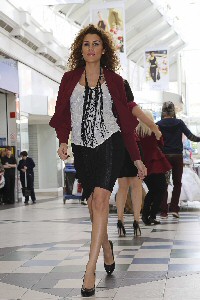 THE glitz and glamour came to Birkenhead's bustling Grange and Pyramids Shopping Centre on Saturday with a series of live fashion shows.

The centre played host to The Big Autumn and Winter Fashion Fix with a team of models from the Catwalk Agency, headed by stylist, top model and presenter Caroline Childs, staging 9 'flash mob' style shows throughout the day.

It brought crowds flocking into the Wirral town to be entertained by the dancing models parading the latest High Street fashions from the centres' retailers.

One of the retailers taking part was Next and store manager, Bernadette Walsh, who said the event had brought them a bumper sales day.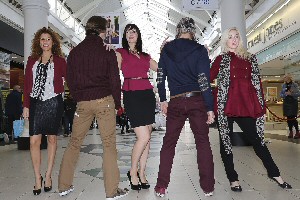 Bernadette said:- "I didn't actually get out to see the shows because it was so manic in store. We had a really busy week in general but Saturday was exceptional and the event must have had an impact because footfall in the centre was a lot higher than normal. It really did seem to bring a lot of customers through the door."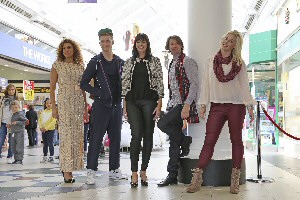 Derek Millar, Commercial Director for the Grange and Pyramids Shopping Centre, said:- "The event was really lively and fun to watch and the shopping centre was very busy. There was a real buzz to the place, and the reaction from the shops has been very positive. From the smiles on our customers' faces, everyone seemed to be having a really good time."

ScareFEST 3 - Beyond The Book - Are you going?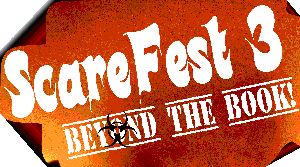 THE ScareFEST is in it's 3 year now and it will again see the return of 7 award winning authors on one stage, showcasing their talent and signing books throughout the day. Plus they will be giving fans the chance to chat informally in the foyer and get books signed before the evening "Extrava-GORE-anza", a real massed hysteria with all the assembled authors and crowds of fans. This takes place on Saturday, 6 October 2012, at the Civic Theatre, from 6.30pm to 9.30pm. The events are as follows:-

Junior Scare Fest - This is ideal for ages 7 to 11 and runs 1pm to 2.30pm in the Civic Theatre. Tickets book online.

► Tommy Donbavand's Scream Street Show - a fun filled audience participation with added scares and thrills.

► Ruth Syme and Bella Donna. Grab your Broomsticks and join their Coven.

'Spook's Apprentice' - The Play - Exclusive Spook-Tacular This is from 3.30 to 5pm and ideal for ages:- 12 to 16. It is hosted in the Crosby Civic Theatre. School performing at the show:- FORMBY HIGH SCHOOL... Tickets book online at:- merseyreporter.com/shop.

► The Play by Stephen Delaney based on the bestselling novel by Joseph Delaney.

► Doom Rider Show , with David Gatward. Find out who is hell bound with this theatrical interpretation of his book.

The extra GORE vanza... Comedy, Costumes, Videos and Live Animation. Be amused, be amazed and be scared by the antics of these 7 authors. Located in the one stage! Tickets book online at:- merseyreporter.com/shop or formbybooks.co.uk.

Authors Attending-

► Philip Caveney ~ Alec Devlin - Historical Horror series, he comes from Salford (Manchester)

► Joseph Delaney ~ Slither's Tale a Spook's Story, he comes from Southport (Merseyside)

► Tommy Donbavand ~ Scream Street, he comes from Burnly

► Jon Mayhew ~ Demon Collector, he comes from Ness, Wirral (Merseyside)

► David Gatward ~ Doom Rider, he comes from Frome (Summerset)

► Barry Hutchison ~ Invisible Fiends, from Fort William (Scotland)

► Curtis Jobling ~ Wereworld Series, from Warrington (Merseyside)