The Warehouse supports the Stephen Gerrard Foundation in seasonal style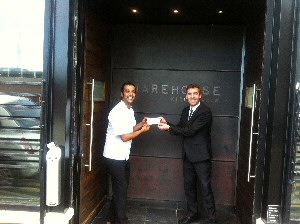 SOUTHPORT'S most stylish clients came out to support the Warehouse in order to raise vital funds for the Stephen Gerrard Foundation. In sumptuous and ultra-chic surroundings, everyone was treated to seasonal tasty treats by Chef, Mini Patel. Mini is widely known in the industry as a great supporter of locally grown produce and ingredients, and was keen to put his culinary skills to great use for such a worthy cause.

As co-owner of the restaurant, Stephen Gerrard was delighted that the Warehouse team pulled together to launch the event. His Foundation is committed to making a lasting difference to the lives of disadvantaged children and the focus is to provide help for any child in need. The £1000 raised at the Warehouse will help to fund the Foundation's valuable projects.

Tibu Pindeo, General Manager says:- "I am pleased and proud that everyone at the Warehouse gave our clients such a wonderful night out. Not only did they get to try out some of my new seasonal menu staples, they also dug deep and their generosity means that we can continue to support the Stephen Gerrard Foundation."

The Warehouse hopes this is just the first of many future events to help and support the Foundation.
Sefton woodland work given green light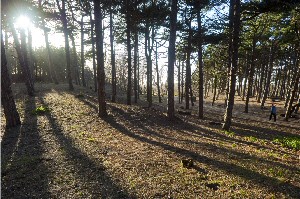 WORK scheduled to take place on Sefton's coastal woodlands has been given the green light, after being postponed last year due to time constraints.

The aim of the woodland management work is to provide a better habitat for the area's red squirrels, and will protect the woods from disease and high winds. The work will begin in mid-November, lasting around 6 weeks.

The work at sites including Altcar Rifle Range, Ainsdale Sand Dune National Nature Reserve and Formby Golf Club forms part of the long-term Sefton Coast Woodlands Forest Plan, and will be coordinated by The Mersey Forest and landowners including The National Trust and Natural England.

Most of the work will involve "thinning" – the removal of selected trees in dense areas to improve the condition of the woodland as a whole.

There will also be a few areas where small clearings will be created and replanted with young trees to produce a well-balanced woodland made up of trees of different ages.

Mike Downey from Natural England explained:- "The work will make the woodlands less susceptible to trees blowing over in high winds, making it a safer environment for people to explore. The work will also help the red squirrel population by ensuring their future supply of food. Pine trees stop producing cones once they reach approximately 80 years old, so we need to provide space for a new generation of trees to grow."

Nigel Blandford, Timber and Bioenergy at The Mersey Forest said:- "We would advise that everyone takes care in the woodlands during this necessary woodland work, particularly those accompanied by dogs or children. Large signs will be erected to let people know where the work will be taking place, but there will be large machinery around the sites, so they should be careful when passing these areas."

Passengers should be compensated for flight delays, rules European court
NORTH West Euro MP and Chair of the European Parliament's Transport Committee Brian Simpson has welcomed the decision by the European Court of Justice to force airlines to pay passengers compensation when their planes are delayed for more than 3 hours. Current EU Air Passenger Rights regulation says that airlines should not only look after delayed passengers but should pay compensation when that delay exceeds 3 hours. Prior to this rule, passengers had only been able to claim for meals, refreshments, 2 free telephone calls and if it was an overnight delay, the hotel accommodation and transfers to and from the hotel. Back to 2004 the European regulation introduced an oblige airlines to pay compensation to passengers for certain cancellations and delays. It was then confirmed by a further ruling by the European Court of Justice in 2009, but that was challenged by a group of airlines including the BA and Easyjet, who refused to obey this judgement and an appeal. They along with TUI Travel and the International Air Transport Association persuaded the English High Court to refer the matter back to the ECJ in August 2010. This latest judgement upholds the court's 2009 ruling, so now that the appeal has failed, passengers will be able to claim compensation of between €250 and €600, depending on the flight distance. However, compensation will not be due in "extraordinary circumstances", but the court did not specify what those might be. The only thing they did say was "other than saying those circumstances that were beyond the control of the airline." MEP Simpson explained that:- "For months airlines have been trying to wheedle out of their obligations to passengers under Regulation 261 and pending this appeal have refused to pay compensation for delays. Now that the court has decided that a delay is equivalent to a cancellation the airlines should pay up." Mr Simpson is regularly contacted by constituents who have been unable to secure compensation, and has first hand experience of the problem following a recent flight delay of 26 hours. "This decision shows that passengers who are seriously delayed have the backing of the European courts. I will be pursuing my claim and I would urge anyone who has experienced a lengthy delay to also contact the UK Civil Aviation Authority for assistance. Airlines have got to get the message that they cannot carry on treating people in a cavalier way ignoring their rights that are guaranteed under European laws. If the fault for the delay lies with the airline they should pay up." Passengers who would like their claim investigated can visit the Civil Aviation Authority's website for more information. Raymond Veldkamp from Flight Delayed added:- "This decision that will cost the airlines tens of millions on a yearly basis. The ruling will have its effect on the share prices of airline companies as well. It's a blessing for air passengers, but a curse for airline companies." So what do you are readers think about this decision by the European Court of Justice? Have you tried to claim compensation after a delayed flight yet? If you have also please do let us know... Email us your views to:- news24@southportreporter.com If you are happy to be contacted by a one of our journalists please let us know. In some cases a selection of your comments will be published, displaying your name as you provided it to us, unless you state otherwise.
Time for Bed - a helping hand for sleepy hedgehogs
SNOOZING hedgehogs will be in for a treat this winter as RSPB Burton Mere Wetlands provides a taste of luxury living for the upcoming months. Autumn is the time when hedgehogs start to think about finding somewhere snug to spend the coldest months, so the nature reserve on the Dee estuary has launched an innovative programme that aims to see hedgehog estates springing up across the region. As part of Time for Bed season, which runs throughout October and November, visitors to RSPB Burton Mere will be able to find out how to build and decorate hoggy homes to help the hedgehogs in their gardens.

Colin Wells, site manager at Burton Mere, said:- "It's really easy to Step Up for Nature and give hedgehogs a helping hand as they settle down in a cosy spot to see out the winter. Just using a cardboard box, a bin liner and some dry leaves, twigs and moss, we'll be showing visitors how easy it is for them to create DIY hedgehog shelters and help hedgehogs at home."

As well as a spot of house-designing, visitors to the reserve will be able to take part in a wide variety of activities, from following the hedgehog quiz trail, to adding a dream to the wildlife dreamcatcher. And Burton Mere is also inviting people to join them on 28 October 2012, for scary Sunday, with spooky wildlife to see from owls and bats to creepy crawlies. Family activities will also run throughout the day including mini-monster hunts, petrifying potion-making and creepy craft activities.
For more information about what's happening at Burton Mere, visit:- rspb.org.uk/burtonmerewetlands.
NEXT OF KIN APPEAL - KENNETH ROOM
THE Wirral Coroner's Office has appealed for information on the whereabouts of the next of kin of a 64 year old man from Wallasey. Kenneth Room died at his home in Norwood Room on Saturday, 13 October 2012. His death is not being treated as suspicious. It is believed that Mr Room may have family living in Wales. Wirral Coroner's Office would like to hear from his family and anyone who can offer information that could help trace his family.

Anyone with information should call the Coroners Officer on:- 0151 777 2558.