Make Halloween a treat for Children
PARENTS are being urged by North West Ambulance Service (NWAS) to follow a few simple safety tips to ensure this Halloween is a treat for their children. Traditionally, emergency 999 calls to NWAS soar on Halloween, but the service believes this could be avoided if the public followed simple safety advice. NWAS is urging parents to make sure they always accompany children when they are trick or treating, to make sure children carry a torch, glow sick and wear reflective clothing to make them visible to drivers. Well-fitting masks, costumes and shoes should be worn to avoid blocked vision, trips and falls, children should learn how to cross the road properly as more accidents happen in the dark and face paints should be tested on a small area of skin first to check for irritation. Director of Emergency Service at NWAS, Derek Cartwright, said:- "Halloween can be an exciting time for children and young people but combined with the dark nights and bad weather, children can be vulnerable to avoidable accidents. Emergency calls to the ambulance service soar at this time of years. We are urging parents to ensure their children are safe so they can enjoy the night and ambulances are free to attend life-threatening emergencies. People should think before they dial 999, about whether they really need an ambulance. More appropriate treatment could be available at a minor injuries unit, walk in centre, GP or Pharmacy." If you need advice about choosing the right NHS service for your needs, contact NHS Direct on:- 0845 46 47. Halloween should be a fun, but remember not all want to take part. Remember to check with elderly people and anyone vulnerable within your area that it is ok to let your children trick or treat at their property. Also their might be religious objections from some, so it is always wise not to contact strangers and also respect peoples beliefs. These are a few more simple rules, as suggested by the Royal Society For The Prevention Of Accidents, that you can uses in addition to your own...

| | |
| --- | --- |
| | Plan a local route and stick to it! Preferably, contact all the householders for permission beforehand! Always use common sense. Only visit houses with Halloween decorations, such as a carved pumpkin in the window. Sadly not everyone welcomes trick or treaters, so please respect their views! Be sure and say thank you for your treats! Also never give out tricks!!! |
| | Always be very cautious of strangers. Accept treats only in the doorway. Never go inside a house. Also wait until you get home and your parents to check your sweets, before you eat them. You might be allergic to them! |
| | Never trick-or-treat alone. Always ensure that there is adequate adult supervision. ROSPA suggests one adult for every 3 children. Young children should always go trick-or-treating with an adult. Adults should always do regular headcounts. |
| | DO NOT carry any weapons or other props, as this might intimidate householders and passersby. Worse still you could find your self arrested by the Police! |
| | Don't play near lit jack-o-lanterns. Make sure that you are wearing a flame retardant costume. Plus, do not carry glass jars with candles in or any naked flames! |
| | Wear costumes with reflective markings, and bright colours. Costumes should not drag the floor. If you have a hood or mask, check that it does not obstruct your vision, or that of a child's! Adults should never drive wearing a mask or hood, or any costumes that could hamper your control of a vehicle. |
| | Walk, Do not run! All members of your group should walk on the pavements and driveways. Only cross the road at well lit places, with good visibility of on coming traffic. Do not go into poorly lit areas! Young children should hold an adult's hand near any roads. |
| | Carry a torch and take a cellular phone and watch with you if possible. If you have a torch you can always hold it under your chin for a scary look, so it can also be part of your costume, as well as being a way to light up the dark... |
| | DO NOT cross lawns, flowerbeds or parks, as their may be hidden dangers, as well as the possibility you could be damaging property. |
Futsal focus!
SILKY skills and nifty nutmegs will be on show next week as an exciting new sporting competition for youngsters kicks off. Liverpool City Council is launching its first ever Junior Mixed Futsal League on Friday, 26 October 2012, in partnership with the Liverpool County FA and Ash Celtic Junior Football Club. The fast-paced game is similar to 5-a-side football, but is played indoors, on a smaller pitch, with a smaller ball and there is a heavy emphasis on skill and technique. Around 30 teams have already signed up to take part in the introductory matches, but organisers are encouraging more youngsters to get involved and become part of the new league. The league is aimed at budding players aged from 7 to 10 years and it costs just £12.50 per team to enter. The sessions will take place every Friday at the Tennis Centre in Wavertree, running until the end of February 2013. To mark the inaugural games in the City, Wavertree ward Councillor Jake Morrison will meet teams making up the new league and may even try out his futsal skills! Councillor Morrison, said:- "Liverpool is a city with sport running through its veins and we want to do as much as we can to encourage future generations to get active. The futsal league is a first for the city but with so many teams already signed up it already looks like it will be a great success It gives young people the chance to try out different skills, and is an opportunity for them to be part of something new, exciting and fun." Ricky Heywood, Ash Celtic Junior Football Club Secretary and Welfare Officer said:- "The Ash Celtic Futsal league was an idea of Tommy Walsh who coaches several of our age groups and his idea, which is shared by all at the club, was to provide a platform for the young footballers of our city on which they can develop their technical skills. Futsal is ideal for this with the fast pace and heavier ball along with the emphasis on skill and passing, it is our belief that the players will improve if they are brought up on this game from an early age - just like Messi, Iniesta, Ronaldinho and many others from South America and Spain. We believe it is time we were developing players with this type of technical skill and Futsal will give them every chance to achieve this." For more information about the Junior Futsal League contact:- Ricky Heywood on:- 07547617427.
APPEAL FOR INFORMATION - MARK PEASE
SUFFOLK Police, on Friday 12 October 2012, had asked people on Merseyside to keep a look out for Mark Pease, aged 33. It was one of their possibilities that he may be in the Merseyside area, where he was thought to have friends. Mark Pease was missing since Thursday, 11 October 2012, but following the discovery of a man's body in the River Waveney, Aldeby, Norfolk, on Monday, 22 October 2012, Police have now confirm that they now believe his body. Police were called to Aldeby at 9.45am to reports of a body in the river. Suffolk Police, fire and ambulance all attended and the body was removed from the water at Burgh St Peter. Formal identification of the man has not yet taken place. A post mortem examination will be carried out later in the week to ascertain the cause of death. As is standard procedure the death will be treated as unexplained at this stage, but there are no suspicious circumstances. The matter has been referred to the coroner. Suffolk Police would like to thank the media and the people of Merseyside for their help. They still ask that should anyone have any information to contact Suffolk Police on:- 101.

Psychic Sally cooks up a haunted feast on Celebrity Come Dine With Me
BRITAIN'S best-loved psychic Sally Morgan is back once more on her nationwide tour, performing in theatres across the country including a date at the Liverpool Empire on Tuesday, 12 March 2013. Sally Morgan is an ordinary woman with an extraordinary gift; she can deliver messages from beyond the grave. Since a young girl Sally has experienced paranormal experiences sighting her 1st ghost at the age of 4. Over the years she has dedicated her life to developing her ability and thanks to her warm, bubbly and down to earth personality she has attracted a whole new audience to the spiritual world. Sally's hit Sky LIVING TV show Psychic Sally On The Road showcasing Sally on her gruelling tour schedule has become a huge success with people all around the country. People have fallen in love with Sally's endearing nature and of course her husband John as the series gives a glimpse into Sally's personal life as a wife, mother and grandmother. Now this Halloween Sally will be hoping to transfer her skills to the kitchen and cook up a haunted feast for her three celebrity guests on Channel 4's Come Dine With Me on Wednesday 31st October at 8pm. Sally's passion for food was highlighted in her TV series as she used to cook up treats for her family; but how will she handle cooking for three complete strangers? Sally says of the experience:- "It was an incredible week which I will certainly never forget! Each day was absolutely hilarious although I have to say it was much harder than I ever imagined it would be. Who would have thought that eating and socialising could be so stressful! I hope the viewers enjoy watching the show as much as I enjoyed filming it. It was somewhat a novelty as I am not often able to cook for other people these days as I never get time to do it - I'm always on tour! Mind you John was a bit upset that I don't make this much effort to cook his meals every day so I am making more of an effort. Maybe I could be the next Nigella Lawson! I can't wait to hear what Dave Lamb, the voice over of the show will say about me…or maybe I should be worried?"

Catch Sally Morgan on the Halloween special of Come Dine With Me where she will be joined by a movie character from your childhood nightmares, a fighter turned druid and a model that has turned to the dark side for the week. Tickets cost £24.50 and are available now from the Liverpool Empire Box Office, or call:- 0844 871 3017 or online at:- atgtickets.com/liverpool.
Children's Charity Gets Used Cooking Oil Boost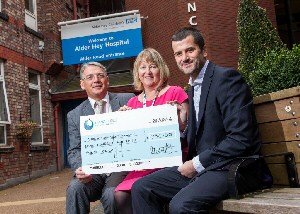 IT may not seem like the most obvious way of raising money for charity, however Merseyside residents have raised a huge £750 for local Alder Hey Children's Charity; all by recycling their used cooking oil. The campaign, which ran from July to September, saw residents recycling a staggering 6500 litres of used cooking oil, all of which will be recycled into renewable electricity for the National Grid and used to power UK homes and businesses. The appeal was championed by eco-firm Living Fuels, alongside Veolia Environmental Services and Merseyside Recycling and Waste Authority in a bid to reduce the improper disposal of cooking oil. When disposed of down drains, cooking oil costs the UK an average £15 million per year in blockages, caused by oil sticking to pipework and clogging our Victorian drainage system. When sent to landfill, it fares no better, often leaking into local watercourses and harming wildlife.

Paul Smyth, Contracts Manager of Veolia Environmental Services Merseyside and Halton said:- "We are pleased we could assist Living Fuels in this fantastic promotion. Together, with the help from residents of Merseyside and Halton we have raised the profile of Cooking Oil recycling and made a donation to the Alder Hey Children's hospital."

Chris Done, Head of Fundraising at Alder Hey Children's Charity added:- "We are delighted to be one of the beneficiaries of this innovative scheme. Not only did we receive a welcome contribution to our funds we've been part of something that is also beneficial to the environment and could ultimately save money. At Alder Hey we are helping children achieve the best possible health outcomes and this sort of promotion forms part of the bigger picture. It is a perfect partnership for us."

The used cooking oil disposal tanks, placed in August 2011 at each of Merseyside and Halton's 16 household waste recycling centres, enable residents to dispose of their oil in a safe and environmentally conscious manner. When full, the oil is collected and taken to Living Fuels' state of the art recovery facility, where it is naturally recovered into renewable electricity for the National Grid. Just one litre of used cooking oil provides enough clean electricity to produce 240 cups of tea and one full tank can power the average home for 1 year. Rob Murphy, Operations Director of Living Fuels said of the positive response to the scheme:- "We are absolutely delighted with the effort that residents made with recycling their cooking oil. Not only are they helping to save carbon emissions and reduce dependence on fossil fuels, but they're helping the patients and families of Alder Hey at the same time."
To find your nearest used cooking oil recycling centre, please visit:- livingfuels.co.uk.
CRIME FALLS AGAIN IN MERSEYSIDE - OCTOBER 2012
THE Crime Statistics that have been released by the Home Office on Thursday, 18 October 2012, show crime has fallen again in Merseyside for the 6th consecutive year since 2005/06. Overall crime has dropped by 5.9% for the period June 2011 to June 2012, from 99,437 offences to 93,522 equating to 5,915 fewer victims. The figures show Merseyside Police has achieved significant reductions in drug offences, robbery, burglary, violence against the person, vehicle crime and criminal damage. The Force has continued to see a significant reduction in the number of anti-social behaviour incidents in the last 12 months from 68,327, to 61,312; a fall of 10.3%. In a recent HMIC report victim satisfaction in Merseyside was rated as'outstanding' at 97%; 1 of the highest satisfaction rates in the country. However, the Force is not complacent and continually looks at ways to improve responses to victims' needs. Assistant Chief Constable Andy Cooke said:- "The latest crime statistics published show our ongoing determination and dedication to reduce crime, tackle anti-social behaviour and protect the public. I am pleased to say that crime continues to fall on Merseyside and this is testament to the dedication and professionalism of our officers and staff as well as our work with partners and communities. For the past 6 years we have seen continual reductions in crime amounting to 80,357 fewer victims and we remain committed to doing all we can to provide the best possible policing service to the people of Merseyside. Despite facing the ongoing financial challenge, the Force is determined to continue to build on the good work reflected in these statistics, to tackle crime and bring offenders to justice while supporting victims and protecting communities across Merseyside."