Runshaw Halloween Autumn Show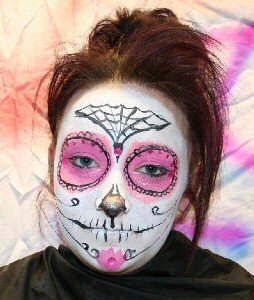 STUDENT from the VRQ Level 2 & 3 Hair & Media Make-up course recently delivered a spooky Halloween Autumn Show at Runshaw College's Market Street Campus displaying their creative make-up and hairdressing skills. The students presented an array of weird and wonderful facial art as part of the course assessment. These are a few snaps of the event...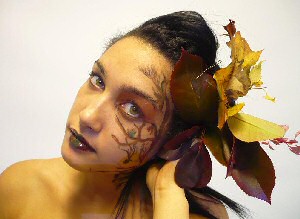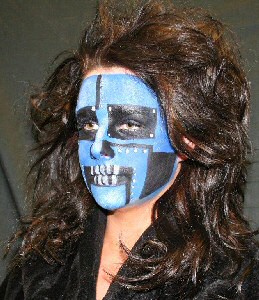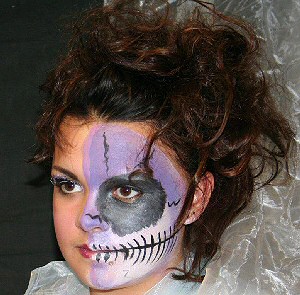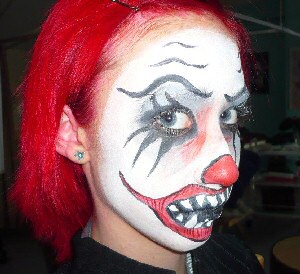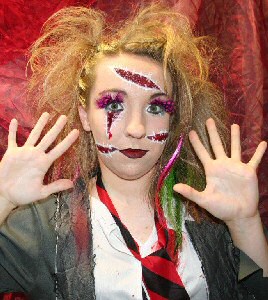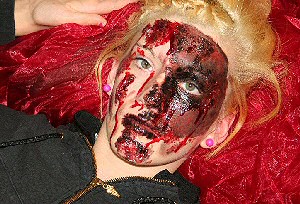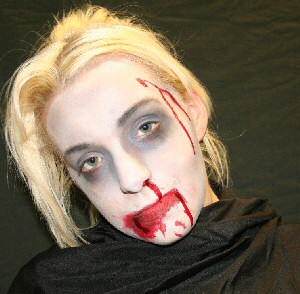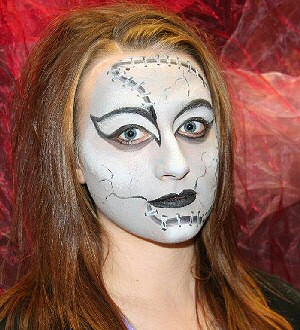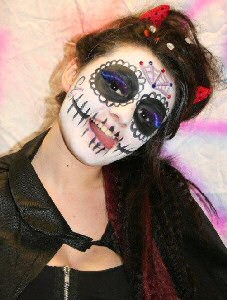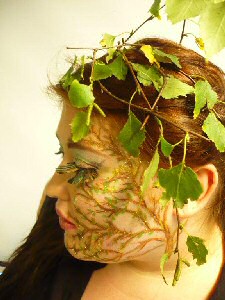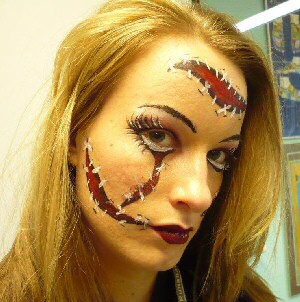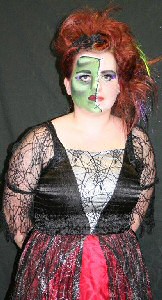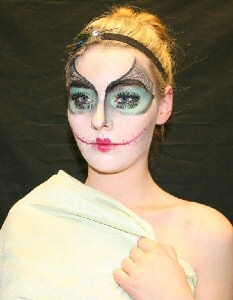 Don't forget to get the flu vaccine over half-term says NHS
AS part of NHS Merseyside's Flu Safe campaign, health professionals are reminding mums and dads of children who are at-risk from flu in Merseyside to make sure they get their children vaccinated over the half-term holidays.

All children with underlying health conditions (even if they feel healthy) are eligible for a free flu vaccination to help protect them from the flu this winter, as well as all pregnant women, people aged 65 and over, and anyone with existing health conditions.

Dr Emer Coffey, Associate Director of Public Health for Liverpool says:- "Flu is a highly infectious disease and is far more serious than a cold. Children with long-term health conditions are not able to fight off flu as well as other children. For these children, flu can result in serious complications which require hospital treatment. This can be prevented by having the yearly flu vaccine as soon as possible. Taking the kids for their free flu jab may not be top of the list of exciting things to do during the half-term break, but having sick children over half-term or in the coming weeks would be much worse."

The vaccine is safe and free from the GP. It is available for all children aged 6 months and over with long-term health conditions, including:-

► Serious lung or breathing problems, such as severe asthma, needing regular inhaled or oral steroids

► Serious heart conditions

► Kidney or liver disease

► Diabetes

► A low immune system due to disease or treatment, for example, chemotherapy or radiotherapy treatment for cancer, or long-term steroid use

► Problems with the spleen, either because the spleen has been removed or doesn't work properly. For example, sickle cell disease cerebral palsy or a neurological disability

The common symptoms of flu include:- a fever or high temperature, shivering, achiness, headaches, nausea and vomiting.

And because the flu vaccine changes every year to fight the latest strains of flu, it's important for people to be vaccinated every single year to stay protected.

Dr Coffey adds:- "Getting a flu vaccination is really quick and easy, and half term is the perfect time to make sure anyone in your family who needs the jab is protected from flu before we reach early November, which is when the virus can strike from."

To arrange to get your flu vaccination, simply contact your local GP surgery or just drop in to your nearest walk in centre.

For further information and advice on flu, please visit:- nhs.co.uk/flu
Lord Mayor Will be launching the Poppy Appeal
LIVERPOOL'S Lord Mayor, Councillor Sharon Sullivan will present the 1st poppy of this year's appeal to school children on Friday, 26 October 2012. At a special event to be held in the Lady Mayores's Parlour the Lord Mayor, Councillor Sharon Sullivan, will present Merseyside's first poppy to pupils from St Ambrose School in Speke who have all written remembrance poems. Councillor Sullivan said:- "I am honoured to be presenting the first poppy to such an inspirational group of youngsters. These children have all written poems to commemorate Remembrance Sunday and this is a special way to thank them for their hard work. We should never forget the sacrifices that our armed forces have made and are still making, which is why I urge everyone to wear a poppy and show their support for Liverpool's Poppy Appeal. The Royal British Legion works tirelessly to help those who have suffered during conflict and we should do all we can to highlight the excellent work they do for the benefit of others."

Royal British Legion Area Manager for Merseyside, Gillian McKinnon, said:- "The Royal British Legion stands shoulder to shoulder with all those who serve now and in the future for as long as it takes. With the armed forces and their families; they're pinning their hopes on you."

After the official launch on Friday the remembrance poems written by the pupils will be taken to St George's Hall and be displayed in time for Remembrance Sunday.
WITNESS APPEAL - BURGLARY - NETHERTON GRANGE - BOOTLE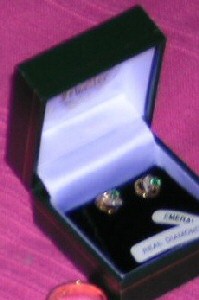 MERSEYSIDE Police Detectives have released photographs of sentimental jewellery stolen during a burglary at a house in Bootle. Officers were called to the house on Netherton Grange following the incident, which happened on 14 September 2012, between 9.45am and 2.30pm. The victim, a 62 year old woman, returned home to discover that her house had been broken into and her jewellery box containing a number of sentimental items had been stolen.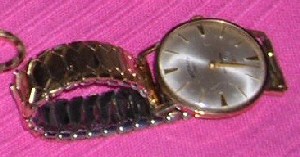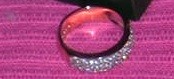 Among the items stolen include a man's watch which was a present for her late husband's 21st birthday from his father, jewellery given by him for anniversaries and other special occasions as well as an engagement and eternity ring. Officers are investigating the incident and have been carrying out enquiries and forensic examination. Witnesses, or anyone with anyone information in connection with the stolen jewellery, are being sought.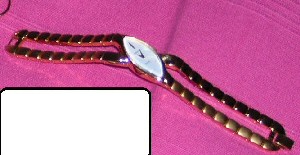 DC Neil Davies said:- "This has been a very distressing experience for the victim and her family. The majority of the jewellery that was stolen was of great sentimental value and the theft of these items has brought the victim a great deal of heartache. We urge anyone with any information in connection with the burglary, who may have seen anyone acting suspiciously in the area around the time of the incident or the days running up to it, to call us so we can take action against those responsible. We are also keen to hear from anyone who may have been offered to buy the jewellery, or has seen it in any shop, so we can pursue these enquiries."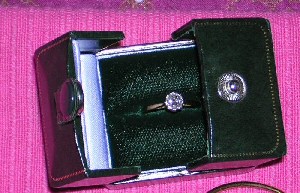 Anyone with any information is asked to call Sefton CID on:- 0151 777 3055, or Crimestoppers, anonymously, on:- 0800 555 111.
Cllr Tony Crabtree using the refurbished steps at Rookery Road leading to Preston Road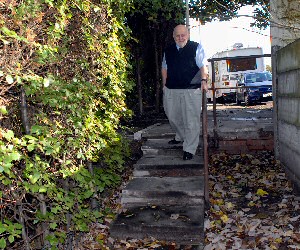 FOLLOWING many complaints to Sefton MBC, that have been received by Cllr Tony Crabtree, over the safety of 2 sets of steps, within his Ward, he has taken action to ensure the well being of his residents.

The Sefton Cllr, Tony Crabtree told us that:- "Steps leading from Rookery Road to Preston Road. were individually too high causing safety issues and steps, also from Rookery Road to Henley Drive, affected by settlement were also unsafe. I have taken action that has now ensured both sets of steps have been made secure and safe for all our residents of all ages. I feel users will now find the 2 sets of refurbished steps safer and easier to use."