Talk by Andy McNab in aid of Help for Heroes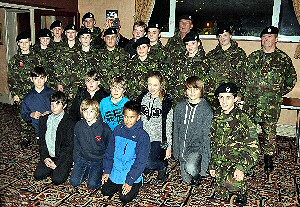 ON Monday, 5 November 2012, aka Bonfire Night, for a 2nd year running the former SAS operative and soldier, now acclaimed novelist, Sergeant Andy McNab DCM MM was in Formby's Gild Hall to sign copies and talk about of his latest book, Cross Fire, which will not be officially in the shops until 13 January 2013. There was a good attendance of genuinely interested people of all ages, and extra chairs had to be brought in to accommodate the unexpected larger number of bookworms who came to meet the author of Red Notice, Bravo Two Zero, Last Night Another Soldier and The New Recruit, to name just a few. With over 120 members of the public watching the event which was held in aid of Help for Heroes, this was a very entertaining night. Andy McNab proved to be an unassuming, humorous speaker, who held his audience captive for over an hour, talking about his time in the Forces, before conducting a Question and Answer session. Over the night he spoke about how he came to join the army when 16 years old, and added that he was an official spokes-person for the MOD. It was very pleasing to see that also attending were 20 members of the Formby Detachment of Merseyside Army Cadet Force (ACF), who, it appeared, were held spellbound by the stories that Andy told. Just before the signing they got a one to one with the ex-SAS Soldier, who explained to them why his identity is kept a secret.

The evening concluded with Andy signing the books that had been purchased by members of the audience, from Formby Books.

Tony Higginson, who owns Formby Books, who organised the event, said: - "I am so pleased that so many people came out on Bonfire Night to show support for the charity and also to see and hear this fantastic author. The event raised £385 on the door for this for this special charity."

If you would like to purchase any of Andy McNab's books you can do so via:- Formby Books.
If you want to see some more photographs taken at this event by ourselves, click here now!

KEEP up-2-date
with our free daily news emails.

Are you subscribed? Si

g

n

u

p

today

to

our daily email news service via... Formb

y

-

Re

p

orter

.com

.

If you subscribed you can keep in up-to-date with what's going on in and around Merseyside. It is free and we do not send out massive amounts of emails. Also your email is kept under the UK's Data Protection Act, so you can be sure that you will not have problems.
Manx Direct

08447 402 038

2 Years Parts & Labour Worranty