Remembrance Day Services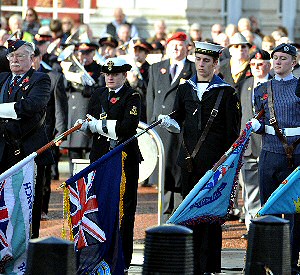 ON Sunday, 11 November 2012, the annual Remembrance Day Services where held through out the UK and the Commonwealth. The memorial services were extremely well attended in both Southport and in Formby, and we have been told this was the same in Liverpool and other areas on Merseyside. Members of the public joined up with service men and women to pay tribute to those who have fallen in conflicts, past and present by laying wreaths at the regions war memorials. This year more people seemed to be displaying the remembrance poppy then in resent years, poetically with they younger generations. "This is fantastic to see more young people wearing them, as all the money raise goes to help ex-service personnel and their families. The Poppy has been used since 1921 to commemorate soldiers who have died in war. It is now our biggest single fundraising effort and we thank all who bought them and also all of you who sold them for us." said the Royal British Legion's Poppy Appeal. If you want to see some more photographs taken in Formby and Southport, click here now!
Southport Cruisers Christmas Charity run to Clumber Lodge children's home
IT'S that time of year again. Southport Cruisers Motorcycle Club, will be having their Annual Christmas Charity Run, to Clumber Lodge children's Home, in Formby. The club vist twice a year (Christmas and Easter) with over 40 motorcycles and their riders to deliver some much needed cheer. The club will deliver chocolates and sweets and hope to continue the tradition of never failing to put a smile on the children's faces on 9 December 2012. They will also be holding a collection on the day to enable the children to have a proper day out at some point in the year to come. Any motorcycle scooter or trike's, wishing to join in, would be more than welcome. Refreshments will be served on return to the Ring O'Bells Public House, Lathom (L40 5TH). We hope to see you all at the bar on Sunday, 9 December 2012, at 11am.

Southport's Annual Christmas Lights Switch on Parade
ON Sunday, 18 November 2012 the Annual Southport Christmas Lights Switch on Parade will take place in the Town Center. As acts live perform in the Town Centre, The Light Parade will be assembling in Princes Park. The Parade once assembled, around 4:15pm, will then proceed down on to to Lord Street and then progress down the full length of the historic road. After the parade has passed the Grand Switch On will be taking place at around 5.30pm, in the Town Hall Gardens. the full event is due to end around 6:45pm. Also the Goldwing North West Club Events, if the weather is good, will be holding a static light display around the Carousel, next to the Pier, after the main festivities have ended.

KEEP up-2-date
with our free daily news emails.

Are you subscribed? Si

g

n

u

p

today

to

our daily email news service via... Formb

y

-

Re

p

orter

.com

.

If you subscribed you can keep in up-to-date with what's going on in and around Merseyside. It is free and we do not send out massive amounts of emails. Also your email is kept under the UK's Data Protection Act, so you can be sure that you will not have problems.
S
outhport

Vue

Film Showing

Time

s