Top award for Hall Lane scheme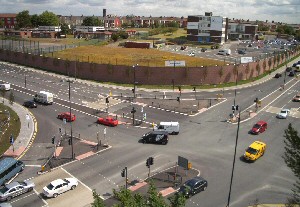 LIVERPOOL'S work to revamp a major gateway into the City has scooped a prestigious national award. The £19 million Hall Lane Strategic Gateway scheme has been named the 'Infrastructure Project of The Year' at the 9th annual Builder & Engineer Awards 2012.

The awards; which bring together some of the UK's brightest construction industry figures to celebrate the stand-out achievements of the past 12 months; took place at Old Trafford Cricket Ground.

Hall Lane beat-off competition from other major schemes across the country, including the Tottenham Court Road Station upgrade and the MediaCity UK footbridge scheme at Salford Quays.

Councillor Tim Moore, Liverpool City Council's Cabinet Member for Transport, said:- "The Hall Lane scheme has transformed a key route into the City centre. It has removed one of the worst bottlenecks in the City, and is providing a much better image of Liverpool to visitors as well as a much better environment for the local neighbourhood. It's fantastic that this scheme, which will bring huge benefits to the local community, to commuters and to the wider public for many years to come, has received this national praise."

Hall Lane, a major arterial route from the M62 to Liverpool City centre, is used by almost 35,000 vehicles everyday. It had suffered from significant congestion and safety issues, bottlenecks and constricted carriageways.

The project, delivered by Liverpool City Council, 2020 Liverpool and Birse Civils, and completed in summer 2011, has helped create a much improved route into the City from the East.

Work included a new dual carriageway, 6 major junctions, extensive utilities works, and a 400 metre-long, 7 metre high retaining wall.

The scheme also saw improvements to cycling, public transport and pedestrian routes as well as new controlled pedestrian crossings, new street lighting, CCTV cameras and the planting of new trees.

Judges praised the Liverpool scheme for helping alleviate congestion and improve safety, while removing traffic from residential streets.

Liverpool City Council's Director for Regeneration, Nick Kavanagh, said:- "Creating first-rate gateways into our City centre is an integral part of our regeneration plans, so I'm delighted that our work to improve Hall Lane has been recognised nationally. This award is testament to the work we have done, with our partners, to create a more attractive area for visitors and inward investors, improve the local environment, reduce congestion and deliver better road safety."

The Hall Lane Strategic Gateway scheme was funded by a variety of sources with the bulk coming from the Department for Transport, £1.4m coming from Liverpool City Council and £1.5 million coming from the European Regional Development Fund. Further information on the annual Builder and Engineer Awards, can be found at:- awards.builderandengineer.co.uk.

Vinnie's back to push up North West's 'depressing' cardiac arrest survival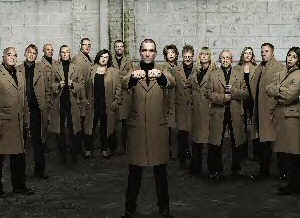 IN April last year, the Department of Health began collecting cardiac arrest survival rates for North West Ambulance Service. Since then, survival rates from witnessed out-of-hospital cardiac arrests where CPR and a defibrillator could have helped have shown no sustained improvement.

The BHF says if survival rates in the North West are to improve more bystanders need to help by doing CPR and so the charity is bringing back its popular Hands-only CPR TV advert, starring Hollywood hardman Vinnie Jones. The charity is also releasing a new training film, starring Mini Vinnie, to help promote Hands-only CPR among the next generation of life-savers.

The latest figures for North West Ambulance Service, published this month, show in June 16% of witnessed cardiac arrest casualties attended by paramedics survived to leave hospital; just 4 out of 25 casualties. Across England survival rates peaked at 28% in May 2011 but have since deteriorated and not risen above 20% this year.

In Seattle, where over half of the population are now trained in CPR, survival rates stand at 52%. Within some parts of Norway, such as Stavanger, where CPR is part of the school curriculum, survival from witnessed shockable cardiac arrest is also as high as 52%.

The figures also show where you live in England could determine your chances of surviving a witnessed cardiac arrest. A rate of just 7.5% was recorded in the East Midlands compared to 33% in Wiltshire and Gloucestershire.

In January, the BHF's original advert and training film told millions that have-a-go-heroes should give the kiss of life a miss in favour of hard and fast chest compressions to the beat of Stayin' Alive by the Bee Gees. The online training film has now clocked up 2.4 million views and the charity has been flooded with amazing stories of survival.

The charity has confirmed 28 people have contacted it to say Hands-only CPR has helped to save a life. But Professor Peter Weissberg, Medical Director at the British Heart Foundation, wants more survivors. He said:- "Many people can survive an out-of-hospital cardiac arrest, but only if they receive immediate CPR. Sadly, in the vast majority of cases in the UK this doesn't happen. We know Hands-only CPR works but more bystanders need to step in if we're ever to see the majority become the minority. The great thing about Hands-only CPR is you don't need any special skills or to remember how to do the kiss of life. It's simple, you can't do any harm and you may well save a life. We know of at least 28 people who are alive today simply because the person standing next to them when they collapsed did what Vinnie told them to do in our advert."

Vinnie Jones added:- "Dozens of Brits are alive today because of Hands-only CPR; and that's only the people we know about. But still not enough of us survive a cardiac arrest and it's seriously important that everyone in the North West knows hard and fast chest compressions to the beat of the Stayin' Alive by the Bee Gees can be the difference between life and death. Whatever you do, tell your family and mates about Hands-only CPR. It could turn out to be a life-saving decision."

For more information about Hands-only CPR and to watch the training film and incredible stories of survival, visit:- bhf.org.uk/handsonlyCPR.