TOWIE STAR SAM FAIERS DRAWS A CROWD AT BIRKENHEAD BOOK SIGNING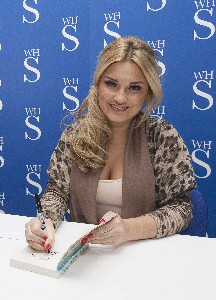 TOP TOWIE fans queued for more than 5 hours to ensure they were first in line to meet Sam Faiers who was in Birkenhead to sign copies of her new book. The star of ITV2's The Only Way Is Essex (TOWIE) was on her first trip to the Wirral town when she met a huge crowd of expectant fans at WH Smith in The Grange and Pyramids Shopping Centre. The 21 year old signed copies of Living Life The Essex Way: TOWIE & Me, and posed for photos with fans during the signing on Saturday, 17 November 2012.

Sam, who is also a model and runs a successful fashion boutique called Minnie's with her sister Billie who also stars in the show, said:- "I have had such a brilliant welcome from everyone here in Birkenhead and it has made my first visit here really memorable. I love doing book signings because it is great to meet people who are such fans of the show. I really appreciate people taking the time, on a cold November day, to wait to get their book signed. I hope they enjoy reading it!"

Looking forward to meeting the top television celebrity were sisters, Tiegan, 14, and Danielle Carani, 8, from Thingwall.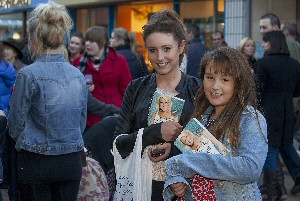 Tiegan said:- "I'm a massive fan of TOWIE, especially Sam but I love Joey Essex too. He is gorgeous. I have never missed an episode and I like it because it is really funny and Sam's fashion is great. I get lots of tips from what she is wearing."

Danielle added:- "It's been amazing to come to Birkenhead and actually meet Sam. We love watching the show and so to see her in person is really exciting."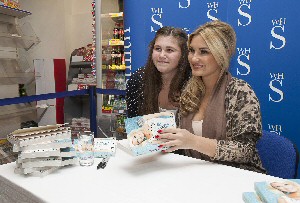 BAFTA winning reality TV show The Only Way is Essex has been a runaway success and propelled Sam and her fellow cast members, including boyfriend Joey Essex, into the limelight. The show, set mainly in Brentwood, Essex, depicts real people and their lives but the situations they are filmed in are frequently set up for the camera. The series is known for its celebration of fake tans, lash extensions and young people keeping it 'reem'.

Happy to welcome main character Sam to The Grange and Pyramids Shopping Centre was Commercial Director Derek Millar who said:- "Having a top celebrity like Sam Faiers at The Grange and Pyramids has been a terrific draw and we have had a very busy Saturday which is great for business. We are very grateful to Sam and her team for visiting us, especially as it is her first ever trip to Birkenhead. I must also say thank you to all the loyal fans who turned up today to see her. It was a fantastic turnout."

Also delighted was Darren Brockbank, Store Manager of WH Smith, who added:- "It has been nice to welcome Sam to the North and to see so many people enjoying and making the most of her visit to Birkenhead. It has been a very successful business day too. Not only does it bring more people to our store but it also has a knock on effect for the rest of the centre which can only be a positive thing for the town."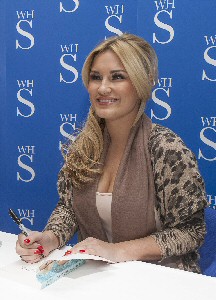 In Sam's book, she shares the secrets to becoming a true TOWIE, lifts the lid on the show and her cast members but also gives how-to advice on beauty, fashion, men, dating, diet and tips on the best nightclubs and beauty salons. The book aims to offer a unique glimpse into her life and fans will be able to read all about her relationships with other cast members and the problems of overnight fame. It also now includes a brand new chapter on her relationship with Joey Essex and what happened when they went back to Russell Brand's house after a night out. The first hardback edition of the book had 17 weeks in the top 10 best seller list. Signed copies of Sam Faiers book are still available at WH Smith in The Grange and Pyramids Shopping Centre in Birkenhead.

New video from Southport disability centre pays tribute to Queen legend
THE life of rock legend Freddie Mercury has been celebrated in a special video released by a local disability charity as it celebrates Queen Week this week. The uplifting video was recorded at Sandpipers, disability charity Vitalise's respite holiday centre in Southport, and features the disabled guests, volunteers and staff at Sandpipers singing and dancing along to Queen's legendary anthem 'Bohemian Rhapsody'. The video also pays tribute to the band's iconic lead singer, Freddie Mercury, to mark the anniversary of his death, during the centre's Queen Week celebrations. The new Vitalise video is the charity's follow up to 'Don't Stop Me Now', released in September, which paid tribute to the inspiring achievements of Team GB's athletes in the London Paralympics. Vitalise is hoping that 'Bohemian Rhapsody' will become as much of an internet hit as 'Don't Stop Me Now', which scored over 14,500 hits on YouTube. The charity is hoping to get backing for the video from the band itself and is calling on all its supporters to share the video as widely as possible.

Vitalise's Chief Executive Chris Simmonds said:- "It seemed only fitting to release this video during Queen Week at Sandpipers, as, with the help of our guests and volunteers, we pay tribute to Vitalise's favourite band and the memory of Freddie Mercury on the anniversary of this death. Freddie lived life on his terms, and that's exactly the spirit we hope to instil in all the people with disabilities who spend time with us. We never see the disability, only the person. We salute Freddie, Queen, and the spirit of people with disabilities the world over!"

The video can be viewed on Vitalise's YouTube channel.

Vitalise is a national charity providing essential respite breaks for people with disabilities and carers at Sandpipers and 2 other accessible respite holiday centres in the UK.
KIDS' DREAMS STIFLED BY BULLYING
MORE than 90% of children say they have been bullied, or seen someone be bullied, for being intelligent or talented - according to figures released by the Anti-Bullying Alliance (ABA), which is hosted by the National Children's Bureau (NCB).

The research has been released to mark the start of the Anti-Bullying Week, which begins today. This year the campaign highlights how bullying can hold children back from achieving their full potential.

The research shows that more than a quarter of 11-16 year olds (27.3 %) have quit an activity they enjoy because of bullying, and almost half (49.5%) have played down a talent for fear of being bullied – rising to 53% amongst girls.

Despite the popularity of programmes like X-Factor, and Great Britain's achievements in the 2012 Olympics and Paralympics, many children are scared to excel with 11% having stopped singing, 8% drama and 9% dancing. 8% have even quit sport for fear of being bullied.

Achievement in crucial academic subjects is also being stifled with 12% of children saying they have played down their ability in science. Maths is also taking a hit, with 18.8% of girls and 11.4% of boys deliberately underachieving to evade bullying.

Ross Hendry, Chair of the Anti-Bullying Alliance says the results of the survey are very worrying:- "We know that bullying can lead to children missing school, failing exams, dropping out of sport, avoiding extra-curricular activities and limiting their life choices. It's unacceptable that rather than celebrate their talent, they feel that they have to hide their gifts, purposely underachieve in crucial subjects and miss out on things they enjoy because of bullying. Government should take note. At a time when we need more young people to study maths and science at college and university, and to drive the future of our economy, they're actually cowering away from fear of being bullied. Bullying is holding our children back and stifling their future. Let's make a stand together this Anti-Bullying Week and make it clear that bullying is unacceptable and it must be tackled. We really are better without bullying."

ABA is hosted by the leading children's charity NCB, it brings together organisations and individuals who are committed to tackling bullying. This year's Anti-Bullying Week theme is 'We're Better Without Bullying' and ABA is asking for your help to raise awareness and to tackle bullying in our schools and communities.

Make a donation at online, also you can show your support on Facebook alliance or on Twitter, @abaonline. Plus you can join the ABA at:- anti-bullyingalliance.org.uk.
Rag trade to feel the force...
A taskforce to tackle tax cheats in the rag trade in the North West and North Wales was launched by HM Revenue & Customs (HMRC). It is expected to recover over £4.6 million and will target manufacturing, wholesale, retail and textile recycling.

David Gauke, the Exchequer Secretary, said:- "The vast majority of people play by the rules. We will not tolerate tax evasion and will crack down on the minority who choose to break the rules. It cannot be fair that, while most people are paying the right tax, a tiny minority are not paying what they should. HMRC is on target to collect more than £50 million as a result of taskforces launched in 2011-12."

HMRC's Jennie Granger, Director General Enforcement and Compliance, said:- "HMRC is serious about tackling people who are not paying what they should. Anyone deliberately evading tax should watch out – HMRC is closing in on tax cheats. If you know anyone who is evading their taxes you can tell HMRC via the Tax Evasion Hotline by phone, on:- 0800 788 887."

Taskforces are specialist teams that undertake intensive bursts of activity in specific high risk trade sectors and locations in the UK. The teams will visit traders to examine their records and carry out other investigations.

HMRC has launched 30 taskforces since May 2011. Other taskforces launched today include:-

► the rental property sector in the South East

► the alcohol industry in Scotland.

Taskforces are a result of the Government's £917 million spending review investment to tackle tax evasion, avoidance and fraud from 2011 to 2012, which aims to raise an additional £7 billion each year by 2014 to 2015.