Sefton Council named Winner of the 'BAMA Can Do Awards'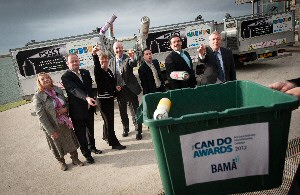 THE British Aerosol Manufacturers' Association (BAMA) has announced Sefton Council as the national winner of 'The BAMA Can Do Awards 2012' for running the best recycling communication campaign that includes empty aerosols.

BAMA is the leading trade association for the aerosols sector and the Can Do Awards, celebrate and reward local authorities who show exemplary practice in communicating to householders the benefits of recycling aerosols. Sefton Council was nominated for the award by Palm Recycling Ltd with whom they partnered for the communications campaign. Judges praised Sefton's campaign in its entirety, but highlighted the Public/Private partnership underpinning the activity between Palm Recycling and Sefton Borough Council. The campaign boosted capture rates of metal packaging recycling as well as significantly increasing the percentage split of cans collected at the kerbside (a remarkable 50% increase was recorded).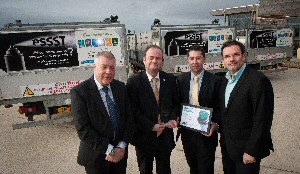 The presentation was made in Crosby, Merseyside by Chief Executive of BAMA, Dr John Morris, to representatives from Sefton Council including Cabinet Member, Councillor Ian Moncur (Children, Schools, Families and Leisure). Sefton Council was awarded the covetable prize of a £1200 changeable graphic display system for three recycling vehicles, donated by BAMA's prize sponsor, Epic Media Group. These customised graphics will act as advertisements on the vehicles for a 3 year period. The Council also received an engraved trophy and a framed certificate.

The BAMA Can Do Awards form part of a long-term and highly successful campaign initiated by BAMA. Since 2001 the proportion of local authorities which include empty aerosols for recycling has significantly improved, from approximately 7% to over 87% now.
Dr John Morris of BAMA, explains:- "Aerosols are usually made of high grade, recyclable metal so we have been encouraging local authorities to ensure that they collect empty aerosols as this can make an important contribution to sustainability. The 'Can Do Awards' are just one of the ways we have been encouraging more aerosol recycling. Recycling success depends on communicating to local residents and local authorities working together. The partnership of Sefton Council and Palm Recycling demonstrated a good mix of promotional and editorial work as well as face-to-face contact through a series of road-shows. Their 'recycle more things more often' has captured the consumers attention and by promoting recycling household metals such as aerosols, they have increased their recycling rates significantly."

Research shows that many consumers are still not aware that they can recycle their empty aerosols with their other metal recyclables. Dr Morris explained:- "BAMA's long-standing campaign has helped encourage over four-fifths of all local authorities to recycle empty aerosols from households. Our aim is to encourage the remaining Councils to follow suit. The 'Can Do Awards' are a way of highlighting best practice in a really positive way as once an authority has opted to accept empty aerosols for recycling, success depends on communicating this to householders. We are immensely grateful to Kevin Murton and his team at Epic Media Group for so generously providing the prize once again this year. Communicating via messages on recycling vehicles is a powerful means of getting the message across as Sefton's campaign demonstrated. Epic's generous prize will enable an additional three vehicles to help spread the empty aerosol recycling message." ...continued...

...continued... BAMA continues to encourage and offer practical assistance to local authorities, retailers, waste companies and other interested parties by providing materials, information and guidance on how aerosols, once the consumer has used them up, can be recycled with other metal packaging, successfully reducing the amount of material going to landfill. For further information visit:- bama.co.uk.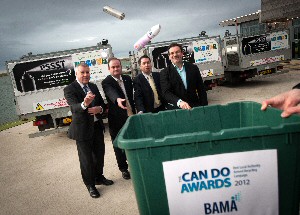 Mandy Kelly, Business Development Director, Palm Recycling, said:- "This Award is great news for Palm Recycling and Sefton Borough Council as it goes to show just how important and effective partnering can be in order to achieve a mutually beneficial goal – greater recycling of metal. The MetalMatters communications programme, funded by Alupro, engaged the local community by getting them to consider metal as an important material to recycle, based on its high raw material value and endless recyclable uses."

Cllr Trish Hardy, Cabinet Member Communities and Environment, added:- "This is yet another example of partnership working together this time promoting the benefits of recycling. The MetalMatters campaign really hit home with residents across the borough and shows how effective campaigns like this can be."

The communications campaign included radio and newspaper advertising, leaflet drops to Sefton households, promotional messaging on Palm's recycling vehicles as well as road shows held across Bootle, Crosby, Maghull and Southport. 124,000 households within the Borough of Sefton are serviced by Palm Recycling, who operate a weekly, source segregated kerbside collection scheme, collecting cans, paper, glass, food waste and textiles.
The Sefton Council Recycling Campaign Key Facts:-
Size of Community:- 120,000 households

Campaign Message:- 'recycle more things, more often'

Budget:- £20,000 (funded by Alupro) Cost 16p per household

Launched:- April 2012 to November 2012

Promotion of the campaign includes:- Borough-wide campaign with targeted communications for hard-to-reach groups. Newspaper advertising campaign and editorial, radio advertising, leaflet drops, newsletter drops, promotional messages on recycling fleet, road shows and competitions for residents.

Measurement:- 50% increase in percentage split of metals collected at the kerbside

FURTHER APPEAL FOR INFORMATION - HALL LANE SHOOTING
MERSEYSIDE Police have renewed its appeal for information to locate a shotgun used in a shooting in Hall Lane, Maghull on Thursday, 15 November 2012. If you have any information about gun crime in your area or more specifically about the shotgun used in the Hall Lane shooting, Detectives would urge you to come forward. Matrix Detective Inspector Richie Salter said:- "Members of the public who come forward with information about gun crime should be thanked for the assistance they provide in keeping Merseyside safe. Anyone with any information about gun crime in their area or anyone who has information about the shotgun used in the Hall Lane shooting, please contact officers on:- 101 or Crimestoppers anonymously on:- 0800 555 111." 2 people have been charged with attempted murder in connection with the shooting of a 19 year old man on Hall Lane on Thursday, 15 November 2012.