LOCAL RIDERS QUALIFY FOR PETPLAN EQUINE AREA FESTIVALS CHAMPIONSHIPS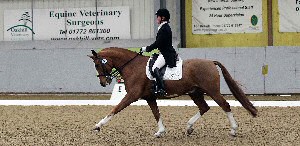 A total of 10 amateur dressage riders, competing at novice through to Prix St Georges have qualified for next year's prestigious Petplan Equine Area Festivals Championships after a great performance in the Petplan Equine Area Festival that took place at Myerscough College, Preston in Lancashire. The following horse and rider combinations won their respective classes with each posting scores high enough to earn them the chance to compete in the Championships, which take place at Hartpury Arena in Gloucestershire next April.

► Preliminary - Clitheroe-based, Hannah Grummett (17) riding Quivantos

► Preliminary - Preesall-based, Rose-Marie Kenyon riding Rubinstein Million

► Novice Restricted - Billinge-based, Louise Culling (15) riding View Houdini

► Novice Restricted - Clitheroe-based, Hannah Grummett (17) riding Quivantos

► Novice Open - Preston-based, Paul Conway (45) riding Arctic Monkey

► Elementary Restricted - Newcastle-based, Joanne Matthews (32) riding Raindance

► Elementary Restricted - Inskip-based, Rachel Taylor riding Bangalore C

► Elementary Open - Alderley Edge-based, Nicola Claxton (41) riding Bon Seiger

► Medium Restricted - Stoke on Trent-based, Emily Watts (19) riding Abbey Douglas

► Medium Open - Thornton Hough-based, Caroline Lyons (32) riding Encino

► Advanced Medium Restricted - Totley-based, Alison Singleton (46) riding Taurus II

► Advanced Medium Open - Warrington-based, Darcas Lever (21) riding Valentijn WG

► Prix St Georges - Uttoxeter-based, Jane Critchley (43) riding Donnerouge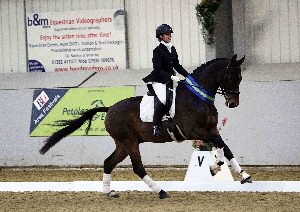 The Petplan Equine Area Festivals, or 'The Petplans' as they are known among competitors and fans of dressage, is a series of 17 dressage competitions that runs from 17 August to 29 October. Held at top competition venues across the UK these events give riders the chance to compete in top class arenas and experience true championship conditions.

Isabella Von Mesterhazy, Petplan Equine's Head of Marketing said:- "This is the 13th year in which Petplan Equine has supported this series and it has certainly been lucky for these accomplished amateur dressage riders! Dressage is UK's fastest growing equestrian discipline and this trend is likely to continue thanks to the outstanding efforts by members of British Dressage riders in Greenwich who claimed team and individual gold and individual bronze medals. We wish all those who have qualified here at Myerscough the very best of luck in the Petplan Equine Area Festivals Championship next April."

The growth of series such as the Area Festivals relies upon the financial and promotional input of its sponsors. British Dressage's Chief Executive Amanda Bond explains:- "Since its inception, this Petplan Equine sponsorship has helped the British Dressage Area Festivals which now attract around 2,500 competitors, go from strength to strength. The Area Festivals give grass roots competitors the chance to compete on the 'big stage' and we are seeing the standard improve year on year - could we be hosting a future Olympic Medallist at this year's Festivals?"

Further information about the Area Festivals is available from the Petplan Equine website.

REGIONAL CRACKDOWN ON ROGUE HAULAGE FIRMS
HAULAGE firms and truck drivers involved in organised crime across the North West are being targeted by law enforcement agencies during a 12 month crackdown supported by Crimestoppers. Drugs, guns, illegal tobacco, laundered fuel, and dangerous fake alcohol are among the contraband that are smuggled into the United Kingdom from overseas then brought to the North West hidden in lorries.

Titan, (the North West Regional Crime Unit), is leading an operation codenamed 'Hedgehunter' aimed at:-

► Disrupting criminal activity by rogue elements within the haulage industry

► Gathering information about who is involved

► Supporting law-abiding members of the trucking industry whose profits and livelihoods are being threatened by criminals

Operation Hedgehunter is being supported by independent charity Crimestoppers, Border Force (BF), the Serious Organised Crime Agency (SOCA), HM Revenue & Customers (HMRC) as well as all 6 regional Police forces and other agencies.

Detective Chief Inspector Janet Hudson, the Senior Investigating Officer for Operation Hedgehunter said:- "This is the first time that Titan has led an operation targeting haulage companies as the movers and shakers in serious and organised crime in this region. Almost all organised crime affecting the North West involves commodities like drugs, weapons or contraband crossing our borders illegally and end up fuelling crime on the streets of our communities and damaging people's lives. By targeting rogue elements within the haulage industry we are disrupting this supply chain, driving the criminal element out of trucking and firing a warning shot across their bows that we are going to be looking very closely at their business practices. The vast majority of firms are run by decent, law-abiding people who are simply trying to run a legitimate business and make a living. But they are not competing on a level playing field because some of their rivals are using the proceeds from organised crime to expand their business unfairly. My message to them is help us put a stop to this by sharing what you know about suspicious or illegal activity in your industry."

Operation Hedgehunter is a multi-agency operation aimed at encouraging people working in the haulage industry and the wider public to report on hauliers who are operating outside of the law and industry regulations. The haulage industry turns over £64 billion each year, employing 220,000 people and operating 425,000 vehicles. From next Wednesday, 21 November 2012, Police and other agencies will be carrying out highly visible roadside examinations of heavy goods vehicles being driven on the motorway network to check if they are carrying any illegal loads or have committed any traffic offences. A high-profile awareness-raising campaign aimed at truck drivers and other motorway users will also encourage them to report any information about illegal or suspicious activity anonymously to Crimestoppers.

Leaflets with an eye-catching image of a set of truck doors with the slogan:- 'Illegal load on board?' will be placed by Border Force officers in the passports of truck drivers going through security checks at key ports. Business cards will also be handed to them in cafes and garages in the region's main motorway truck stops. Law enforcement agencies and border officials have successfully targeted hauliers from all over the country and Europe in the past with millions of pounds of drugs seized and offenders being given double-digit prison sentences.

In September this year lorry driver Stephen Newland from Burscough, Lancashire was jailed for 8 years and 6 months, after Border Force officials found 45 kilos of cocaine worth £8 million hidden in a false bulkhead in the driver's cab. Newland claimed her had used the lorry to transport a friend's belongings from the north to the south of France and denied there was anything on board. However after the discovery at Dover he admitted being knowingly concerned in the importation of a controlled drug.

In the same month, businessman Gary Pattinson from Hull was sentenced to 18 years imprisonment for plotting to import high quality cocaine into the country hidden in boxes of flowers. An investigation by the Serious Organised Crime Agency found that Pattinson had driven to Rotterdam in Holland to pick up the cocaine but was stopped by Border Force officials when he returned to Hull 2 days later. A search of his HGV revealed 89 boxes of chrysanthemums which, when X-rayed, contained 84 kilos of 97% pure cocaine with an estimated street value of £23.5 million. Border Force officers have also recently stopped 5 people from Eritrea hiding in a lorry bound for Crewe, which had been stopped at Calais. A sniffer dog detected the group hiding in the lorry, which had come from Czechoslovakia.
MISSING FROM HOME APPEAL - LEWIS JAMES - SOUTHPORT
MERSEYSIDE Police are becoming increasingly concerned for the whereabouts of a 23 year old man from Southport. Lewis James was last seen at his home on Forest Road by his family on 8 November 2012. He is described as white, 5ft 9in tall, of medium build with very short ginger hair and a pale complexion. He has a scar on his left hand. When last seen he was wearing a black jacket and jeans. He is known to frequent the Southport area. Lewis has not gone missing before and his family are extremely worried for his safety. Lewis, or anyone who knows of his whereabouts or who may have seen him, is asked to call Merseyside Police on:- 0151 777 3083. Alternatively, call the Missing People charity on:- 116 000.