Your Child's Old Games Could Make Another Child's Christmas!

STAFF ON THE Children's Ward at Southport & Formby DGH are appealing for people to donate last year's unwanted computer consoles and games in the run up to Christmas.

Tricia Tabron, Play Therapist, who has issued the appeal on behalf of the ward, said:- "Computers are a therapeutic tool and the games can help relieve a child's anxiety, which can aid recovery. "

The hope is that with Christmas approaching and many youngsters turning to Santa for the latest computers and games, the Children's Ward will benefit from the old ones taking up valuable cupboard space.

Added Tricia:- "The appeal was first launched two years ago and proved to be a great success. The donated items proved very popular with the children, helping them to pass the time away."

Donations, which should be in full working order, can be dropped into Tricia on the Children's Ward. For further details call Tricia on 01704 547471 ext 4544.

DICKENSIAN DAY 2002 is just around the corner!

WELL ITS NEARLY that time of year again as the Dickensian Era hits Formby again. From 10:00am to 4:00pm Formby Village will be sent back in time as the Dickensian Day hits again. The village will have a fayre with traditional children's rides, live music from brass bands, choirs, side shows, even a real steam train. Santa will be on hand and will be walkning around the charity stalls and mixing with the street entertainers.

All stallholders will be in Dickensian costume and there will be fancy dress competition for all the children.

A grand parade will take place at 2:30pm with the Mayor of Sefton our local MP Claire Curtis Thomas taking part. But we can not miss out the star... scruffy the dog who was the winner at crufts! So......

"DO NOT FORGET Saturday 7th December!"

_________

SOUTHPORT TEENAGER SEARCHING FOR STARDOM
By Julia Brough.

TALENTED SOUTHPORT TEENAGER Bethany Greenway will be searching for national stardom when she competes in the final of a national talent competition next week.

Bethany, from Birkdale, will be competing
against 14 other regional finalists from throughout the country in a bid to take home the national Search for a Star title.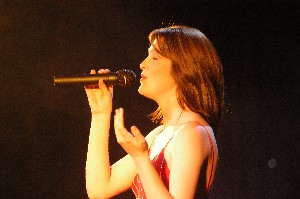 The sixteen-year-old, who is currently studying to a BTEC National Diploma in Performing Arts, won her place in the National Grand Final after beating off stiff competition to win the North West regional final of the competition.

On Saturday (November 23) Bethany will entertain a packed audience at Bournemouth's Pavilion Theatre when she hopes to take home the title and the £2,000 prize money up for grabs.

"I'm really looking forward to it. It's really going to be fun although I know everyone is going to be really good as they're already winners from the regional heats," said Bethany.

Soloist Bethany plans to wow the six judges, which include actress Ruth Maddock, with her rendition of 'The First Time Ever I Saw Your Face' by Celine Dion and 'Get Here' by Oleta Adams.

Southport representatives Sefton Council, Events Officers Peter Sandman and Carolyn Lowry together with Anne Dalton and Bill Dobson from ABD Productions, the regional heat organisers, will also be at the final to support the teenager in her quest for stardom.


Peter Sandman said:- "Naturally we wish Bethany all the luck in the world. She has an amazing voice and has already come such a long way by winning the regional final. The town has a well-deserved reputation for nurturing new talent so I'm sure Bethany will do exceptionally well in the final and do Southport proud."

Other competitors include Track 5, a band from Eastbourne, soloist Maddie Storm from Leamington Spa and Matthew Dawson and Samantha Sillett, a duo from Skegness.

Besides winning the regional final Bethany has also just won another accolade - The Most Promising Newcomer in the recent Scouseology Awards. She also performed live on stage on Sunday (November 17) before thousands of people during Southport's Christmas lights switch-on.

Bethany's ambition is to appear in the West End. She is from a musical family, has been a member of the Southport Operatic New Generation for seven years, appearing in more than 14 shows and reached the audition stage in ITV's Pop Rivals.

The Search for a Star Competition, this year sponsored by Walls ice cream, is the largest and longest running professionally organised amateur contest in the UK entertainment profession and is now in its 27th year. The national competition is run by the British Resorts Association and in 2004 is due to return to Southport.