DANGER

it's the SOUTHPORT REPORTER

Game

Welcome to a new feature, the Game Zone is a look at the Computer Game industry. Reviews of latest releases and with tips and information as to what is going on in the games industry. Reviews are out of five stars. 0 - far to bad, 1 - very poor, 2 - poor, 3 - average, 4 - good, 5 very good.

Reviews this week by By Dominic Bonner.

STAR GAME OF THE WEEK

Archangel

Programmed by Jowood

It can be said that few sword-fighting games have been released this year. Such rare gems are regarded as playable; rarer still are those that are remembered fondly.

Not since the release of Rune, the infamous Ragnar character and his much loved sword fighting antics which Human Head studios were responsible, have we seen a game that could possibly stand up to it as its replacement.

But with archangel the time has come to leave the past behind and welcome the future for games of this genre.

Your role as Michael, the hero, follows typically the storyline of good versus evil. But the endearing factor of this game is that it appeals to those whom like reality mixed with their fantasy in playing games. The object of the game is simple, protect the earth from the angel of darkness with your trusty sword and wander the realms of the earth to pursue your goal in eliminating evil. (sigh - where have we seen all of this before?)

Archangel's third person approach has worked well in that Jowood know that first person player with games of this genre do not work. Graphically speaking, this game stands up to the litmus test, its warm and dynamic textures correspond well with its game play. Movement and interaction in the game is slightly less fluent in some cases. But in general, the whole feel of the game lures you - quiet unknowingly, into addiction. Even though it has a rather slow pace in the beginning.

Sadly, Archangel's delivery of its dialogue leaves much to be desired, as it is pretty awful. Also lacking is a certain multiplayer feature, which is a decisive factor in the success of any release in this day and age. But all this aside, Archangel is set to be a success as a single player release and one hopes such small niggles can be redeemed by the release of a patch that could see current players of Rune switch to an online version of Archangel.

Jowood are renowned for releasing unknown games that are little gems. And this particular release can only see the software company go up a further notch in their quest to be up there with the best.

Knight Rider


Programmed by Davilex Games.

OVER the years we have been bombarded by numerous car pursuit games - particularly from EA games and their Need for Speed series.

However the chance to get behind the car that personifies the Knight Rider series - KITT, would prove to be a hard task when fulfilling the dream of many a fan.

Davilex games have taken on a title, which promises little the shape of changing pursuit car games of this genre. Starting with your car, you pursue various villains, jumping and skiing around till the level is over.
One can't but help to want to like Knight Rider, but in spite of all the pizzazz of new game features, which are particularly cumbersome to control, the texture quality of this game is poor and it leaves the fans with a rather empty offering of an excuse for a car pursuit game.

Davilex may have tried to deliver but sadly this little independent game for a potential buyer is not something where turbo boost and pursuit mode will not be required to drive out to the local software store and buy it. Dull and very average.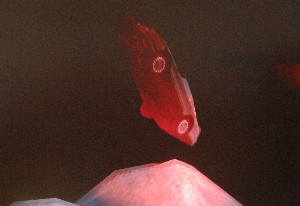 Programmed by Team 17.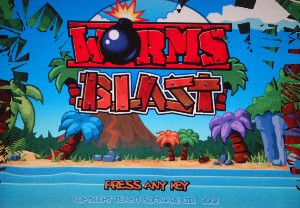 SOMETIMES good things come in small packages. In the case of this game it would seem that this cliche rings true.
Worms Blast is a potent game, that much is certain. Although it may be somewhat removed from its origin. Taking the genre from the strategy of land based team fighting to individual single puzzle challenges of single player death match puzzle game type. Team 17 have done much to pacify die hard fans and gain new ones alike - with the added ingredient of a promising multiplayer feature.
Although it may not be the graphically challenging blockbusting title the we have come to expect. It achieves the necessary formula for an addictive and competent piece of gaming.