Karen Potter Craven Minor JFL

Results Week Ending 6 January 2013
Under 9
TRINITY White dropped points to 3rd placed Burscough leaving them 3 clear of SFCJ Yellow who have an all important game in hand.
Report on Birkdale's defeat by Formby White
A great start to the new year for Formby JSC Whites with a 5-0 victory against Birkdale Utd. Although fitness wasn`t the best, with what looked like too much Turkey and Goodies consumed over Christmas, some great football was played by Formby JSC Whites with goals from Joe Johnson (2), Dan Griffin (1), Joe Blanchard (1) & Jack Lemmins.
Birkdale United 0-4 Formby JSC White
Trinity Blue 0-5 Town Green
Formby JSC Black 1-3 Redgate White
Formby Athletic 5-2 Hesketh Colts
S&A Amateurs Red 3-2 Redgate Yellow
Burscough 5-5 Trinity White

Under 10 Wilf Jenkinson Cup
Formby JSC Black 5-1 Redgate Green
Under 10
Colts Blue narrowly beat Town Green to maintain their lead at the top.
Birkdale United 1-0 Redgate Yellow
Colts Red 0-5 Ormskirk
Formby JSC Rangers 5-0 Trinity Blue
Formby FC Juniors 4-4 Redgate Black
Trinity White 0-5 Formby JSC White
Town Green 0-1 Colts Blue

Under 11 Premiership
Birkdale Black close to within a point of Trinity and still have a game in hand.
Town Green 0-7 Birkdale Black
Southport FC Juniors 0-3 Birkdale R

Under 11 Championship
Formby Athletic have a perfect eight wins from 8 games and lead the way.
Crosby Stuart 2-2 Redgate Rovers
Birkdale S 4-1 Hesketh Colts
S&A Amateurs 0-9 Formby Athletic

Under 12 Premiership
Redgate Black take advantage of having a fixture to extend their lead over second placed Billinge.
Redgate Black 8-1 Birkdale Black

Under 12 Championship
S&A pull away from third placed Trinity following their victory, but Colts maintain second with another fine win.
S&A Amateurs 2-1 Southport Trinity
Birkdale Hawks 2-1 Town Green
Hesketh Colts 5-3 Formby JSC Black

Under 14 Premiership
South Sefton pushed on to 2nd place, as yet unbeaten in the division.
Birkdale United 0-6 South Sefton Borough

Under 14 Championship
Leaders Waterloo and second placed Burscough are yet to meet and head the table with 100% records.
Formby JSC 2-5 Hesketh Colts
Burscough Green 9-0 Jaguars Red
Redgate Green 1-4 Jaguars White
Southport FC Yellow 0-2 Real Waterloo

Under 15 Premiership
Leaders Burscough suffered their first defeat of the season but second placed Trinity were unable to make any massive inroads as they were held at Town Green.
Town Green 2-2 Southport Trinity
Birkdale United 3-1 Burscough

Under 15 Championship
Redgate overtake Skem, recording a win whilst Skem were held to a draw.
Dynamo Rangers 0-3 Hudson Celtic
Redgate Rovers 8-2 Formby JSC
Skem Athletic 3-3 Birkdale Black

Under 16 Premiership
Prescot stretched their lead as last placed Birkdale held second placed Crosby.
Birkdale United 5-5 Crosby Stuart
Ormskirk West End 0-9 Prescot Cables

Under 16 Championship
Bottom club Marina Sands record their 1st point of the season at the eighth time of asking.
Formby JSC Black 2-2 Marina Sands
Maghull Youth 1-1 Skem Athletic
Burscough 2-4 Redgate Yellow

Under 16 League One
Myers are now pressing leaders Trinity after beating nearest rivals S&A.
Burscough Green 0-2 Mitch
S&A Amateurs 0-2 Myers

Under 18
Top club Jags now have double the points of the best of the chasing pack.
Jaguars 5-1 Town Green
Great Crosby CPSOB 6-3 Maghull Youth
Formby JSC 2-1 Birkdale United

In other words… a new festival
LIVERPOOL City Council is asking organisations, groups and schools across the City to join together and help curate a very special literary festival in the spring. Friday, 17 May 2013 will see the official public re-opening of Central Library, which has been undergoing intricate restoration for more than 2 years. To mark the completion of the work on the Grade II listed building, the City will host In Other Words; a festival which will celebrate all things connected with the written and spoken word. Taking place for just under a month, the event will launch on Tuesday, 23 April 2013, to coincide with World Book Night and will run until Sunday, 19 May 2013 which marks the end of national Children's Book Week. Plans are underway to engage everyone in the City, old and young, with events being explored such as author readings, performances in unique venues, book swaps, debates and poetry competitions. Liverpool City Council is inviting arts organisations, businesses, community groups and schools to get involved and support the event by devising and funding an activity which will take place as part of the festival. To get involved organisations need to fill out a form which can be downloaded. This needs to be returned to Culture Liverpool by Monday, 25 February 2012, and should outline what the event will entail and who it is aimed at.

Mayor of Liverpool, Joe Anderson, said:- "Central Library is the final piece in the William Brown Street restoration jigsaw, and it's hugely exciting to know that in a matter of months it will be open to the public once again. As this is such a historic and important City gem, we want there to be an event which highlights the City's reputation for producing much-loved playwrights, storytellers, songwriters, poets and authors. We're hoping that organisations from across the City will come forward with exciting ideas to showcase Liverpool's creativity and encourage people to get involved in reading, writing and performing. We've already had some fantastic ideas which will really capture the imagination, in this City-wide celebration of literature. It will be a festival like no other - showcasing the tremendous talent which can be found in the City, and you never know, it may even give us the opportunity to unearth future writing stars who will be the next Willy Russell, Beryl Bainbridge or Paul McCartney."

The City Council is working in partnership with Writing on the Wall festival, the Merseyside Literature Partnership and other literary groups on aspects of the event, including helping to attract local, national and international writers to take part. Writing on the Wall will also work on three events set to take place in St George's Hall, the Town Hall and the newly revamped Central Library, as well as focusing on bringing special storytelling events to St Johns Gardens. In order to involve as many young people as possible, an education programme is also being developed which will see taster sessions, dedicated to the subject of the written and spoken word, take place in schools with teachers encouraged and supported to develop specific projects. For example, one topic could be John James Audubon's Birds of America books; these are rare, historical volumes and Central Library is home to the complete set which will have a dedicated room in the new building. The re-opening of Central Library coincides with this year's Light Night; the City's one-night arts and culture festival which sees venues across the City open from 4pm to late so visitors can make the most of the gems on their doorsteps. To mark the occasion, the refurbished building will stay open until midnight. In Other Words has been part funded by Arts Council England.
NEW YEAR CRACKDOWN ON MOBILE AND SEAT BELT OFFENCES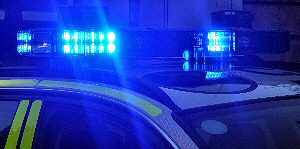 THROUGHOUT January 2013, Merseyside Police will be carrying out enforcement across Merseyside aimed at drivers not wearing a seat belt or driving whilst using their mobile phones. Last year over 6000 drivers were issued with fixed notice penalties for failing to wear a seat belt and over 4000 were detected using their mobile phones while driving. Both these offenses can contribute to serious road traffic collisions. This week will mark the unofficial start of the new year for a lot of people, with the Christmas period over and the new school term starting. Officers from Merseyside Police's Roads Policing Unit will be out and about making sure people are driving safe and not taking undue risks in the busy back to work period. Sergeant Paul Mountford said:- "Merseyside Police is committed to reducing the number of people killed or injured on our roads in 2013 and we are determined to target motorists who flout the law and recklessly endanger lives. This week will see more cars on our roads as people return to work and children go back to school and I appeal to drivers to be aware of your responsibilities on the roads. A lack of concentration because you are using your mobile phone can have severe consequences for yourself and others and by simply spending 2 to 3 seconds putting on a seat belt you greatly reduce the risk of serious injury if involved in a crash. During January we are adopting a zero tolerance approach and will be targeting hot spot areas to crackdown on drivers committing these type of offenses. Our officers will be on the roads in unmarked cars so I urge you to drive responsibly." Anyone found using a mobile phone while driving or not wearing their seat belt is liable for a £60 fine and three penalty points. If a driver is found to have been using a mobile phone at the time of a collision they could be charged with dangerous driving. This crackdown is the first of 2013. Each month, the Force's Roads Policing Unit will target specific offenses and issues that are shown to contribute to road casualties.
Businesses warned on late VAT returns
AS many as 50,000 businesses that have failed to submit VAT returns will be targeted by HM Revenue and Customs (HMRC) this month with warnings that their tax affairs will be closely scrutinised. More than 600,000 businesses have to put in VAT returns each month and most do so on time. But in a new campaign some 50,000 will be warned that, from 28 February 2013, their tax affairs will attract greater attention.
The VAT Outstanding Return campaign is aimed at businesses that have one or more VAT return outstanding, and have been told to submit their returns but have not done so. Some will have received an assessment of VAT for these periods. These businesses are being given an opportunity to get up to date and pay the tax they owe by 28 February 2013. After that, HMRC will target them and take a much closer look at their tax affairs. By using this campaign to come forward voluntarily, they might receive better terms, as any penalty they pay may be lower than if HMRC comes to them 1st.
Marian Wilson, Head of HMRC Campaigns, said:- "If HMRC has sent you a VAT return and you have not yet taken any action, this campaign is a reminder to bring your tax affairs up to date. But time is running out. After 28 February 2013, if they have not submitted their outstanding VAT returns and paid what they owe, HMRC will use its legal powers to pursue outstanding returns and any VAT that is unpaid. Penalties, or even criminal investigation, could follow!"

People can take part in the campaign by:-

► Completing and paying any outstanding VAT returns immediately

► Telling HMRC if they have stopped trading or have changed their business details.

Help is available from HMRC by calling the VAT Helpline on:- 0845 010 9000. For further help and support about the campaign, customers can visit HMRC's website.
More information on the UK's VAT can also be found online, by clicking here also for the VAT registration thresholds for businesses, click on here.