Campaigners to walk through City of Liverpool for 12 hours
12 members of The Oliver King Foundation including Mark King, father of 12 year old Oliver King, and Campaign Patron, Wavertree Cllr Jake Morrison, will walk from Fazakerley through to Woolton on Saturday, 12 January 2013, from 9am to 9pm. Campaigners will collect signatures from residents and businesses right across the City, along the way. The theme of 12; that is, 12 January, 12 campaigners; to reflect on 12 young people losing their lives to SADS each week. The e-petition was setup by Cllr Jake Morrison following the tragic death of 12 year old Oliver King while at King David High School in Wavertree. The e-petition expires in the beginning of February and campaigners still need over 50,000 signatures before they can trigger a House of Commons debate. Campaigners have already been refused a meeting with Health Ministers and two separate occasions, and have received an unhelpful response from the Government. 4 volunteers will dress up in costumes, including The Oliver King Foundation mascot teddy bear. These efforts come as The Oliver King Foundation e-petitions is due to expire. There are fears that although many people are aware of the Foundation, they have not yet signed up. So campaigners want to take the petition to their door-step.

Cllr Jake Morrison said:- "I was driving through Wavertree worrying about how we are going to get over 50,000 signatures in just a short amount of time. It is clear to us that there are many people supporting the campaign, but we need them to sign the petition. So I suggested to Mark that we walk the streets of Liverpool, and why not make an event of it. Let's take the petition to the people. We will walk through the hearts of all our communities and ask them to sign up to our campaign. We have stood in the City Centre for a number of weeks now, St Johns Shopping Centre & City Central BID have been great with us, but we also need to be reaching our communities across the City. We will be walking through Walton, Wavertree and Woolton, and every other area in the City, asking people to sign this lifesaving e-petition. We don't have much time left, 4 weeks to reach the target otherwise the petition will just fall. That will be a slap in the face for all the hard work that has gone in to this campaign."

Mark King, Founder of The Oliver King Foundation said:- "We have 4 weeks left, we have to do everything we can to get these signatures. 12 young people die of Sudden Arrhythmic Death Syndrome every single week. We need the Government to stop this, and the only way we can go about that at the moment is through our petition. In Liverpool we are already working, all 122 Primary Schools will have Defibrillators by the end of January. But we can't just rest here, what about the rest of the country."

The Rt Hon Ed Miliband MP added his backing in November by saying:- "Access to a defibrillator would save lives. On behalf of the Labour Party, I am happy to support your campaign."

It is estimated that 270 children die of a sudden cardiac arrest while at school in the UK every year, and is the same medical condition that struck former Bolton Wanderers footballer Fabrice Muamba last season, forcing his retirement from the game. In October The Oliver King Foundation handed over the 1st Defibrillator to Pinehurst Primary School, as part of a scheme which will see all 122 Liverpool Primary School's receive this lifesaving equipment as part of a £102,640 project.

The Oliver King Foundation campaign to get Defibrillators in schools and public buildings has already won the support of many organisations including:- The Liverpool Echo, Liverpool Football Club, Everton Football Club, Fulham Football Club, Liverpool NHS Primary Care Trust, Liverpool City Council and others, including Members of Parliament - Shadow Health Secretary Andy Burnham MP, Shadow Education Secretary Stephen Twigg MP, Liverpool MPs Maria Eagle, Luciana Berger & Steve Rotheram, and Labour Leader The Rt Hon Ed Miliband MP.

For more information about the Oliver King Foundation, visit:- theoliverkingfoundation.co.uk.
Stargazing Live on the BBC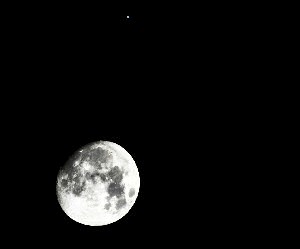 Photograph by Patrick Trollope.
THE Stargazing returned on the BBC TV, on 8 January 2013, for 3 nights and again has had a "positive impact on Amateur Astronomy," according to Mr Gerard Gilligan, Hon Secretary, Liverpool Astronomical Society (LAS). The show this year has been based on the border of Merseyside and Cheshire, at the Jodrell Bank Observatory. It featured guest experts and link-ups with NASA's Mission Control for the Mars Curiosity Rover. The 3 nights of live events also featured members of Liverpool Astronomical Society, who had braved the cold wet air outside, as Professor Brian Cox and Dara O Briain hosted live discussions and conducted the link ups indoors. Members of the LAS have also taken part in the special, public Star Party Event, which was held at Tatton Park on 10 January 2013, in conjunction with the BBC Stargazing Live Programme. Our contact, Brendan Martin, who is the Director of Liverpool Astronomical Society, and is at Leighton Observatory, told us:- "It is not too late to get involved and learn more about the sky above you. Our next meeting of the Liverpool Astronomical Society is at 7pm, on Friday, 18 January 2013, in the Friends Meeting House, 22 School Lane, Liverpool L1 3BT. Our guest speaker that night, is Mr Ian Baker, from OpTIC, Glyndwr University, St Asaph Campus. Who will speak on 'Amateur Spectroscopy - A Real Possibility' is taking place. If you want to become a member you can join us any time and take part in events like this. For more information, and to join us, please visit our website for contact details." Also the BBC and the OU have issued a free book again this year to help you look at the heavens. To order, or download your free, 'Star Guide' for 2013, click on here and click on here for more information about the show.

CLA call for universal broadband coverage vindicated by independent think tank
THE CLA's long-held belief that the Government should not be solely fixated on broadband speed has been vindicated by a report by independent think tank, the Policy Exchange. The report, The Superfast and the Furious, states that the Government should focus on helping the 10.8million people who are not online as well as helping small businesses make more of the potential released by the digital revolution. CLA North Regional Director Dorothy Fairburn said:- "We have long advocated a clearer Government focus on ensuring that all in the rural North have access to an affordable and effective broadband connection of at least two Megabits per second (Mbps). This new report highlights that two thirds of people think that good basic broadband coverage for the whole country is more important than chasing very fast speeds in some areas at the expense of others. As we stated in our own policy statement Broadband Fit for Rural Growth without universal coverage and the need for a universal service obligation, the rural/ urban digital divide will simply be exacerbated. What is clear from the Policy Exchange's own research is that the majority of the British public agrees with us."

Around 20% of those who live in the rural North are still unable to receive anywhere near the Government's benchmark of 2 Mbps. Miss Fairburn added:- "There is still a huge amount to be done to ensure coverage is universal. We believe the Government must do more to help the countryside. By seeking to form a strategic alliance with other rural interest groups to agree common objectives, we can help to deliver a comprehensive broadband strategy."

The CLA is also calling on the Government to provide an appropriate framework allowing rural communities to "piggy-back" onto public sector broadband which already exists in many rural locations such as schools and libraries. Miss Fairburn said:- "Until a fixed-line broadband infrastructure is put in place, other technologies must be used to bridge the rural/urban digital divide. The CLA advocates a 'patchwork-quilt' model whereby other technologies, such as wi-fi and satellite become widely available and used. But the Government must create the right conditions for this to happen."

The CLA wants local authorities to ensure contracts awarded to infrastructure providers include fair compensation provisions for any failure to meet time and coverage requirements. She added:- "We do not believe Broadband Delivery UK's bidding process is working. The system adopted by the Government is too bureaucratic and has discouraged many of the big market players from taking part. Moreover, payments to providers must be performance-related to ensure a fast and effective broadband service is rolled out to rural areas."
Charity boost for voluntary groups
VOLUNTARY groups in Woolton will benefit from a charity established to improve recreation and education in the neighbourhood. The Woolton Educational and Recreational Charity is using the interest on the proceeds from the sale of Woolton Village Club in 2000 to make awards to local groups.

Last year a total of £20,600 was distributed with the following organisations benefiting:-

► Bishop Martin Primary School will receive £2500 for improvement of IT provision.

► Friends of Gateacre will receive £4543 for summer planting and watering.

► Marie Curie Cancer Care will receive £1450 for improvement of IT provision for patients.

► Woolton Village Residents Association will receive £1032 for provision of summer planting.

► Woolton in Bloom will receive £6000 for provision of summer planting and watering.

► Woolton Primary School, will receive £3000 for outdoor soft fall surface.

► St Julies' High School will receive £1020 for benches for faith garden -

► Woolton Society will receive £1055 for the reprint of local history booklet.

This year it is anticipated that between £15,000 and £20,000 will be available from the Charity. Applications should be made by 28 February 2013. Application forms can be obtained from Mr. R. Thomaides, Liverpool City Council, Municipal Buildings, Dale Street L2 2DH, call:- 0151 225 2405 or via email.
Give it some welly!
TO start the year on a good footing, RSPB Burton Mere Wetlands in Cheshire is asking local people to donate their unwanted, worn-out Wellies to help celebrate 'Welly Season' in style. From green gardener's Wellies or trendy festival Wellies to pink with polka dot Wellies, people can take their old pairs to their local nature reserve, where they will be put to good use for 'Welly Season'. Running from mid-January to the end of March, RSPB Burton Mere will be delivering a season of Welly-related activities for all the family to get involved in. Paul Brady, RSPB Visitor Development Officer, said:- "Maybe Santa brought you a brand new shiny pair of Wellies for Christmas, but you don't know what to do with your old ones, well, bring them to us and we'll show you how to put them to good use." Donated Wellies will be transformed into miniature gardens or bird feeders, and staff and volunteers at the sites will be on hand to show visitors what to do. Paul added:- "On our reserve, we wear Wellies to carry out lots of different work on a daily basis. But there's also a lot of fun to be had with them, from jumping in puddles to decorating them with glitter and paint." Visitors will be able to 'Bling their Boots', and the reserves will be providing craft materials for people wanting to decorate their Wellies on site. They will then be encouraged to share pictures of their Wellies on the RSPB Burton Mere Facebook page. The reserve will also be running a special 'Wardens Welly Walk' event on Saturday, 19 January 2013, which offers a unique chance to go behind the scenes to find out all about how the wetland habitats are managed. There are plenty of activities planned throughout the season which will excite all the family, from Welly quiz trails to Welly walks for pushchair pushers, and there may even be a spot of Welly Wanging. Anyone wanting to donate their old Wellies can take them along to their local RSPB nature reserve. For more information, visit:- rspb.org.uk.