GENEROUS SHOPPERS PROVIDE A WELCOME BOOST TO THE SOUTHPORT COMMUNITY
CO-OPERATIVE members in Southport have helped the 19th Southport Scout Group Emmanuel to have their scout hut re-wired with a grant of £500.

The group received the cash boost from The Co-operative's Community Fund, a pot of money accumulated by member customers opting to donate all or part of their annual dividend to good causes in the area. The money is distributed by The Co-operative's local area committees.

Joan Wolfenden, from the scout group, said:- "Funding is becoming ever harder to secure, therefore we were delighted to hear that we were successful in securing this grant from The Co-operative. The cash has made a huge difference to our group, and it means all the more knowing that the money has been donated by local people."

Hazel Remeika, The Co-operative's Membership Manager for the North West, said:- "Supporting local communities has been an inherent part of The Co-operative's values and principles since the very beginning of the Co-operative Movement. We are particularly proud of the Community Fund, as it demonstrates how the generosity of our members can make a real difference in their local area, and now we have stores and branches in every postal area of the UK it makes it all the more relevant."

Co-operative members receive a payment twice a year based on the points they earn when they trade at any of the Group's businesses, including The Co-operative Food, Travel, Pharmacy and Funeralcare, as well as The Co-operative Bank, Smile and The Co-operative Insurance.

Community Fund application forms are available online or by phoning:- 0844 262 4001. Awards are allocated by local Co-operative members' committees, based on a set of values and principles such as social responsibility and caring for others.
APPEAL FOR INFORMATION ON SHOOTING IN LITHERLAND
MERSEYSIDE Police have confirmed that a 19 year old man presented himself in a hospital on Merseyside with a wound to his arm, at 9.50pm, on Tuesday, 8 January 2013. It is reported that it was the result of an incident on Daley Road in Litherland, at around 8.50pm and that the man has since been discharged from hospital.
Following enquiries in the area, Detectives have appealed for information. They also confirmed that a 19 year old man, from Bootle, was arrested in connection with this incident, on suspicion of possession of a firearm and taken to a Police Station to be questioned by Detectives. The man arrested has since been released from Police Custody and been no further action has been taken.
Detectives are continuing to keep an open mind as to the motive of this incident, but Officers believe it to have been a targeted incident. Enquiries are on-going in the area and CCTV is being examined. House to house enquiries have been carried out and patrols have been stepped up.
Officers would urge anyone who has any information about this incident or anyone who saw a male on a push bike, wearing dark clothing, in the area at this time, to call Matrix Unit:- 0151 777 5685 or contact Crimestoppers anonymously on:- 0800 555 111.

Make New Year Resolutions a Reality with the Red Cross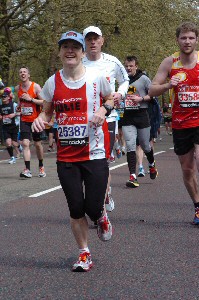 MADE a New Year resolution to get fit? Want to start running, but it's so cold, wet and dark? Need inspiration and something to aim for?

Look no further. The British Red Cross is offering Southport Reporter men and women fantastic opportunities to make those New Year resolutions a reality, Lose those Christmas pounds, and make an incredible difference to the lives of people in Merseyside and across the globe in 2013.

The charity have guaranteed places up for grabs for the iconic 13 mile Great North Run in Newcastle on 15 September 2013, plus marathons in Brighton, 15 April 2013, Manchester, 28 April 2013 and of course to end the running season, Liverpool, 13 October 2013. Or you might want to go further afield and take on the ultimate running challenge in Paris, 7 April 2013, or Berlin, 29 September 2013.

All are flagship 'Big City' runs, with tens of thousands taking part - and even more lining the streets to cheer you on in Liverpool City centre, the coastal road from Newcastle to South Shields, the Champs Elysees or the Potsdamer Platz. All cheering on your fantastic achievement!

Alexis Fairclough, Senior Community Fundraiser from Crosby at the British Red Cross said:- "I know what it's like. You make a New Year resolution, but maintaining it is so hard. Signing up for one of these runs is the perfect way of ensuring you keep at it - you have a real target. If you flag at any time, the thought of the people whose lives you will save by the sponsorship you're raising, will surely keep you going. You will be directly helping people in the UK and overseas, whose lives are turned upside down by crises such as house fires, floods, earthquakes, tsunamis and conflict. Each event is brilliant and incredibly rewarding in its own way. Few things can rival the feeling you get as you complete the final 100 metres with cheers ringing in your ears and the knowledge you're doing such a wonderful thing for charity.

Each participant pays a registration fee and raises the minimum sponsorship for each event which varies from £250 for the Liverpool marathon to £1000 for Paris and Berlin.

Each runner receives a full and comprehensive sponsorship pack, bespoke online fundraising page, their very own Red Cross running vest, and expert fundraisers will support each runner every step of the way.

Secure your place at:- redcross.org.uk/runs. Or contact Alexis Fairclough on:- 0151 702 5061 or emeil.
You can also txt:- "RUN" and your postal or email address to:- 07921 872441