SHOP FOR A NEW CAREER AT THE GRANGE AND PYRAMIDS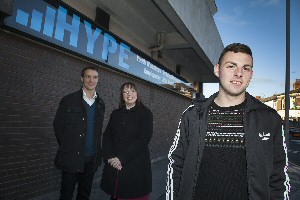 A NEW store in Birkenhead offers youngsters the chance to shop; for a future. At HYPE, in The Grange and Pyramid Shopping Centre, they can shop for sports, arts, music, drama, job training; they can even get help to stop smoking; and it's free.

HYPE, Helping Your People Everywhere, is the brainchild of Matthew Houghton, 31, from Upton, Wirral, who saw a much brighter future beyond his dead-end job in a biscuit factory.

He said:- "I've never been to university. I left school and went to work in a biscuit factory. That gave me a view of the kind of a steady job which was not going anywhere and was not what I wanted to do for the rest of my life so while I was there I decided to get qualified as a sports coach and then got a job with Adidas. When I thought of launching the HYPE initiative I got a teacher and a DJ involved. I looked at working with youngsters in deprived areas and from that it developed into evening courses and weekend courses, doing everything that young people wanted, sport, music, art and drama and all kinds of different workshops."

With money from local authority and lottery sources and its own fund-raising activities, and lots of volunteer help, Hype developed into much more, even running quit smoking courses, with backing from the NHS, and has spread its wings to Hoylake, Seacombe and Woodchurch.

The shop unit at The Grange and Pyramids Shopping Centre is a 'great help' says Matthew and will be its main base. Inside there is enough space to deliver music, art, IT and youth workshops. HYPE runs employment courses. It runs weekly youth clubs; four employment programmes each week for 18 to 24 year olds which can accommodate up to 16 people; Saturday morning provision for primary school children which about 50 attend, so quite a few hundred youngsters are helped by it each week.

With the employment programme Matthew says HYPE asks the youngsters what they want to do and how they want to develop themselves rather than just take a short term approach, pushing youngsters into jobs they do not want and may not stick with.

Matthew Boyd, 20, from New Brighton, left school with GCSEs, gained sports qualifications at sixth form, did plumbing training at college but still found himself out of work. "I saw an advert for HYPE so attended HYPE Right Track on a Friday in Birkenhead and got some voluntary work and I'm now being paid to do a job I love." Matthew had been experimenting with DJing since he was 14 and even did a short spell in Ibiza which he says was a 'phenomenal experience'.

Now his courses at the Grange and Pyramids are much sought after. "HYPE has helped me out a lot and given me hope. I'm basically doing the things I love."

Matthew Houghton says HYPE discusses with youngsters ways of reaching their goal through training courses to gain qualifications or basic skills and about crucial voluntary work to secure the essential work experience that employers so often demand.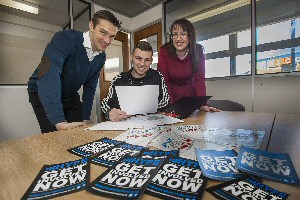 He said:- "For some it's just a confidence issue. They leave school and may not have had any employment for years or it may be someone who has been made redundant. We've had young people with good degrees but they have no work experience and employers are unwilling to give them a chance without it. People want them 'job ready' they don't want to spend time training them. We can help them get qualifications, even if it's something like first aid, basic English or maths. We can teach them to write CVs. We are not regimented, we take time to let them know what we are about and listen to what they want."

HYPE was formed in 2007 and is a registered not for profit organisation. It offers balanced and structured workshops with lots of activities, sports like football, pool or tennis, or dance and drama classes and even gaming competitions.

HYPE has recently setup a page on:- localgiving.com where people from the local community can donate for projects in their area to keep young people occupied and engaged.

It aims to improve health, social and education skills, but also to give young people, between 9 and 24, confidence and a sense of achievement and a more positive outlook on life.

Check out what HYPE can offer at online.

2013 IS THE YEAR OF THE HYDRO!
IN 2012 we had the London Olympics and the Year of Creative Scotland, in 2014 we have in the UK the Glasgow Commonwealth Games and the Ryder Cup. For those who thought 2013 would be quiet, think again as it's... "The Year Of The Hydro!" Opening in September 2013, the 12,000 seater brand new state of the art entertainment venue promises to bring the biggest new shows, games and acts to the heart of Glasgow. And with American broadcaster CNN recently naming Scotland as the top travel destination for 2013, the countdown has well and truly begun to the opening of Scotland's new home of live entertainment. Jonny Petrie, head of sponsorship with venue title sponsor Scottish Hydro, said:- "There's already a great buzz both out and about and online about The Hydro. We're greatly looking forward to the opening of the venue this year and being able to offer our customers some excellent benefits and rewards. We have a long standing connection with live entertainment with previous sponsorships covering music, comedy and sport so our sponsorship of 'The Hydro' is built on a strong foundation yet will be an innovative relationship for our business and will provide real added value for our customers. The opening act is being kept well under wraps for an announcement coming soon but already the versatility of the arena can be seen in the events currently on sale with spectacular stage shows, pop, rock, dance, comedy and of course, The Hydro will play host to the gymnastics and netball in the Glasgow 2014 Commonwealth Games."

Shows already announced are:-

Peter Pan is on:- 27 September to 29 September 2013.

Micky Flanagan is on:- 10 October 2013.

Jessie J is on:- 22 October 2013.

Peter Gabriel is on:- 24 October 2013.

JLS is on:- 07 December 2013.

Diversity is on:- 10 December 2013.

Clyde 1 Live is on:- 13 December 2013.

Miranda Hart is on:- 17 March 2014.

Predicted to sit amongst the top 5 busiest indoor entertainment arenas, positioned alongside London's O2 Arena and New York's legendary Madison Square Gardens, The Hydro will welcome no fewer than 140 events and around one million people a year.

Gig-goers and sports-lovers are encouraged to register on:- thehydro.com to be the first to hear about new acts and events and, for a limited time only courtesy of Scottish Hydro, gain access to pre-sale tickets.

With a programme of activities and offers being planned throughout the year in the lead up to the opening, The Hydro will be bringing the energy to 2013.
Wolf Boy or Wolf Girl Wanted!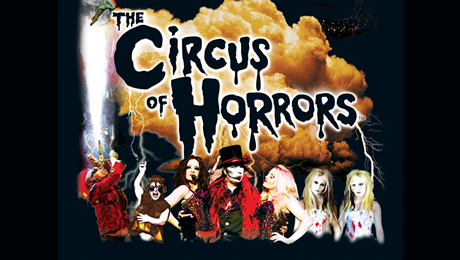 THE Circus of Horrors are looking for a new act to feature in their upcoming show Circus of Horrors – The Curse of the Devil Doll, which is heading to the Liverpool Empire on 20 January 2013, as part of their 2013 UK Tour. The outrageous show, which stormed into the finals of Britain's Got Talent, have lined up a Wolf Boy from Mexico but have come across new government legislation that stipulates that all jobs must be advertised in the UK on websites, and through other mediums including with Job Centre Plus. The show's creator Dr Haze commented:- "It's a strange state of affairs, we are pretty sure there are not any Wolf Boys or Girls in the UK, but we still have to advertise the job over here, the thing is the applicant must be a genuine Wolf person." The advert has had to state all applicants must be genuine, people with beards or wearing masks will not be accepted, although a woman with a beard may be considered under different job opportunities.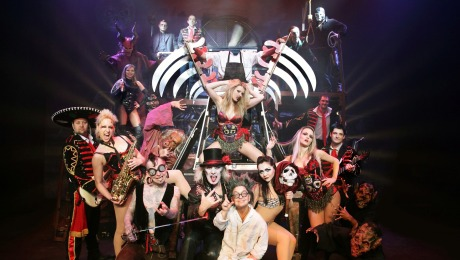 All applicants must also have Circus skills to a high standard. They must also have a minimum of 60,000 hairs growing on their face & linking up with the hairline. Hair on the head is not included in this specification. The job will run from the 10 January to the 23 March 2013, where the Circus of Horrors, which is now in its 18th year of existence, will perform in 57 different venues from Jersey to Aberdeen. You can view the vacancy here:- jobsearch.direct.gov.uk and jobsearch.direct.gov.uk - Editors note:- the links are safe, but some Anti Virus Systems are blocking connection to these pages. They are UK Government pages! We have told the DWP about the issue.