Last chance to register for Sign'2'Sing record breaker
SOUTHPORT schools over January 2013 are being offered the last chance to sign up for a charity record breaker for the most young people signing and singing a song simultaneously. Teachers, parents and children from the town are being invited to register for SignHealth's Sign'2'Sing world record breaking attempt on February 6 by Wednesday, 23 January 2013. Steve Powell, Chief Executive of SignHealth, which is the national healthcare charity for deaf people, said:- "More than 900 schools have so far signed up for Sign'2'Sing, but we are hoping around 1,200 schools will participate to ensure we break our current world record. Last year (2012), 114,277 children took part in our second Sign'2'Sing event and broke our previous record. We are once again inviting schoolchildren and also parents, if they'd like to join in, to take part in our Guinness World Records® attempt for the most people signing and singing a song at the same time. The closing date for registrations is Wednesday, 23 January 2013, so we are urging schools to sign up as soon as possible, so they have time to learn and rehearse the song." This year, teachers and pupils who sign up for Sign'2'Sing will have access to digital resources developed by SignHealth in partnership with leading cause-related entertainment provider, Digital Giving. The children's book character, Olli the monkey, who loves to sign, features in the online digital resources and in an interactive lesson called:- 'Monkey Manor'. Although Monkey Manor is fun and entertainment-led, schoolchildren will be steered to access important communication messages, tips and information as part of the experience. Steve added:- "The digital resources are available to all schools that register for Sign'2'Sing and include a free whiteboard app. Sign'2'Sing is all about communication and the app will make it easy for teachers to teach the signs and song in an engaging way." The event on Wednesday, 6 February 2013, is designed to raise awareness of deafness and the work of SignHealth, as well as acting as a fundraiser for the charity from a suggested £1 donation from everyone taking part. Children are being asked to wear a colourful scarf like Olli's to school on the day of Sign'2'Sing and take in their £1 donation. Young people from all over the UK and overseas will learn to sign a song, entitled:- 'Sign'2'Sing', which has been composed especially for the event. Although the event is predominantly aimed at primary schoolchildren, adult and community groups or choirs are welcome to take part if they wish. Steve continued:- "Any schools, nurseries, colleges, choirs or groups in Southport that decide to take part will be joining hundreds of children and adults all over the country and some in other countries at GMT 2.45pm on Wednesday, February 6 when they attempt to break the world record. We're hoping schools from the town sign up for the event." The money raised from the event will be used to continue the charity's work helping to improve the mental and physical health and well-being of deaf people, including deaf children. Schools wishing to take part are invited to register their interest via:- Sign'2'Sing.org.uk. Alternatively for lots more information about Sign'2'Sing, look on Twitter and on Facebook..!
RUSSIA'S ACCLAIMED CLASSICAL BALLET RETURNS TO LIVERPOOL
THE Russian State Ballet and Orchestra of Siberia is returning to the UK following a sensational tour in 2011. Formed in 1981, The Russian State Ballet of Siberia has quickly established itself as one of Russia's leading ballet companies and has built an international reputation for delivering performances of outstanding quality and unusual depth. The soloists and corps de ballet are superb and never fail to delight audiences with their breathtaking physical ability and dazzling costumes.
The acclaimed company are bringing 3 of it's classical ballets to the Liverpool Empire running from Monday, 4 February 2013 until Wednesday, 6 February 2013:-

► La Fille Mal Gardée:- Recreated by Alexander Gorsky, this remains one of the oldest ballets still regularly performed. It's a gentle tale of love thwarted, unrequited and found, a masterpiece of comedy. Complete with virtuoso pas de deux, maypole and clog dances, this classic ballet will send you home more happy, delighting those enjoying it for the first time as well as those who want to see it again and again. Monday, 4 February, from 7.30pm. Tickets are from:- £10 to £34.
► Coppélia:- Every toy has a story, especially in this charming comedy of errors, a witty combination of antics and abracadabra set in a doll maker's workshop. This light-hearted tale of mistaken identity and confused lovers follows mischievous Swanilda, her impetuous suitor Franz and the eccentric toymaker Dr.Coppelius as they are brought to life by sparkling choreography and the animated score of Delibes. Coppelia is perfect for 1st time ballet goers, families and everyone in between. Tuesday, 5 Febuary, from 7.30pm. Tickets are from:- £10 to £34.

► Swan Lake:- The greatest romantic ballet of all time is brought to life by Tchaikovsky's haunting and unforgettable score. From the impressive splendour of the Palace ballroom to the moon-lit lake where swans glide in perfect formation, this compelling tale of tragic romance has it all, exquisite ensemble pieces, memorable pas de deux and breathtaking solos. From Odile, the temptress in black tulle as she seduces the Prince by spinning with captivating precision to the spellbound purity of the swan queen, Odette as she flutters with emotional intensity, the duel role of Odette/Odile is one of ballet's most unmissable technical challenges. An immortal love story filled with emotion and beauty, Tchaikovsky's magical score creates a truly unforgettable experience. Wednesday, 6 February 2013, showing at 2.30pm and 7.30pm. Tickets are from:- £10 to £34.

► MULTIBUY OFFER:- Buy tickets for any 2 ballets and save £5 per ticket!

► ATG Theatre Card:- Half price on Monday, thereafter, £5 off!

Tickets are available from the Liverpool Empire Box Office or call:- 0844 871 3017, or you can book also get lots more information online at:- atg.com/liverpool.

DISNEY ON ICE PRESENTS LET'S PARTY! AT ECHO ARENA LIVERPOOL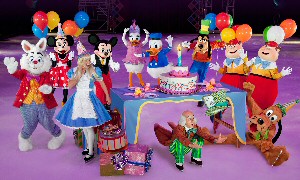 ALL New Production Showcases A Magical Medley of Holidays and Celebrations With More Than 50 Disney Characters Feld Entertainment invites families to turn an ordinary day into an extraordinary one at its new ice extravaganza, Disney On Ice presents Let's Party!, featuring more than 50 classic and contemporary Disney characters in a captivating compilation of favourite holidays and celebrations from around the world. Disney On Ice presents Let's Party skates into Echo Arena Liverpool from 27 February to 3 March 2013. Audiences will experience the ultimate celebration of celebrations as they join Mickey Mouse and friends on a delightful tour of festivities jam-packed with fun surprises, spectacular skating and vibrant costumes. The production's original storyline transports audiences to exciting events with their favourite Disney characters, including a Valentine's Day Royal Ball with Princess Tiana; a Very Merry UnBirthday Party with Alice and the Mad Hatter; Jack Skellington's frightfully festive Halloween party with the Disney Villains; and a Hawaiian luau with Lilo & Stitch. Drawing upon their own holiday experiences for research, the production's creative team was able to envision a show with an abundance of colours, warmth and spirit to evoke the pleasant memories of the holidays for the audience. "At the beginning of the show we invite everyone to 'Be Our Guest,' and we want the audience to feel like they are participating in the show, not that they are merely watching it." says Director Patty Vincent. The writer Jerry Bilik said:- "The audience gets to be a part of what we experience on the ice - they'll feel like they went trick or treating with Mickey and spent Valentine's Day with the Disney Princesses. Let's Party! is all about experiencing the holidays through the eyes of the Disney characters. We have a variety of celebrations from all over the world. With Mickey's Digital Global Destinator, we are able to travel to far-off places like China for the Chinese New Year and to Brazil for Carnival." "The show takes on a contemporary perspective with new music, choreography, costumes and video technology that pumps incredible energy into every moment of the show. Mickey even causes a few mix-ups with his Digital Global Destinator, but in the end everything wraps up in one of the happiest celebrations ever!" As Mickey and pals travel through each special time of year, Scenic Designer Robert Little sets the ice with iconic props that embody the essence of each celebration. An illuminated cherry blossom tree depicts the beauty of the Japanese Cherry Blossom festival, Sakura; a tree-like structure wrapped in gleaming white lights descends from the ceiling as snowfall blankets the scene of a Winter Wonderland; and an elegant canopy of shimmery fuchsia chiffon drapes the ice for a Valentine's Day Royal Ball. "I tried to design pieces that encompassed what comes to mind when you think of that particular celebration." says Little. "For the Halloween scene, I visualised an eerie environment with an iron gate surrounded by giant spider webs and spooky jack-o-lanterns. The entire arena will feel the Halloween spirit regardless of what time of year it is." The atmosphere of each celebration is enhanced through the help of a large video projection screen that displays vivid images created by Video Designer Ilja Nowodworski. As Mardi Gras dancers snap their fingers to the beat, the video screen travels down a confetti-lined Bourbon Street backdrop, and when Minnie finds her true love in a Valentine's Day dream sequence, fluffy pink clouds float across the background. Costume Designer Vanessa Leuck's vivid assortment of costumes relies heavily on colour to capture the look of each celebration. From silky kimonos made of lavender and pink florals for Japanese Sakura to citrus-coloured feather headpieces for Brazil's Carnival to iridescent whites and silvers adorned with snowflake appliqués and rhinestones for the Winter Wonderland scene, Leuck designed costumes from across the spectrum. "I wanted each scene to be different in colour, silhouette and mood, but I wanted to tie everything together in a cohesive look that was modern and fresh." says Leuck. From twisting and fire-twirling Hawaiian luau dancers to the zombie-like movements of the ghoulish groupies in the Halloween segment, choreographer Cindy Stuart adds high-energy and a unique style to each performance number. "We really stepped out of the box with the choreography for this show. The production numbers revolve around the celebrations which are not necessarily part of the Disney stories we have worked with in the past. Every number is new and different from the others." says Stuart. Audiences get a taste of New Orleans, where Tiana's story takes place, in a Mardi Gras performance that is packed with upbeat jazz-influenced choreography and music. In the Valentine's Day segment, seven extraordinary pairs of Disney Princesses and Princes skate to contemporary remixes of classic songs from each princess story and then come together for a large number to "That's How You Know" from Walt Disney Pictures Enchanted. At a Very Merry UnBirthday Party, a fast-paced skating frenzy ensues as the characters toss around the Mad Hatter's hat. Then a uniquely choreographed precision skating number follows with Sorcerer Mickey bringing 15 skaters in broom costumes to life and sweeping across the ice in a synchronised formation. Lighting Designer Alex Reardon applies UV lighting techniques to the sequence making it appear as though the skaters are actually brooms out on the ice. Ten brooms hang from the grid above the ice and 6 brooms dance across the video screen filling out the scene with more than 30 orchestrated brooms. For the other celebrations, Reardon effectively adds patterns and colours to give dimension to the scene. In the Halloween number, images of cobwebs creep over the ice and during Chinese New Year, golden Chinese crests cover the ice floor. "Every celebration has an overall mood associated with it so it made sense to light each scene in a way that expressed that mood," says Reardon. "The fun of working on this show was that every segment was different and I was able to utilise a variety of lighting techniques." With a contemporary flair and eclectic mixture of creative elements, Disney On Ice presents Let's Party! is an incredible party that will inspire families to celebrate year round. Tickets are on sale now! To book tickets log on to:- echoarena.com or call the Echo Arena Box Office on:- 0844 8000 400.