CAR KEY BURGLARY ADVICE - SEFTON
IN recent years car manufacturers have made vehicle security a priority with the introduction of sophisticated security and alarm systems to prevent thieves from stealing cars. As a result criminals have resorted to more elaborate ways of stealing vehicles.

There were a number of car key burglaries in Sefton last week and officers are carrying out an operation, using both uniform and plain clothes officers, to identify and arrest those responsible.

Quite often the offender, or offenders, will enter the occupant's house with a view to stealing their car/van keys, they then take the vehicle from outside and some times use the vehicle to transport items they have stolen from the house. Sometimes these crimes can take place when the occupants are at home.

It is very important that vehicle owners are aware of this and take extra precautions to limit the chances of becoming a victim of car key burglary.

Detective Chief Superintendent Paul Richardson, said:- "The majority of car key burglaries we have seen on Merseyside recently have been opportunistic with the offenders managing to get in to homes through insecure doors and windows. On some occasions the victims have been in the house when the offences have occurred. Many of these offences are preventable with the offenders gaining entry houses via insecure doors, or windows. Other offences have occurred where car keys have been left near to the front door and implements have been used to remove the keys via the letter-box. In response to the car key burglaries an operation has been put in place, to put offenders on the back foot. Extra patrols, consisting of uniformed and plain clothes officers, are being deployed to areas that have seen an increase in this type of crime at key times. The Force is also working with officers from Lancashire, Greater Manchester and Cheshire to tackle criminals on the move across the counties borders. Police from the four neighbouring forces are working together and sharing intelligence to target, disrupt and arrest offenders travelling for the purpose of committing crimes. During these operations, all the main arterial routes are patrolled with Police from all forces using the Automatic Number Plate Recognition System (ANPR). I would like to take this opportunity to remind residents to make sure their properties are secure both during the evening and overnight even when they are at home. We all need to be vigilant. If you see anyone acting suspiciously report it to the Police. These offenders will need to walk up driveways to look through doors and windows to see if there are keys in sight of a door or window. If you notice any such behaviour contact the Police. Householders witnessing anyone acting suspiciously are advised to call Merseyside Police on:- 101 or in an emergency:- 999."

To minimise the risk of car key burglary Merseyside Police are issuing the following advice:-

► If you have UPVC doors make sure you lock them properly. If you simply lift the handle you won't fully engage all the locks into the frame. You must also double lock the door using the key. Remember to remove the key from the door once it is locked and leave it in a close and easily accessible place in case of emergency. Your insurance could be negated if you fail to secure your property correctly.

► If you have a garage, please park your car in it. Many people with garages use them for storage. This will keep your cars out
of the sight of preying eyes.

► On entering the house lock the front door behind you.

► Never leave your car keys near a door or window. Criminals can hook keys through open windows and letter-boxes. It is therefore vital that householders do hide the keys from view. People have keys stolen without anyone even entering the premises.

► Do not leave car keys in an obvious place; make it as hard as possible for the thief.

► Do not leave house keys in the back of your door lock.

► Consider installing security lights to the front and rear of your property.

► If you are threatened with violence for your car keys is to hand them over do not put yourself at risk.

► Special letter-box cowlings are available; they allow your papers and post to be delivered, but stops the 'hook & canes' fishing.

► Householders also need to make sure that they take other simple crime prevention measures to ensure that they don't become victims of sneak-in thieves or burglary, such as remembering not to leave doors and windows unlocked.

The Force is also offering the following crime prevention advice to keep homes safe this winter:-

► During the dark nights, use a light timing device to switch the lights on (ensuring your blinds/curtains are drawn).

► Always lock your windows and doors. If you haven't got windows locks, you are advised to get window locks fitted. If you have window locks; use them.

► Always check your front and back door are secure even if you are in.

► Secure your shed and garage properly. Don't leave tools lying around.

► Security mark all your home and garden equipment with full postcode using a UV marker pen or permanent marker. This can help make it easier for victims to be reunited with your property if you are the victim of a burglary and the items are recovered.

New for 2013 – Join Team Red Cross for the new Snowdon Trek!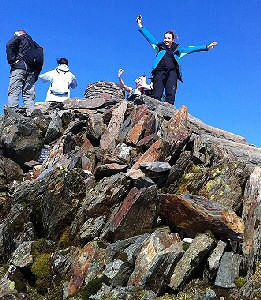 THE British Red Cross is very excited to announce this exciting new UK trek to the summit of the highest mountain peak in England and Wales. This is a fantastic opportunity to take in a beautiful and rugged landscape, all for a worthwhile cause! Mt Snowdon is not only tall, but it has its own unique bio-diversity of plants and animals, which we will witness en route to the summit. Our route follows the Llanberis Trail; one of the most popular routes to summit this mountain. With a final height of over 3,500 feet, and a total distance of around 10 miles, our day will involve 6 to 8 hours tough hiking.
► The trek highlights.

► Explore Snowdonia National Park.

► Summit the highest mountain in England and Wales.

► Breathtaking views across North Wales.

► Meeting fellow trekkers, all doing raising vital funds for the British Red Cross.

► And of course, receiving your shiny medal at the finish line!

A previous Team Red Cross event participant in 2012 said:- "My impression of the British Red Cross through this event was of a very well oiled machine. I think they were fantastic! Thank you very much."

Senior Community Fundraiser, Alexis Fairclough from Liverpool said:- "An automatic external defibrillator (AED) is used to provide an electric shock to regulate the heart after cardiac arrest. Each minute that goes by, survival rates will drop by 10%. British Red Cross first aiders carry an AED on all first aid duties from local fetes to pop concerts and sporting events in Liverpool and across Merseyside. In order to train more Red Cross volunteers in these life-saving skills for people in Merseyside, we need more equipment. Taking part and raising money in the Snowdon Trek, will not only be fun and challenging, but a fantastic way for local people from across Liverpool to help save lives too."

Alexis who lives in Crosby and has worked for the British Red Cross in Liverpool for 6 years added:- "Everyday I see the lives changed and lives saved by the marvellous Merseyside Red Cross Volunteers and I am so proud to be a part of this organisation. I will be taking part myself with my husband, David, and would like to encourage as many local people as possible from across the City to come and join us! Whether you're a team from a local company or someone on their own, you'll have a great day, meet new people plus your fundraising will make a huge difference to the lives of vulnerable people who reply on our services every day across Merseyside."

Sign up online at:- redcross.org.uk/SnowdonTrek or for more information please contact Alexis in the British Red Cross in Liverpool on:- 0151 702 85061 or call their National Events Team on:- 0844 412 2877 or via emailing:- acarley@redcross.org.uk.

Providing first aid at events is just one of the local services that benefits from people raising sponsorship for the Red Cross. For more details of all services in Merseyside please go to:- redcross.org.uk. There is a £10 registration fee and a suggested sponsorship target of £100 or you can sponsor Alexis and Dave at:- uk.virginmoneygiving.com.
£26m tax boost from HMRC voluntary sector projects
GRANTS of £2 million to voluntary and community organisations to help people with taxes, benefits and tax credits led to £26 million in additional tax being declared to HM Revenue and Customs (HMRC) last year. This was an increase of 55% on the previous year. Some 4,500 volunteers were trained by these organisations to answer people's questions on tax credits, benefits and tax issues. They will ensure that an additional 225,000 people per year get help and advice on HMRC-related issues. Exchequer Secretary David Gauke said:- "I was very pleased at these results. They show that the grants are a cost-effective way of ensuring that vulnerable people on low incomes get the help they need with their tax affairs from an independent, trusted source."
Southport Access For Everyone - Update
THE next meeting of SAFE (Southport Access For Everyone) will be held at the Victoria Methodist Church, Sussex Road, at 7 pm. on Monday, 28 January 2013. Light refreshments will be served before the meeting. Anyone who is interested in disability problems will be welcome. The venue is fully accessible and there is adequate car parking. For further information about S.A.F.E. please consult our website at:- southportaccessforeveryone.org