Full casting is announced for the World Premiere of Sleeping Beauty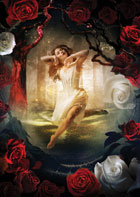 THE full casting has been announced for the World Premiere of Matthew Bourne's Sleeping Beauty, which runs at the Liverpool Empire from Tuesday, 30 April, until Saturday, 4 May 2013.

Matthew Bourne's Sleeping Beauty sees the choreographer return to the music of Tchaikovsky to complete the trio of the composer's ballet masterworks that started in 1992 with Nutcracker! And, most famously, in 1995, with the international hit Swan Lake.

Matthew Bourne's new scenario introduces several characters not seen in Petipa's famous Ballet or Grimm's fairy tale. The Royal Family is headed by King Benedict and Queen Eleanor. Princess Aurora's romantic interest is not a Prince, but the royal
gamekeeper, Leo. Representing the central forces of good and evil are Count Lilac ("the King of the Fairies") and the Dark Fairy Carabosse. In another innovation, Bourne has created the character of Caradoc, the sinister but charming son of Carabosse. Princess Aurora's Fairy Godparents are named Ardor, Hiberna, Autumnus, Feral and Tantrum.

Creating the central role of 'Aurora' in this new production are Hannah Vassallo and Ashley Shaw. Hannah co-created the role of 'Kim' in New Adventures' Edward Scissorhands, and has played leading roles in The Car Man, Nutcracker! and Play Without Words. She also played 'Baby' in the West End production of Dirty Dancing for over two years. Ashley made her debut with New Adventures in Swan Lake in 2009 and has since played the title role in Matthew Bourne's Cinderella and 'Sugar' in Nutcracker!

The leading role of 'Leo' will be created by Dominic North and Christopher Trenfield. Dominic holds the distinction of appearing in more New Adventures productions than any other dancer (Sleeping Beauty will be his 9th production with Matthew Bourne) and was most recently seen in the 25th Anniversary Triple Bill, Early Adventures. He was also nominated as "Outstanding Male Dancer" at The National Dance Awards for his performance as Edward Scissorhands. Christopher has this year been seen as 'Tony' in Play Without Words and in the title role in Nutcracker! He has also played 'The Swan/Stranger' in Bourne's Swan Lake.

'Count Lilac' will be portrayed by one of New Adventures' most accomplished performers Christopher Marney, and in his debut in a leading role for New Adventures, Liam Mower. Christopher was most recently seen in the highly successful Triple Bill, Early Adventures. He created the role of 'Cyril Vane' in Dorian Gray, has played 'The Prince' in Swan Lake and had a big personal success as 'The Angel' in Bourne's Cinderella in 2010. Liam Mower is the Olivier Award-winning original star of the West End hit Billy Elliott. Joining New Adventures in 2011 upon graduation from The Rambert School to appear in Nutcracker!, he has also recently appeared in Play Without Words.

The twin roles of 'Carabosse' and 'Caradoc' will be shared between 3 versatile New Adventures performers; Ben Bunce (Swan Lake), Tom Jackson Greaves (Cinderella, Nutcracker!, Early Adventures) and Adam Maskell (Dorian Gray, Nutcracker! (title role), 'Tony' in Play Without Words and 'The Angel' in Cinderella).

'King Benedict' will be played by Edwin Ray (Swan Lake, 'The Pilot' in Cinderella and Nutcracker! (title role) and 'Queen Eleanor' by one of New Adventures' most loved leading ladies, Kerry Biggin (leading roles in Edward Scissorhands, Nutcracker!, The Car Man, Swan Lake, Highland Fling and most recently, Early Adventures) and Daisy May Kemp (Swan Lake, Nutcracker! and Play Without Words).

Completing the Sleeping Beauty Company are Daniel Collins, Pia Driver, Phil Jack Gardner, Sophia Hurdley, Nicole Kabera, Mari Kamata, Katy Lowenhoff, Kate Lyons, Leon Moran, Luke Murphy, Danny Reubens and Joe Walkling.

Perrault's timeless fairy tale, about a young girl cursed to sleep for 1 hundred years, was turned into a legendary ballet by Tchaikovsky and choreographer, Marius Petipa, in 1890. Bourne takes this date as his starting point, setting the Christening of Aurora, the story's heroine, in the year of the ballet's first performance; the height of the Fin-de-Siecle period when fairies, vampires and decadent opulence fed the gothic imagination. As Aurora grows into a young woman, we move forwards in time to the more rigid, uptight Edwardian era; a mythical golden age of long Summer afternoons, croquet on the lawn and new dance crazes. Years later, awakening from her century long slumber, Aurora finds herself in the modern day; a world more mysterious and wonderful than any Fairy story!

Matthew Bourne's haunting new scenario is a gothic tale for all ages; the traditional tale of good vs. evil and rebirth is turned upside-down, creating a supernatural love story, across the decades, that even the passage of time itself cannot hinder.

Britain's most popular dance showman works again with 3 of his regular collaborators and New Adventures Associate Artists; The Tony and Olivier Award-winning designers Lez Brotherston (Set and Costumes), Paule Constable (Lighting) and Paul Groothuis (Sound Design) who created the acclaimed surround-sound for last years hit production of Cinderella. For tickets and more information, please visit Liverpool Empire Box Office, call:- 07841 871 3017 or go to:- atgtickets.com.
MAN ARRESTED OVER EVESHAM KNIFE ASSAULT
A man who detectives wish to question in relation to a serious knife assault in Evesham last month was arrested on Wednesday, 23 January 2012. The alleged assault took place at 11.25pm, on Wednesday, 19 December 2012, Police were called to Chancers in Vine Street after a member of staff was assaulted by a man armed with a knife. He received a serious wound to his hand and forearm. West Mercia Police released an appeal to trace Peter O'Shaughnessy, who they want to question about the assault. O'Shaughnessy is 31, from the Halewood area of Liverpool, and also goes by the name of Pierre. Following intelligence received by Police, he was arrested by officers from Merseyside Police at an address in Halewood at 11am. O'Shaughnessy has been passed into the custody of Cheshire Constabulary, who wish to interview him about an offence in their area; in November 2012, after a man was robbed of his car at knifepoint. He will then be passed into the custody of West Mercia Police, in due course.

SOUTHPORT JAZZ FESTIVAL SET TO RETURN FOR A 13TH YEAR AND A BRAND NEW HOME
THE Atkinson, Southport's state-of-the-art new venue has announced it will be home to the 13th annual Southport Jazz Festival, which will run from Friday, 10 May 2013 to Sunday, 12 May 2013.

The festival has firmly established itself as one of the regions premiere music events and will feature a whole host of internationally acclaimed artists from the world of Jazz. The line-up includes James Morton's Pork Chop, James Morrison with the Swingshift Big Band, MOBO Award winners Kairos 4Tet, Joe Stilgoe Trio and up and coming talent including Go Go Penguin.

Southport Jazz festival is to be one of the first events to be hosted at the brand new Atkinson venue, a cultural jewel in the crown of the seaside resort. It is a long-awaited £17 million development of the old Southport Arts Centre, Atkinson Art Gallery, Botanic Gardens Museum and the central Library and is due to open early May 2013. Emma Lloyd, Marketing, Programme and Visitor Services Manager said:- "The 2013 Southport Jazz Festival is different to the past events, as this year there are headlining jazz gigs taking place throughout the 3 days so we are able to offer a range of weekend, day and session tickets to encourage people to stay in the town that little bit longer. We have worked really hard to ensure that the programme is diverse and has something for everyone, from the contemporary to the big band jazz, from the well-established names to the new soon-to-be stars of the jazz circuit. This year we are delighted that CAMRA have come on board to run a beer festival as part of the festival; we know this will add to the festivities."

The full programme of events will see performances from theworld of Jazz playing throughout the day and night at The Atkinson, it all kicks off on the Friday with Sheffield-born vocalist from the Nicola Farnon Quartet, who the legendary late Humphrey Lyttleton described as:- "A class act who should be on every jazz festival in the land...a sure fire hit!"

The Al Wood Nine take over early evening with selection of bebop and swing from the multi-talented group and will perform some special arrangements as well as their classic set. Friday evening will also feature charismatic altoist James Morton leading his band Porkchop through a collection of funk, soul jazz and gospel sound.

Go-Go Penguin makes their return to the SJF to start Saturday's proceedings, following their huge success at last year's festival. They are one of the most exciting contemporary instrumental groups working today. Saturday will also feature The Bateman Brothers Jazz Band, an all-star group comprising of Alan Bateman (trumpet/vocals), Ian Bateman (trombone), Trevor Whiting (clarinet), Craig Milverton (piano), John Day (Bass), Steve Rushton (Drums) and Maggie Reeday (vocals). Their special guests for the Festival are Enrico Tommasso and Spats Langham. Also part of Saturday's big line-up is Gabby Young and Other Animals. The 7-piece band, are the ringmasters of Circus Swing, a musical genre that fuses Swing Jazz, Eastern European beats and English Folk created with horn, wind and percussion instruments. Closing Saturday is Sector 7, made up of seven talented musicians, amongst them, award-winning vocalist Sarah Ellen Hughes. Having only being on the jazz scene for 2 years they have already taken the musical world by storm, recording and releasing their EP, gaining critical acclaim, and being invited to perform at prestigious events and festivals across Europe.

Sunday starts in great style, music and film lovers of all ages will enjoy Terry Seabrook's band Milestones performing a new film score at this year's festival. Inspired by the Miles Davis soundtrack Lift to the Scaffold, Seabrook has written his own full-length jazz soundtrack, for Buster Keaton's 1924 film Sherlock Jr. Milestones will perform live as the film is screened. Making their first appearance at the Southport Jazz festival are the award-winning Kairos 4Tet, a band born out of a desire to explore times past, present and future via music. Winners of 2011's MOBO award for 'Best Jazz Act', they make a welcome addition to Sunday's line-up. The chart topping sensation the Joe Stilgoe Trio take the festival into Sunday evening, as one of the world's finest singer-pianists Stilgoe released his critically acclaimed second album 'We Look to The Stars' last year. Closing the festival is Australian musical virtuoso James Morrison, besides the trumpet, this multi-instrumentalist also plays trombone, euphonium, flugelhorn, tuba, saxophone and piano. Morrison has performed gigs in the world's most famous jazz clubs, been commanded by royalty and political leaders, and has been awarded The Order of Australia for his services to the arts. James will perform with the Swingshift Big Band for the festival finale.

CAMRA (Campaign for Real Ale) will be running a beer festival alongside the 3 day jazz event, showcasing a selection of real ales and perrys for the public to sample.

The Southport Jazz Festival for 2013 encompasses The Atkinson - Headline Gigs, The Jazz Festival Village at the Town Hall Gardens and The Fringe Festival across the town.

Follow all the latest festival news on the Southport Jazz Festival on twitter #southportjazz and facebook/The Atkinson Day and Weekend Festival Tickets are now on sale. Call:- 01704 533 333 * or go online at:- seftonarts.co.uk* for more information and to buy tickets.

*Subject to booking fee.

Southport Jazz Festival Event Times:-

Friday, 10 May 2013

The Nicola Farnon Quartet - 2.30pm
The Al Wood Nine - 7pm
James Morton's Porkchop - 10pm

Saturday, 11 May 2013

Go Go Penguin - 11am
The Bateman Bothers Jazz Band - 2.30pm
Gabby Young and the Other Animals - 7pm
Sector 7 - 10pm

Sunday, 12 May 2013

Milestones Play to the Silent Screen - 11am
Kairos 4tet - 2.30pm
Joe Stilgoe Trio - 5pm
James Morrison with Swingshift Big Bang - 8pm