Ben Cross can't wait to get his season up and running
Photograph by KT8 Photography.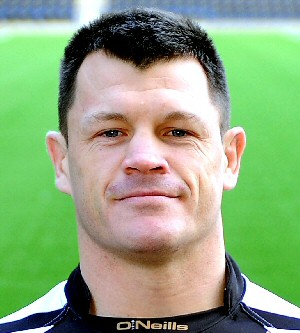 THE Vikings travel to The John Smith's Stadium, home of Huddersfield Giants, on Sunday, 20 January 2013, for their final pre-season outing. Kick off will be at:- 3.00pm. Their hosts go into proceedings on the back of a 26-0 loss at St. Helens last Friday, whilst the Vikings were comfortable 30 to 6 winners over Workington Town. And, one player keener than most to hit the ground running at the weekend, is Vikings front-rower Ben Cross.

Having missed the final 5 rounds of 2012's Stobart Super League competition and the club's 2 trial games thus far, the Australian admits he is desperate to make up for lost time:- "To be honest, picking up a knee injury when I did was a bit of a nuisance but having said that, it's all part of the game. As luck would have it, I did have a bit of help on the road to recovery as there were a few of us out injured at the time and overall, I was only sidelined for about 5 weeks. This meant that I could still have a proper off-season before returning for pre-season and I can't wait to get a game under my belt now. Despite being classed as a friendly, once you are out-there and into the game, things do tend to be a bit more physical than just a contested training session. Not every player or coach would admit to being a fan of these games, but they are a necessary evil and offer ideal preparation for getting a lot of the little things right in your game. There's bound to be the occasional dropped ball and missed tackle from both teams, but we will both be far better off and benefit greatly from being given an opportunity to improve our match fitness, tackle technique, running our lines correctly and getting our timing back in a game situation without the added pressure of being overly worried about winning or losing. Being a little bit older and wiser these days, I'm just looking forward to easing my way back into proceedings and coming through my first hit-out in good condition and hopefully everything will go OK! Huddersfield will offer us a massive test on Sunday. They've probably got the biggest pack in the comp which can definitely work for them, but also against them. They all look pretty agile and mobile, but obviously being such a big side means that if you are quite smart against them, you can tire them, move them around and play laterally through their middle unit which can be a bit of a hindrance for them. As I suggested earlier, it's going to be a physical game at times but that's the best way to get back into it. Getting knocked around a bit will only help harden up the body for Round 1."

Vikings 19-man squad:- Allen, Cahill, Clarke, Craven, Cross, Davies, Dean, Flynn, Gerrard, Gilmore, Hanbury, Isa, Joseph, Leuluai, Mellor, O'Carroll, Owens, White, Winterstein.

Colours:- Sunday's game will see the Vikings running out in the 4th variation of their 2013 home colours. The boys will be wearing the black shirt which will be complimented by white shorts and black and white hooped socks.

This means, in their 3 pre-season outings, the Vikings will have utilised every single combination from their 2013 home colours.

Going forward, the club will give advance warning to its members and supporters of the colours our players will be wearing, ahead of each fixture.
Please note:- There is no entitlement for Junior Viking Stronghold free entry for this fixture.
COACH TRAVEL:- To be a part of the 'Viking Invasion' of The John Smith's Stadium, book your place now from the service provider listed below, who comes highly recommended by Widnes Vikings.

AN EVENING FULL OF ICONIC SONGS FROM THE WORLD'S MOST FAMOUS POP BAND
SWEENEY Entertainment are proud to present ABBA Forever an evening full of the hits of ABBA, one of the world's most iconic pop groups. Having taken Europe by storm in 1974 when they won the Eurovision Song Contest with Waterloo, ABBA went on to top pop charts worldwide for well over a decade. Their much loved songs have featured in some of the most popular films of the past thirty years including Muriel's Wedding and The Adventures of Pricilla, Queen of the Desert.

In 1999, their songs were adapted into the phenomenally successful musical Mama Mia which has grossed over $2 billion
worldwide and introduced a whole new generation to hit songs including:- "Knowing Me, Knowing You", "Take A Chance On Me", "Thank You for the Music", "Money, Money, Money", "The Winner Takes It All", "Voulez Vous" and "SOS".

ABBA Forever is one of the UK's leading International tribute Shows and theatre audiences from across Great Britain and Sweden have long enjoyed this superb recreation of possibly the world's greatest pop band.

The unique Abba sound is replicated with an incredible attention to detail, using a 6 piece band featuring electric and acoustic guitars, keyboards and piano, drums and bass guitar. 2 outstanding Abba girls complete the line-up, adding the essential glitz and glamour to a well-polished and gently humorous show.

The wonderful lyrics and music penned by Benny Andersson and Björn Ulvaeus are sung in wonderful harmony by all 6 performers on stage. Dynamic non-stop choreography, stunning visuals, top class musicianship and an ALL LIVE performance ensures that ABBA Forever captivates audiences from the opening refrain to the final sing-along chorus of this 2 hour spectacular. For more information you should visit:- sweeneyentertainments.co.uk.
Forum warns against dangers of completely leaving EU for small firms
THE Forum on 23 January 2013 issued its response to the Prime Minister's EU speech, by saying a total exit from the Union would be bad for UK SMEs and the wider economy. But the small business lobby group has said there are dangers that without some kind of renegotiation, anti EU sentiment will grow. Head of Policy, Alex Jackman, said:- "The Forum of Private Business does not support an 'in/out' referendum, simply because we don't think it will give anything like a clear mandate. Even an overwhelming 'in' wouldn't silence the doubters, nor an overwhelming 'out' lead to exit, given the political flip-flopping over this issue of recent years. And in all probability, there wouldn't be a significant majority one way or the other. But unless the UK can renegotiate terms, anti-EU feeling will grow. Institutions that are already seen as undemocratic will grow to become tyrannical in the views of many. The ever-spiralling central budgets will create even louder dissenting voices than at present. So the issue must be tackled. Instead, the Forum believes the government and successive governments; should be given the mandate to renegotiate terms and to maintain an opt-out from ever-closer integration. In particular, we must insist that EU budgets are more closely monitored. If the European Commission wants greater funds from countries, it should first have proven the case that money cannot be saved from within. Businesses will tell you there are plenty of pointless policy exercises that could be culled if savings were being sought. Pinch points for small businesses do differ. It is a genuine bugbear for those small businesses in communities that have nothing to do with exporting who wonder what right the EU has to dictate how long their employees should be paid for sick leave, or how they should sit at work. But there is the other demographic for whom the common market has helped enormously in growing their businesses overseas. Like it or not, most businesses export within Europe as their first step. What causes greater uncertainty for businesses isn't how closely integrated with the EU we are, it is the long-term stability of our tax system. A huge multinational will invest in the UK not because of a common market but because of a stable tax regime and highly skilled workers. These are the real long-term problems the Government needs to address. The truth is that our laws are now so intertwined with European legislation it is very hard for anyone to understand whether we should pull out, let alone how we would go about doing so. These are the problems the Prime Minister is faced with; how to mediate the competing views of Europe and how to accurately articulate the positives and negatives of our membership."