Join as a North West apprentice to earn your degree says Network Rail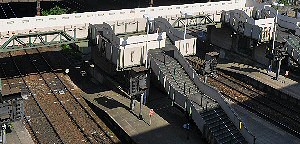 THERE are around 240 places available on this year's scheme and Route Managing Director (London North Western) Dyan Crowther wants parents, educators and young people alike to realise the future career opportunities that an apprenticeship can bring, including a university education at work.

"There are many paths to achieve a successful career" says Crowther. Whether you join straight from school or after college or work, the apprenticeship programme can be the first step to a challenging career.

An apprenticeship can also open doors to a university education. Whilst many apprentices go on to be team leaders and rise through the ranks, Network Rail also gives those who want to achieve further qualifications the chance to study part time for a Higher National Certificate (HNC) in engineering, with the opportunity to then progress onto a foundation degree and a bachelors at Sheffield Hallam University.

Network Rail apprentices spend a year training alongside the Royal Navy at Europe's largest engineering training facility at HMS Sultan in Hampshire. There they learn both the technical skills required to work on the railway and develop leadership and teamwork behaviours to make them more effective in their roles. For the next two years they learn their trade, working within an experienced team, continuing to return to HMS Sultan regularly for additional courses and training.

From the North West, there are currently 15 apprentices taking part in the 1st year of the programme, completing their training at HMS Sultan before heading out to their respective depots in Liverpool, Manchester, Preston and Carlisle this summer.

One of those who has already completed all three years of the apprenticeship is 25 year old Daniel Marsden, a section supervisor at Preston who has also recently finished his HNC and is currently studying for his foundation degree at Sheffield Hallam University.

Said Daniel:- "I always wanted to adopt a practical approach with regards to my career and the Network Rail apprenticeship scheme has proved to be the ideal platform, enabling me to learn my trade in a real working environment. Combining learning a skill with the opportunity to support that with the appropriate academic qualifications has been invaluable."

Mrs Crowther added:- "Network Rail's success is defined by its people. We need a highly skilled workforce to meet the challenges of a busier network, with a clear focus on improving performance and increasing capaCity. It makes absolute sense for us to develop the talent we have coming through our apprenticeship scheme to complement our experienced engineers. This pipeline of talent development will help us retain and attract more quality people, which will help us meet the tough challenges ahead to deliver a better value railway for Britain."

MFH APPEAL SENT ON BEHALF OF SUFFOLK CONSTABULARY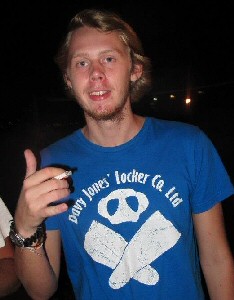 SUFFOLK Police are renewing their appeal for information in relation to a 22 year old missing man who is believed to be in Thailand.

Police and family members are increasingly concerned for his welfare and are calling upon members of the public to provide any detail they have in relation to his whereabouts.

Tom Armstrong of Kelsale left for Thailand, in April 2012, to take up a Dive Master course, on the island of Koh Tao. During his time there Tom has been in contact with his family via email and via Facebook.

The last contact received from Tom was on Sunday, 6 January 2013, during which he stated that he would be catching a flight home on Tuesday, 8 January 2013, arriving at Heathrow on the morning of Wednesday, 9 January 2013. However, he did not board his flight and has not been in contact since.

It is believed that Tom is still in Thailand, possibly in the Bangkok area. Records show that money was withdrawn from his bank account, at an address in Bangkok on Wednesday, 16 January 2013.

Police have been carrying out extensive enquiries to find Tom and have been liaising with contacts in Thailand in attempts to trace him.

Tom's family and Police are growing increasingly concerned as to his whereabouts and are appealing for any information that would indicate where he is, and that he is alive and well.

Detective Chief Inspector Neil Luckett said:- "No contact has been received from Tom for over 2 weeks now, and despite our efforts so far, we have not been able to locate him. We therefore remain concerned about his welfare and we are urging anyone with information about Tom, in the UK or Thailand, to come forward. We have been working very closely with Tom's family and are in liaison with authorities in Thailand to try and ascertain his whereabouts and to establish whether or not he is safe and well. If Tom is reading this I would urge him to contact us and let us know he is safe. If for whatever reason he does not wish to speak with family or friends I would ask him to contact the authorities in the UK or wherever he is, so that we can be assured he is ok."

Tom's mother, Helen Armstrong-Bland said:- "Tom is a kind, considerate, sensitive person, who often puts others needs before his own. He loves the outdoors, nature and in particular water sports and ocean life. Tom was seeking a career in the Navy when he broke his leg and had to postpone his application. After recovery he felt it was a golden opportunity to pursue his love of the ocean and diving by taking a dive master course on the Island of Koh Tao, Thailand. Tom left for Thailand in the beginning of April 2012 where he started to fully enjoy not only his course and social life but being on the beautiful Island of Koh Tao. We just want to receive any information that would tell us that Tom is alive and well. We desperately want him home as we are all missing him terribly, especially his brothers Luke, George and his little sister Bella who Tom adores. If Tom is reading this appeal now, I would urge him to get in touch with us or with Police and let us know that he is ok."

Tom is described as approximately 6ft 2ins, of medium build with fair, slightly wavy medium length hair and sometimes has a short beard, which is more red than fair in colour. If anyone has information that could help Police with their investigations they are asked to contact the Suffolk Police on:- 101.