Lord Mayor to host Polish recognition event
REPRESENTATIVES from local services will attend a small Civic Reception at the Town Hall this week recognising their efforts supporting the Polish community in Liverpool.

Around 80 people, including the Mayor of Sefton and Deputy Mayor of Wirral, have been invited to a Civic Reception hosted by the Lord Mayor, Councillor Sharon Sullivan and the Consul General of Poland, Mr Lukasz Lutostanski.

Lord Mayor, Sharon Sullivan said:- "Today is a great opportunity to recognise and thank those responsible for supporting and welcoming the Polish community in Liverpool and making them feel at home over the past few years. Their continuing help and support makes a huge difference to newcomers starting a new life in the City, and I thank them for their efforts, I hope they carry on assisting others wishing to make Liverpool their home."

Consul General of the Republic of Poland Mr. Lukasz Lutostanski said:- "We are delighted to honour the work of people in local services who supported the Polish Community in Merseyside and made them feel welcome in their new home.
We are proud to recognise the voluntary work of Polish community organisations and positive impact they had on building better relations."

Since Poland joined EU in 2004 there have been many Polish people coming to the City to make Liverpool their hometown. Over the last few years a number of community organisations have been established that have contributed to the cultural life of the City such as Merseyside Polonia and Polish Saturday School.

Local services have also played a key part in helping newcomers settle into the City offering employment or starting up groups such as the Polonia camps football team.

There will also be a special performance by Katy Carr and the Aviators presenting songs inspired by Poland and its history.

Service User Alan with Chief Executive Neil Campbell of Alternative Futures Group Limited (AFG)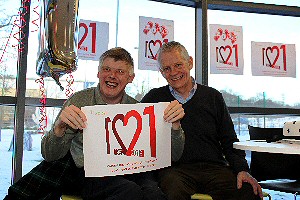 AN award-winning charity which provides person-centred support to adults with learning difficulties and mental health needs is celebrating 21 years of providing life-enriching support across the North West. Alternative Futures Group Limited (AFG) was founded on 22 January 1992. Its first 'head office' was an old air raid shelter in Woolton Village, Liverpool. The successful charity has grown considerably since then, but has remained community focused and true to its vision of:- 'A world where people control their lives'. AFG provides around the clock, personalised support to people throughout the North West, in their own homes or in one of eight Independent Hospitals. With its head office based in Knowsley, AFG has supported thousands of people with learning difficulties and mental health needs since its launch, and is calling on those people and their families to come forward to share their '21' themed stories. The charity has unveiled a celebratory programme of events to mark its 21st anniversary including local coffee mornings to encourage community engagement and a showcase event in the summer to raise awareness of the organisation and provide networking opportunities to encourage partnership working. Neil Campbell, Chief Executive said:- "We're proud of our track record of taking people from hospitals and putting them in their own homes allowing them to have real independence and choices in their lives. Alternative Futures Group has helped thousands of people with learning difficulties and mental health needs and last year alone we enabled over 900 individuals to be successfully supported to build a life for themselves. Our services are built around each individual and designed to ensure that all people have choice. We are proud to be celebrating 21 years of putting people at the heart of everything we do." More information can be found by visiting:- alternativefuturesgroup.org.uk or by visiting our Facebook page, 'Alternative Futures Group (Official)'.