Paul Bearman.
A fantastic exhibition is on offer for any one who wants to see it in the Atkinson Art Gallery. It will be on exhibition from the 27 of November to the 11 of January 2003.

Paul Bearman's work in the Atkinson Art Gallery, Southport. Paul was bourn in Crydon in 1950 and studied at the City and Guilds of London Art School in 1986-1987 and at John Moores University from 1987 to 1991. In 1991 he was awarded the John Moores Fellowship. Now he teaches a BA Fine Art & MOCN course at Wirral Metropolitan Collage. His work as been displayed and exhibited nationally and internationally.

"My work evolves through the exploration and manipulation of materials and mediums, often in response to a particular site or environment. My approach is based on constant source of discovery acting as a catalyst for production of his sculptures and drawings. There are many influences in my work from the poet Ivor Cutler."

For more information call 0151 639 4138.

By Invitation Only 3.

THIS exhabition is on the 27 November to the 1 of January, in the Southport Arts Center. The most interesting exibit at the show is by an artist called Richard Asworth, who made his pictures out of his own hair.

Also exhibiting are Janine Pinion, Barbara Jones, Hilary Ellis and Sue Yoosawai.

Janine Pinion, Born in Belfast in 1959, Janine moved to Liverpool in 1977 to study Fine Art. Her paintings feature in collections in Ireland and the UK. She set up the Acorn Gallery and co-edited Artspool magazine, writing exhibition reviews and a spoof diary (under the pseudonym Hester Moyle) until 1995. Later she returned to university and now works in education and freelance as a writer, artist and art therapy trainer. She has a son, Patrick, and lives in Wirral.

The Sea Is Dancing, Grandmothers, poems by

In this first collection, Janine Pinion uses language and image incisively to illuminate the ordinary, the disconcerting, the hilarious and the downright painful. A cuckoo, a toothed cherry, the Daylight Hotel and a boy who answers back play cameo roles.

"resonant poems, rich in character and vitality - you get to the end of this collection and, spellbound, have to go back and read it all again."

Alison Chisholm

"With each gentle observation, Janine Pinion reveals her artist's eye. These poems are a wonderful invitation to share what she sees."

Mandy Coe

"poems that speak from the heart, bringing warmth, wit and compassion"

Diana Hendry
Cover:- (pastel drawing) Janine Pinion, ISBN: 1-904420-03-06. U.K. £3.00, published by
Driftwood Publications.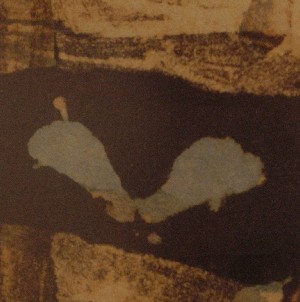 Hilary Ellis told us he was "Born in London, I have lived in Southport with my husband and three children for the past 18 years. Having always been interested in Art, I took an 'A' Level in Art at Southport College, followed by a Foundation Course which led to an Honours Degree in Fine Art at Liverpool John Moores University. Since graduating I have exhibited widely in the North West with solo exhibitions at The Hanover Gallery in Liverpool and Liverpool University Art Gallery. I have also participated in numerous group exhibitions in the area as well as shows in Dublin and the USA.

My work has always been concerned with 'collections' and the desire to impose or uncover an underlying order in everyday objects. The collections are typically formed from humble objects such as feathers, rubber bands, pieces of string, plastic chip forks and ring pulls, and as such often upset conventional expectations of what constitutes a collection.

Although the collection and documentation of the objects is central to the work, increasingly it is not the objects themselves which are presented to the viewer, but often only a trace of the object remains in the final artwork. The transfer of surface is achieved by a number of different processes which have evolved during experimentation. These range from the use of simple domestic materials, in conjunction with conventional printing processes, to casting and impression taking.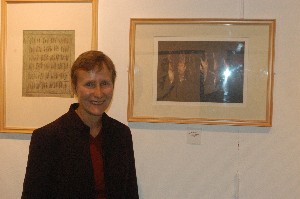 More recent work, although still concerned with underlying orders, has concentrated on a more personal viewpoint. As in the past, it is the process which shows the way to truth and resolution in the work, the artist's role being to respond to the needs of the work by allowing the materials and form to interact and ultimately reveal the work's true identity."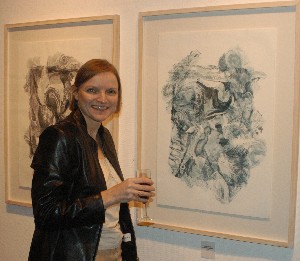 Barbara Jones told us
"I have just completed a B.A. Fine Art Degree, with Honours, at Wirral Metropolitan College, Birkenhead. During my time at college I gained a wide experience of printmaking methods, especially etching. The prints on show at Southport are a series of etchings which developed from my interest in organic forms and are based on some my photographs of ice formations. The five prints were created from 3 basic plates which I have combined in various ways to produce the resulting images. Each print is unique since there is an element of monoprinting involved which means that the images cannot be reproduced. Because my subject is "organic form" I dislike the usual plate edge which is produced by printing an etching plate so I seek to print beyond that boundary and create an irregular "border" which "grows" outside the usual limits. I try to employ colours which are in keeping with my subject matter and enjoy experimenting with different colour combinations. The etching plates are made through various processes including aquatint, hand applied aquatint, spit-bite and drypoint. My other artistic interests include making handmade paper to print on, or to create my own three dimensional "organic" forms. I am currently continuing my studies at Wirral Metropolitan College as a fellowship student and hope to further my ideas during this academic year."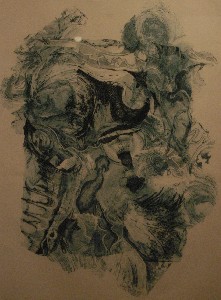 Both exhibitions are free so take a look!