The Theatre Company Blah Blah Blah!

presents................
BIG SISTER LITTLE BROTHER!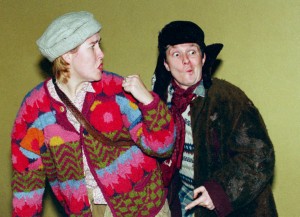 CHILDREN'S THEATRE MATINEE
Southport Arts Centre
Saturday 7 December 2pm
Tickets:- £5 (£4 children and concessions) Family ticket discount

Big Sister Little Brother tells the story of the Emperor's New Clothes but with an unusual twist. It is a colourful and larger-than-life show in which fantastical worlds and eccentric characters emerge from old suitcases. Physical storytelling and puppetry, combined with a sparkling new script, create a hilarious and gripping show for children and adults alike.

Rita and Archie invite you into their world of trickery, vanity and gullibility. They are on the run but like any brother and sister each blames the other and they can't even agree on which way to go. They meet a big-headed Emperor, a foolish chief-minister, an exquisite Empress, and in a vast palace, with rooms full of clothes, they weave magic garments. But when everything goes wrong, the past comes back to haunt them. Sibling rivalry interwoven with classic fairytale leads to an unexpected ending.

Big Sister Little Brother is written by Mike Kenny, the award-winning children's playwright and performed by the theatre company Blah Blah Blah!, one of the country's leading producers of theatre for children and young people.

Tickets available from the Box Office on (01704) 540011.
Folkworks presents
ENGLISH ROOTS



Featuring Waterson:- Carthy, Chris Wood, Robert Harbron & Dog Rose

Southport Arts Centre
Saturday 7 December 8pm
Tickets:- £10 (£8 concessions)

An astounding line-up, representing three generations of musicians, comes together to celebrate the English Tradition. They will be joined by a young Morris dance team who will show that this form of dance is vibrant, dynamic and exciting.

The artists are:-

Waterson:Carthy comprising Martin Carthy, who has recently celebrated 40 years as a folk musician; the unique voice of Norma Waterson, Mercury nominated singer; Eliza Carthy, singer and fiddler, daughter of Martin and Norma and a young performer dedicated to the tradition and multi-instrumentalist and singer Tim van Eyken, winner of the first BBC Radio 2 Young Folk award in 1998.

Chris Wood, fiddle player and singer who has long championed the cause of English Music.

Robert Harbron, perhaps the foremost concertina player of his generation.

Dog Rose, the young Cotswold Morris dance team once described as 'sex on legs' who will certainly dispel all stereotypes about this much maligned, but actually highly athletic, dance form.

The wealth of songs and tunes, interspersed with energetic bursts of dance, will underline diversity of the music and will show there is indeed a distinct English tradition to be proud of.

Tickets available from the Box Office on (01704) 540011.