Lost, "Hold on"....
Report By Dominic Bonner and photograph by Patrick Trollope.
OFTEN the struggles of many a new upcoming band attempting to break through the mish mash of the record industry follow a well-trodden path on their first records to success. But it would seem that this band hailing from Southport, have done everything to make the listener feel they are being robbed, yet want something more from them.

Rarely is a record so mute and in the same context so loud within this paradox. But this is the case with 'hold on'. Musically everything is in place, songs such as the album title track, Take a breath, and we're alive, stand out very well as possible singles for the future.

Fine ingredients of soft acoustic guitars, mellow harmonies and steadfast bass provide a road to soothe the listener. But these short sharp songs could be a tad longer in some places on the album. But nonetheless, Hold On is an enjoyable composition of music.

Although their claims that they are a band that cannot be pigeon holed, there seems to be a very nineties Australian sound with a mix of Liverpool post-modern indie music that likens itself to the rock style of Crowded House. Along with a mix of many influences that characterizes today's pop music.

Lost is a band for the future. But on the evidence of this album, a little more expression and individualism would not go amiss to avoid leading themselves astray into a sound that already defines the moment of many current rock bands past and present.

Out of 5... More Please!

Read the exclusive band interview next week!

Call Out figures for the Green Goddess.

Merseyside call outs:- 363

Sefton call outs:- 48
RAILTRACK REITERATES PUBLIC SAFETY CAMPAIGN....

Report By Dominic Bonner.
A NEW hard-hitting campaign for the prevention of crime on Railtrack's lines in its bid to cut accidental death and vandalism and save the company millions in lost revenue.

British Transport Police and Railtrack representatives are taking Railtrack's latest drive via lectures for school children. Some frightening statistics revealed earlier this week showed that there are over 3,500 instances of crime are recorded each year in the north west of England alone.

But this accounts for only a small percentage of the national cost to the company - as similar shocking levels of crime are reflected nationwide.

The traditional hotspots period for these types of crime are during school holidays. Children are among the highest offenders on the railway of seen as taking unnecessary risks with their lives. Causing untold damage and endangering Railtrack staff, passengers and further increasing the likelihood of further casualties. And with Christmas just around the corner, Railtrack is keen to avert further deaths and crime.

Although recent implementation of close circuit television nationally, in particular with how effective it has been in Scotland - It has improved the effectiveness of the BTP. But Railtrack has admitted there are limited resources it is only able to concentrate upon hotspot areas. And there is a mood of defeat as it is not likely to eradicate these problems and containment is a more likely solution.

Leading to the hope of maximizing educational and media impact the company's impact on crime prevention can ensure emphasis on safety ensuring the festive period runs smoothly.
Win this mug.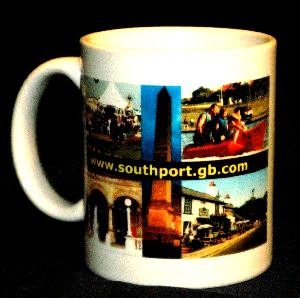 TO enter send a email to:- game@pcbtphotography.co.uk with your name and address on and the answer to this weeks question. A name will be pulled out of a hat and the cup will be sent to you!
Rules.

Only open to UK readers.

No one from Southport.GB.Com Ltd. or PCBT Photography (Southport Reporter) can enter.

Closing Date of this competition will be:- December 7th and the winner will be informed by email and the Following edition will have their name in. If no one wins the Cup will be kept for a later prize.
Question..... What was the name of the film reviewed on the 28 March 2002, by us, directed by Mark Pellington?