Wayfarers Christmas Competition Winners Announced
Report by Luisa Boero-Rol and photograph by Patrick Trollope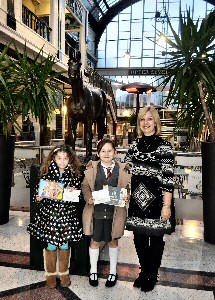 2 very excited young girls have recently received a prize at Wayfarers Shopping Arcade for being winners of the arcade's 12 days of Christmas competition.

Daisy Roberts, aged 6, winner of the colouring competition and Antonia Byron, aged 8, winner of the 12 days of Christmas trail, were excited to receive their gift voucher courtesy of Beales department store, located in Wayfarers Shopping Arcade.

Proud mum of Antonia, Kath Byron said:- "I was so pleased to see that Wayfarers Shopping Arcade provided something to keep children entertained and encouraged during tedious shopping trips over the Christmas period. Antonia was excited to do the trail and had her dad to help so that the pressure could be taken off me and I could shop with ease."

Daisy and Antonia, both from Merseyside, know already what they are spending their voucher on... toys.
Bishop James asks "Lord, teach us to pray" in final series of Lent addresses
THE Bishop James will be delivering his last series of addresses as Bishop of Liverpool at the Anglican Cathedral in March 2013.

The series, entitled:- "Lord teach us to pray", that will look at several aspects that Christians and others most struggle with when they come to thinking about prayer.

These addresses follow the very popular series of talks the Bishop led in 2010:- "The World Today through the eyes of Jesus."

The addresses start at 7:30 and will last an hour with a different theme being explored each week. People are free to come to individual sessions but together they will build to a powerful series exploring the deep meaning of prayer.

► Thursday 7 March 2013 - Learning the art of thanksgiving.

► Thursday 14 March 2013 - Taking time to adore The Good Father, Jesus the Child of Adam, the Spirit of truth and justice.

► Thursday 21 March 2013 - Learning to pray when seeking guidance, enduring suffering and facing death.

► Thursday 28 March 2013 - Confessing when we have sinned knowingly and unknowingly.

The first 3 addresses will end with the service of Compline (or 'Night Prayer' -- a quiet liturgy lasting about 15 minutes).
On Thursday, 28 March 2013, the Bishop's address will take the form of the sermon in the Maundy Thursday Eucharist.

Bishop James said:- "Prayer is a fundamental aspect of our Christian life yet one which will daily need to relearn. I look forward to welcoming everyone to the cathedral where together we can ask Lord, Teach us to Pray."
| | | |
| --- | --- | --- |
| | Click on to read on! | Click on to read on! |