'2012 DA14' makes history above, but did you see it?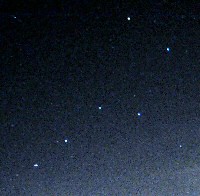 ON Friday, 15 February 2013, an asteroid called:- '2012 DA14' made history and oddly, only a day earlier, a large fireball was reported over Japan and just hour before '2012 DA14' was to make its pass on Friday, a meteorite crashed to Earth in Russia! Due to the world wide news coverage of the Russian meteorite impact, National Aeronautics and Space Administration (NASA), European Space Agency (ESA) and The Russian Federal Space Agency (Roscosmos or FKA (ФКА)), all issued reassurances to the public that they could confirm that '2012 DA14' would not collide with the Earth, and did not pose any risk. Thankfully '2012 DA14', which is the size of an Olympic swimming pool and an estimated 130,000 metric tons, zipped past harmlessly within 28000km of Earth, that's around a 10th the distance to the Moon. If it had struck the Earth, it would have produced the equivalent of 2.4 megatons of TNT! The only danger it did pose was to some geosynchronous weather and communications satellites that orbit Earth. The massive space rock was not visible to the naked eye, but could just be seen with a normal pair of binoculars, or an amateur telescope. Cloud permitting, you could just make it out as it moved across the heavens.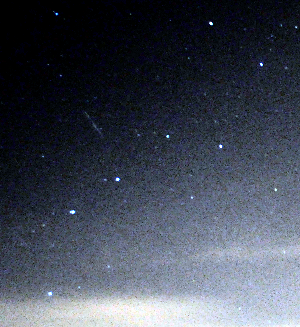 "Sadly, we did try to photograph the passing of '2012 DA14', but the clouds and mist were a problem and we gave up, opting to look at it via binoculars. This was a photograph we took of the Plough (or for our friends in the US, the Big Dipper), on the night, just an hour before it passed across the handle, just to show how tantalising it was. The other shot we think might be it, with the Plough behind, but we are not positive it is. Let us know what you think please..." our editor Patrick Trollope said. For now, the orbit of 2012 DA14 is such that it will not crash into Earth for the foreseeable future. It rates 0 (No Hazard) on the Torino scale. The next closest visitor, we know about, and will be on a close orbit and of an extremely large size, will be Apophis. This huge asteroid will pass near Earth in 2029 and 2036. Don't rush to the bookies mind you, as it has just a very slim chance of hitting the Earth during its close flyby in April 2029, so don't worry! Mind you it will be on Friday the 13th! Apophis, we are reliably informed, was the name of an evil, ancient Egyptian, monster snake god, so there you have it. If you did get a glimpse of '2012 DA14', please do let us know by emailing us to:- news24@southportreporter.com. If you did not see it, or want to find out more about that asteroid or Apophis, then take a look at these fantastic websites:-
universetoday.com - planetary.org - nasa.go - space.com - bbc.co.uk

Click on to read on!

Click on to read on!