We get the message – The 1st non-emergency text number launched for North West Rail passengers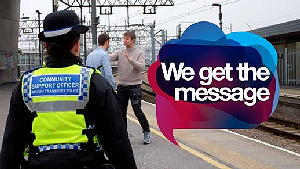 FOR the 1st time, rail passengers across the North West can report incidents to Police via text, following the launch of a new non-emergency text number by British Transport Police (BTP).

The new text short code, 61016, will give passengers an additional tool to report incidents in real time wherever there is a mobile phone signal. The number is designed to capture low level, non-emergency incidents, similar to the non-emergency 101 phone number used by local forces.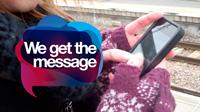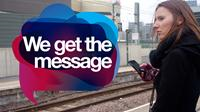 Chief Superintendent Peter Holden, NW Area Commander, said:- "By creating a text capability we are looking to give passengers greater accessibility to British Transport Police which, in turn, should mean rail users are more likely to report incidents, such as anti-social behaviour. This will us a better understanding of the nature, number, time and location of incidents which may previously have gone unreported. The service has been implemented following extensive consultation with train operators and will not only give BTP a more rounded picture of the level of crime and disorder on the network, but will also give rail staff another way of reporting their concerns and alerting Police to potential issues."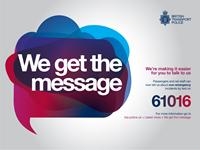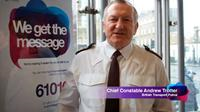 BTP Deputy Chief Constable, Paul Crowther said:- "BTP aims to be as open and responsive as possible and this is the next logical step for us. Text messaging is a quick and everyday way to communicate and passengers want to be able to contact us this way. By encouraging passengers to also report incidents via text, we hope we will get a more complete picture of the sort of low level but all too common incidents that affect people's journeys across the network. However, text messages should never be sent in an emergency situation as there are no guarantees that they send correctly or are received promptly."
The 61016 text number will be monitored 24/7 and whilst it is not for reporting emergencies, there will be the capaCity to send a policing response if required.

DCC Crowther added:- "Low level anti-social behaviour, which we know often occurs on trains later at night and when people have been drinking, is undoubtedly under reported. Passengers tend to accept or ignore the minority who make the journeys unpleasant for everyone else. We hope that the ease of being able to send a quick text message will encourage more passengers to report incidents when they occur. By building up a more accurate picture we can better focus our resources."

David Sidebottom, Passenger Focus director, said:- "Passengers tell us that they generally feel safe on the railway, however, they will welcome this initiative as it will provide them with an easy way to highlight the problems they come across."

CONTRACT SIGNED FOR NEW JOINT POLICE AND FIRE COMMAND AND CONTROL CENTRE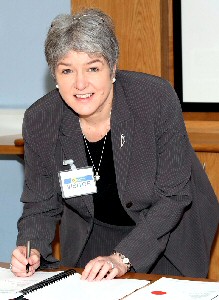 JANE Kennedy, Merseyside's Police and Crime Commissioner, on Wednesday, 6 March 2013, signed a contract that gives the go-ahead to the development of the area's new joint Police and Fire Command and Control Centre.

The centre will be based at the Fire and Rescue headquarters in Bridle Road, Bootle and will be a mixture of new build and refurbishment of the current building.

The co-location of the Fire and Police Control room functions will provide an exciting opportunity to deliver a more efficient and effective service to the public. They will share site infrastructure and facilities with the potential for sharing of technology solutions in the longer term.

When planning permission is granted building work will be undertaken at the site and this will bring benefits to the local area. The contractor for the site, Kier Construction, will be recruiting apprentices from the local area and also targeting local contractors to work on the site. This will help in ensuring that local people benefit from employment and training opportunities, especially supporting young people who are keen to work in the construction industry.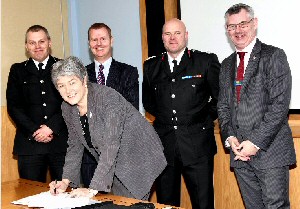 Merseyside Police and Crime Commissioner Jane Kennedy, said:- "It has taken a lot of hard work from both organisations and the former Merseyside Police Authority to reach this stage and I would like to thank everyone involved in driving this project forward. This collaboration will not only provide a more efficient service to the Merseyside community but it will also be a more cost-effective way of meeting ongoing service delivery needs in what are very challenging financial times. It is vital that a major contract of this type should bring benefits to the local area and we're delighted that this will be happening. This is another example of successful partnership working and I'm thrilled that young people in the area will be able to gain valuable experience by working on this development."

Councillor Dave Hanratty, Chair of Merseyside Fire and Rescue Authority, said:- "This Merseyside solution will provide opportunities for long-term partnership working and savings as well as real benefits for our mobilizing and command and control functions."

Gary Winterskill, Managing Director, Kier Construction – Northern, said:- "The Joint Control Centre project is a really good news story for Kier, in what is our 100th year of working in Merseyside. We're delighted to have designed and developed the scheme from its inception in collaboration with the JCC client team and look forward to working with many local suppliers in the Bootle area to deliver the project."

The project is due for completion in Spring 2014.