CLA urges government to find markets for North's natural environment
THE CLA has urged the Government to move quickly to find new ways to pay farmers and land managers who look after the North's natural environment.

Following the launch of a report by the Ecosystem Market Task Force (EMTF) published on 5 March 2013, the Association said that more conservation work is needed within the natural environment, and that the work should be funded by private money,

CLA North Director of Policy and Public Affairs Douglas Chalmers said:- "The CLA is completely committed to finding market solutions to pay for conserving the natural environment. We must move away from relying on public money to pay for everything. We fully support the EMTF ideas that private sector solutions should encourage the development of markets such as biodiversity offsetting and the greater use of wood fuel. These would add value and help pay for the natural environment."

Mr Chalmers said the main challenge was removing the obstacles blocking these markets. He added:- "We could have more small-scale anaerobic digestion to turn waste into energy, but this is hindered by the planning and permitting rules. We could meet the costs of flood prevention by ensuring those who benefit from such measures contribute towards the cost."

Mr Chalmers said he was pleased the report noted the limitations of using the Common Agricultural Policy (CAP) to fund environmental works. He said:- "As current discussions in Brussels are making clear, the CAP budget is highly unlikely to remain the same size over the long term. Rules underpinning the CAP only allow payments for environmental works to be made on potentially lost income. So if the land manager only gets the money he would have received from continuing his existing activities, why should he do anything different? Clearly, this needs to be looked at more thoroughly and more thoughtfully."
HMRC wins award from The Prince's Trust
FREE advice is being offered to people on dealing with their fuel bills and cutting their energy use.

The City Council and the Healthy Homes team are holding special surgeries in the One Stop Shop at the Municipal Buildings to offer guidance on fuel debts, and energy efficiency.

"Fuel poverty is a major issue in this City and a lot of people do not know where to turn to for help over how they can cut costs or even understanding their bills. These surgeries will offer practical advice on a range of issues and those people who are in difficulties over fuel bills will find them really helpful." said Councillor Ann O'Byrne, cabinet member for housing.

The 1st surgery is on Wednesday, 13 March 2013, at 1pm. It is by appointment only and appointments can be made by ringing 0800 012 1754. They will be held twice a month, initially, although their frequency may increase depending on demand.

Advice can be offered on managing fuel debts understanding bills, cutting energy use, what financial assistance is available for clearing arrears, grants available for heating and insulation and emergency heating for vulnerable households.

BELLWAY PROVIDES FREE PART EXCHANGE AT LINKS VIEW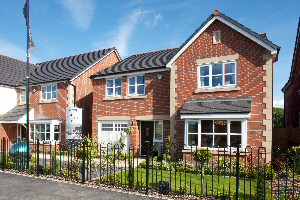 TO further help homebuyers in Southport, Bellway Homes has a launched a free Part Exchange service at Links View, its desirable development on Liverpool Road in Ainsdale.

With increased demand from discerning buyers for this popular scheme, Bellway Homes will offer the service free of charge at Links View throughout March.

Presenting potential purchasers with a host of benefits, Part Exchange is a very sought-after incentive in today's housing market.

Simple and straightforward, Part Exchange provides clients with a secure cash purchaser, a good offer for their current home, no chain, convenience and complete peace of mind. The process takes between 6 and 8 weeks, with the scheme taking away all the hassle of having to sell your home to move house.

At Links View, homebuyers just need to select the property they wish to purchase and if they qualify financially, Bellway Homes' dedicated Part Exchange Manager, Annette Kirby, will provide a professional and seamless service.

Annette comments:- "It is my job to visit a client and appraise their existing property. I make all the necessary arrangements to have it valued by a local agent also. I aim to move quickly and have an offer back to clients within a week, which enables them to finalise their decision and move to the next stage of the purchase process. There are many advantages to Part Exchange which buyers are well aware of, making it an attractive incentive to potential purchasers."

Part Exchange ensures a smooth move for homebuyers and without the involvement of estate agents and their associated fees, it also saves them money too.

For a limited period only, potential purchasers can save even more money at Links View, with Bellway Homes wavering the £100 fee for the month of March.

The luxurious Links View is conveniently located on Liverpool Road in Ainsdale, with the village providing everyday amenities and further choice available in nearby Southport.

Part Exchange is available on selected plots at Links View, including a range of 3, 4 and 5 bedroom properties.

Prices at Links View range from £261,995 to £399,995. Speak to the sales advisor to find out which plots are available with Part Exchange.
For further information, please contact Bellway Homes on:- 01704 578 117. Alternatively please visit:- bellway.co.uk.