'Sharky Fun Days' highlight loan shark danger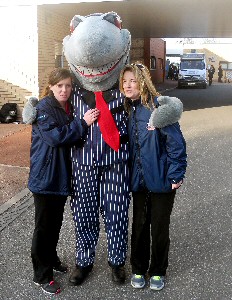 A 2 day event was held to highlight the dangers of loan sharks in Sefton during half term week. The England Illegal Money Lending Team worked in partnership with Sefton Council to encourage people to turn away from loan sharks and report the crime if they have been a victim. More than 400 people attended the "Sharky Fun Day" events at Springwell Park Children's Centre on, Monday, 18 February and Tuesday, 19 February 2013. Representatives from the England Illegal Money Lending Team and a range of other agencies were on hand to offer information and advice on avoiding loan sharks, getting back into work, the changes to welfare and many other issues. Sefton Credit Union, Sefton@work, One Vision Housing, Riverside and Citizens Advice Bureau were among the agencies involved. Children were entertained by a range of fun events including handling creepy crawlies, a visit from Cheshire Falconry, climbing walls, bungie-trampolines, balloon making and face-painting. There was also a special appearance from the Team's mascot Sid the Shark. The event is part of the England Illegal Money Lending Team's continued awareness raising in Sefton. The Team also worked with Springwell School to encourage youngsters to turn away from loan sharks in later life. Altru Theatre company worked with pupils to perform "Fairy Tale Money Troubles", a play which looks into the experiences of loan shark victims. The Team will also host training sessions for frontline staff at Sefton Council in the coming weeks, to give them a greater understanding of the ways in which loan sharks operate and allow them to support and signpost anyone they meet in their day to day work who has been affected by a loan shark. An estimated 310,000 households across the country are in debt to a loan shark. These criminals usually appear friendly at first but quickly trap their borrowers into spiralling debt. As the debts can't legally be enforced many lenders will resort to the most extreme and callous methods to enforce repayment including threats, violence and intimidation. Paperwork is rarely offered so victims are often in the dark as to how much they are actually paying. Exorbitant extra amounts and interest are added at random- the highest interest seen by an illegal lender was equivalent to 131,000% APR. In some cases the loan sharks have been known to take items as security including passports, driving licences or even bank or post office cards with the PIN in order to withdraw directly from borrowers' accounts.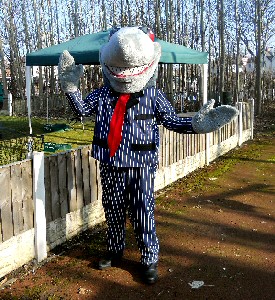 Cllr Trish Hardy, Sefton Council's Cabinet Member Communities and Environment, said:- "The fun days were very well attended and helped highlight a very important issue. Loan sharks operate all over the UK and fleece hard earned cash from their victims causing great distress and anguish. By working with all our partner agencies we can join forces to help try and end this practice which ultimately damages local communities."

Tony Quigley Head of the England Illegal Money Lending Team said:- "Illegal money lending is a despicable crime which causes nothing, but harm to our communities. These lenders may appear to be offering a community service, but borrowers are often forced to pay back far and above what they have borrowed and can afford. Many are subjected to threats, violence or other callous enforcement methods. We would urge anyone who has been the victim of a loan shark to report them in confidence on:- 0300 555 2222, as we can help."

Nationally the Illegal Money Lending Teams have secured 220 prosecutions for illegal money lending and related activity, leading to more than 150 years worth of custodial sentences. They have written off almost £40 million worth of illegal debt and helped over 19,000 victims.

To report a loan shark call the 24/7 confidential hotline on:- 0300 555 2222. You can also send a txt - 'loan shark + your message' to 60003 or you can email them.... Plus you can get more information on the groups Facebook page.
JAZZA HAS FAITH IN HIS ABILITY
LIVERPOOL livewire James "Jazza" Dickens says his religious faith is the driving force behind his success inside the ring. Dickens, 21, challenges for the vacant English super-bantamweight title against Jon Fernandez in a rare meeting of unbeaten prospects on 30 March 2013. And while hoping to one day go onto British, European and world level, he believes he wouldn't have got this far if it wasn't for finding God at the age of 17. Dickens said that:- "Without God I wouldn't be where I am. I dedicate everything I do to God because without Him I wouldn't have the strength to train like I do and I wouldn't have the hunger that I've got. A lot of lads my age go out to parties, they drink and some take drugs and get into bother. I don't do any of that. Where I spend my life is in the gym and in church. I'm not throwing the bible at people, I just think more boxers should think about religion because if they got what I get from it they'd really benefit. I found god properly when I was 17 and I haven't lost a round of boxing since." Without doubt Fernandez will be looking to change that at the end of the month. The Southampton man himself hasn't dropped many rounds since turning professional in 2009 and last time out won the Southern Area crown by beating Jamie Speight. Jazza's not one to spend much time studying his opponents, but he knows that Fernandez will be a stiff challenge from a past encounter. "I sparred Fernandez years ago. At the time I think he'd had two or three fights and I was just turning professional myself. It was a really good spar, but I can't look too much into it because obviously we've both improved since then. I'd be so proud to be English champion and god willing I will be. I believe this is also going to an eliminator for the British title, so hopefully I can move on quickly to another big fight."

2 hour Zumbathon raises funds for the new Royal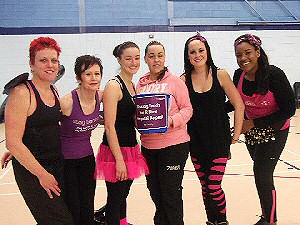 OVER 200 people have taken part in 2 hour Zumba sessions to raise money for the Royal Liverpool University Hospital's R Charity. The sessions, hosted by Peter Lloyd Sport Centre in West Derby have raised around £1,000 for the charity, with attendees dressing in pink for the 2 hour workout.

The money for the charity will go towards vital cancer services within the new Royal, which is expected to open in 2017.

R Charity is the new fundraising drive to help contribute to services within the new Royal. The charity aims to raise £10 million by 2017 in order to support Cancer, Renal, Haematology and Stroke services and Critical Care facilities at the new hospital.

The new Royal will provide patients with state of the art facilities and treatment and a better environment in which to be treated. The new Royal will include single, en suite rooms and more comfortable waiting rooms.

There are also plans for the new Royal to include a comprehensive cancer centre in collaboration with Clatterbridge Cancer Centre. This will facilitate the delivery of better cancer care and research into cancer further enhancing the Royal's status as a regional and national centre for various types of cancer.

Staff at the leisure centre kindly donated their own time in order to run the event. Samantha Glover, Zumba instructor said:- "We decided to raise money for the Royal because of the care and support they give to people, in the past year I have known 6 women with breast cancer, they have all been treated at the Linda McCartney Centre and they sing the praises of this centre."

Loren Slade, community and events fundraiser at the Royal said:- "It was great to see everyone so keen on keeping fit and doing their bit for cancer services at the new Royal. Everybody who took part put lots of effort into the sessions. The money raised will help to bring the highest quality cancer services to the new Royal. We'd like to thank everyone who dedicated their time and took part in the event."
Vikings team up with Tomahawks for RLWC2013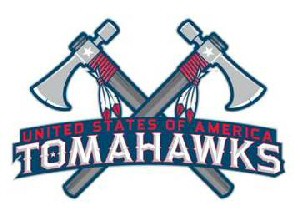 WIDNES Vikings have joined forces with the Halton bound USA national rugby league team ahead of this year's Rugby League World Cup by featuring an exclusive column which will be published in the club's new programme 'Black And White' for every home game.

The association, which is believed to be a 1st in Super League between an English club and a RLWC 2013 competitor, began back in 2012 when the American side visited the borough as part of the RLWC 2013 launch.

The relationship has blossomed and David Niu, president of the American National Rugby League, as well as American colleague Brian Lowe, have been working with the club and its editor Ian Cheveau on formulating the new concept which will see Vikings fans be updated with the very latest news from the Tomahawks camp ahead of their trip to Widnes and Runcorn.

James Rule, Vikings CEO, said:- "The RLWC 2013 is a massive event in the sporting calendar and one that everyone at Widnes Vikings and our fans are looking forward to. As a borough and a club we are excited to be hosting the Tomahawks for their RLWC 2013 adventure and they will be using the clubs facilities, including our pioneering i-pitch which will allow them to train in any conditions. They will be visiting our schools and communities and I think the news we can give stakeholders through the channel of our club programme 'Black And White' about their visit will whet the appetite about the feast of rugby league that will be happening in October and November."

David Niu added:- "As the pioneers of the sport of rugby league in the USA, we could not have asked for a better location for our team to be based than with a club that was a founding member in the development of the sport in England. We are well aware that Widnes has produced many wonderful championship teams and players. They must have enjoyed tremendous support and encouragement from the local community and fans. We hope that our Tomahawks might generate that same passion."

Vikings take on the Bulls on Friday, 8 March. Kick Off - 8pm. Read about the Tomahawks exclusively in Issue 3.
Fire hit Hall Restored After 60 Years
A wing of Liverpool's famous Croxteth Hall that had been damaged by fire more than 60 years ago has been brought back into use and made available to the public. The Queen Anne or South West Wing of the Hall was hit by a catastrophic blaze in December 1952. Although the exterior was retained much of the interior was gutted and has remained out of bounds since then. Now 2 of the rooms, next to the Old Dining Room are to be restored and brought back into public use in a £400,000 programme, funded through the Croxteth Estate Endowment Trust Fund. Work will include plastering, installing wood paneling, new windows and lighting along with a major decoration scheme to make them look as stylish as the original. The work has been agreed with English Heritage. As well as restoring the rooms to their elegant décor, an extra bar and further toilet will be provided. This will allow the Hall's Library and Old Dining Room along with the restored rooms to be hired-out for weddings and other functions. It is estimated that at least £140,000 a year will be raised through the additional facilities at the Hall, generating much needed extra income.

Joe Anderson, the Mayor of Liverpool, said:- "Croxteth Hall is one of Liverpool's biggest attractions and this restoration work will open it up to an even wider audience. It is not going to add anything to our budget as it is being paid for through an endowment fund set up for work such as this. We are ensuring one of Liverpool's historic buildings is going to be used to a much greater extent than it ever has been."
Councillor Peter Mitchell said that:-"While the income will, of course, be very welcome, it is perhaps more significant that we are bringing an important part of the city's heritage back into use after 60 years. Croxteth Hall is a very popular attraction for visitors and this latest development will make it even more attractive for wedding parties, conferences and other events. The Queen Anne wing is regarded as the most interesting part of the Hall architecturally and it is 300 years old. It has never been fully open for public use but now we are going to have access to much more of it for the first time in over 60 years."

Nobles Construction Ltd. have been appointed contractors. Work is expected to start in Spring and be completed in the summer this year. Artist's impressions and plans of the restored wing will be on show at the Hall.