Letter to Editor:- "I want to say sorry for my Poker Face art work"
"AS a local artist and exhibitor at the waterfront arts project I wish to apologise to all members of the public that visited the chance exhibition and have been distressed or shocked by my work called:- 'Poker Face'. I am truly sorry for causing any offense to the public and hope by removing said piece the public will now enjoy the gallery experience at the Waterfront Gallery on the Promenade Southport. I would also like to say sorry to all members of the waterfront, I did not expect this one piece to get such a reaction!! Plus thank you, to the people that brought this to my attention. I am glad to find out that there are still boundaries in art although the piece was meant to be funny and about chance, one chance I wont take again." Sorry Rob ART, from Southport.
Summer aim for Rhys Jones sport pitches
A community centre and sports pitches in Liverpool dedicated to the memory of Rhys Jones is set to open in July. The idea for the centre arose following the tragic shooting of 11-year-old Rhys in 2007 and a Trust was established to raise funds for a community centre for people living in the Croxteth Park estate and surrounding neighbourhood. The Trust raised £255,000 and the Council agreed to contribute £250,600 to the project, together with land it owns at Langley Close. Now the Mayor's Cabinet is being recommended that the Council take on the responsibility for delivering and owning the centre with the aim of having it open by July 2013. Planning permission has been granted for the centre in Langley Close. It will include a community building with changing rooms and 2 all-weather floodlit football pitches. There will also be parking facilities. The Council will be transferring the completed facility on a peppercorn lease to the Alt Valley Community Trust, who already operate sports facilities in the area, will manage the community centre. "We are now making real progress on a project which was first proposed over 5 years ago. We gave a commitment to the community and we can now see that that pledge is becoming a reality. The Memorial Fund and Trust cannot be praised highly enough for their efforts in bringing this about and the approach which is being taken is supported by the stakeholders group which has many local representatives Above all Rhys's parents are in full support of what is proposed. This centre and sports pitches will be a fitting memorial to Rhys." said local Councillor Peter Mitchell. A number of the companies involved in developing and delivering the scheme, including Regeneration Liverpool, Neptune, Tweeds, Deloittes, Falconer Chester Hall and DWF have all waived their fees. The Cabinet will be asked to endorse the proposal at its meeting on Friday, 8 March 2013.

Young Liverpool electrician takes 3rd place at apprentice awards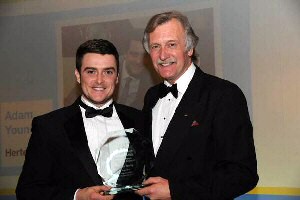 A young electrician from Liverpool has taken 3rd place in a competition to name Britain's best building services apprentice.

Adam Young, 22, who works for Hertel UK in Preston Brook, Runcorn, was a runner up in the JTL National Apprenticeship Awards 2012 in a ceremony held at the historic Tower of London on 27 February. The awards, run by training charity JTL, recognise excellence in apprentices and promote high standards of training in the building services sector. Adam was presented with his award and a cheque for £300 by JTL Chairman Dr Ian Livsey.

Adam said:- "I'm delighted to have come this far and to have my work recognised. Although my apprenticeship was demanding, I learnt so much and I can't imagine doing anything different. I would like to thank my manager Colin Corcoran, training officer Alan McCluskey and my JTL training officer, Dave Roach, for all their support – I couldn't have done it without them."

Denis Hird, Chief Executive of JTL, said:- "Adam has done brilliantly to take third place in this year's awards in addition to winning his regional competition. We work with more than 6,500 very talented young people nationwide, so it's a real achievement to have got this far. These awards recognise the work employers and young people are putting in to ensure the industry has the skills it will need when the economy improves. Adam is a great example of the talent being developed in Liverpool and I wish him the best of luck in the future."