Last chance to vote for your NHS hero in 2013 Pride Awards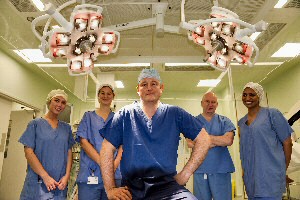 DO you know a member of staff working at our hospitals or in our community health services who deserves special recognition for their excellence and professionalism?

Patients and their families have until Friday, 8 March 2013, to vote in Southport and Ormskirk Hospital NHS Trust's annual Pride Awards.

The Patients' Award is an opportunity for patients and families to show their individual appreciation to a particular member of staff or team. The award, sponsored by software developers Net Orange, is shortlisted only from staff nominated by members of the public. Staff nominate colleagues for awards in 6 other categories.

Nominations, which can be made online at the Trust website, close at midnight on 8 March 2013. They can also be made in writing by calling:- 01704 704714 and requesting a nomination form.
The awards, now in their 5th year, will be held on Friday, 10 May 2013, at Southport Theatre and Convention Centre. Jonathan Parry, chief executive of Southport and Ormskirk Hospital NHS Trust, said:- "Our staff receive thousands of thank you messages every year from patients and their families, but the Patients' Award is a special and very public way of saying thank you."
Orthopaedic surgeon Marcus Cope's team was the winner of last year's Service Transformation Award with a technique that helps patients recover more quickly from joint replacement surgery.

A hip replacement patient who would have waited 5 days after surgery before being discharged is now going home within 2 to 3 days. The team has treated 60 patients at Ormskirk hospital since introducing the new technique early last year.

"The patients who've had a hip replaced in the past much prefer this new method because they're up and about sooner and there is usually less pain," said Mr Cope, one of the few orthopaedic surgeons in the North West working this way.

His team uses a combination of pre-operative pain killers, changes in anaesthesia and getting physiotherapists involved in the recovery process straight away to get patients on their feet as soon as possible. "The whole process is very much a team effort. The Pride Award was especially appreciated because it reinforced the point we're making a real difference to people's lives." said Mr Cope.

Excellence award for Central station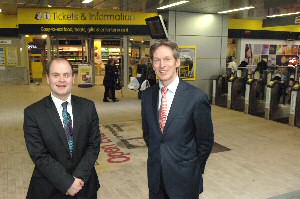 LIVERPOOL Central station has won a top national award following a £20m upgrade. Central, the busiest underground station outside London, picked up the Station Excellence accolade at the Rail Business Awards, presented for 'the introduction of the most successful new idea or outstanding business performance at a UK passenger rail station.'

Cllr Liam Robinson, Chair of Merseytravel – 1 of the 3 partners in the refurbishment programme said:- "We knew that the upgrade had been a success in terms of enhancing the experience for the travelling public of the City region, and we are delighted that the station's excellence has been recognised."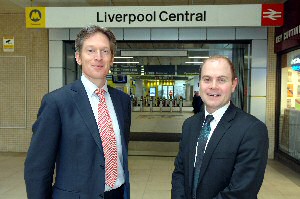 Maarten Spaargaren, Managing Director of Merseyrail, added:- "Liverpool Central is a station that Merseyrail, Merseytravel and Network Rail are extremely proud of. The station is now fit for the future and in keeping with Liverpool as a progressive and developing City in the heart of Merseyside. Passengers remain extremely satisfied with the improvements to their experience when travelling through our flagship station."

Karen Hornby, area manager for Network Rail, said:- "Central had not had any significant refurbishment work for 35 years and as more and more passengers use the rail network, upgrading the station was essential. This was a challenging project, but one which was delivered on time, giving passengers a bright, modern station which is fit for the twenty-first century."
Every year, around 18 million passengers use the station. The regeneration programme saw the complete closure of the station for four months and work continued for several more months before it was fully reopened in October 2012. The judges praised the partners for the award-winning project. They said:- "This scheme pushes all the right buttons. So much has been done to improve the passenger experience and make travelling by train a pleasure. It's also pleasing to see the extent to which partnership working secured a successful outcome."