Green light for £5.5bn Liverpool Waters plans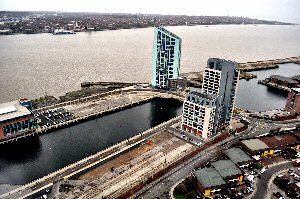 THE MAYOR of Liverpool has welcomed the news that the Government has given the go-ahead to the £5.5 billion scheme to regenerate 60 hectares of dock land in the City, creating tens of thousands of jobs.

Communities Secretary Eric Pickles MP on Monday, 4 March 2013, approved the ambitious Liverpool Waters scheme. Following careful consideration of the plans, he has decided that the scheme can proceed without the need for a Public Inquiry.

It means Peel Holdings and the City Council can now officially begin work on the plans. Over the next 30 years, Liverpool Waters is expected to:-

► Create more than 20,000 jobs.
► Deliver 9,000 homes and 3 million square feet of commercial development.
► Include hundreds of offices, a cruise liner terminal, hotels, shops, restaurants and leisure facilities.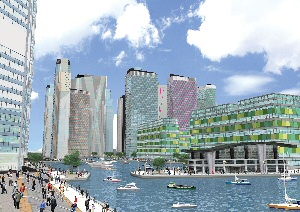 Mayor of Liverpool Joe Anderson, said:- "This is fantastic news for Liverpool. I'm absolutely delighted that the Secretary of State shares the confidence we have in our ability to deliver this vitally important regeneration scheme, while protecting our architectural heritage. This announcement marks the start of a new era for Liverpool, paving to way to us delivering a world class development which will transform a part of the City that has been in desperate need of investment for decades. Liverpool Waters will create thousands of jobs and opportunities for local people, as well as providing new housing and attracting new businesses and visitors. It's a huge boost for our City and yet more evidence that despite the recession, regeneration is forging ahead here. We can now look forward to the plans moving forward on this once-in-a-lifetime scheme which will bring huge, lasting benefits to future generations in this City. It's vital that Peel delivers these plans in a way which meets the conditions set out by the planning committee and we'll be working closely with them to make sure this is achieved."

Liverpool's planning committee initially granted planning permission for the scheme in March 2012, with a number of conditions; including those relating to timescales, the heights of buildings and phasing of works.

The City Council and Peel Holdings worked together to address these conditions, before officially submitting the plans to the Government in October 2013.

In March 2011, the Government established four areas in the country as "Enterprise Zones", including "Mersey Waters" which consists of Peel's Liverpool Waters and Wirral Waters schemes. The additional support and benefits these zones will receive include a business rates discount for 5 years, a simplified and improved planning regime and superfast broadband.

The go-ahead for the Liverpool Waters scheme adds further momentum to regeneration in the City, with a recent audit finding that hundreds of millions of pounds worth of projects are active in the City, despite the recession.

Figures show that there is £800 million worth of ongoing regeneration projects in the City. Major schemes on-site include four new hotels, the refurbishment of the Cunard Building, the rebuilding of the Everyman Theatre, the restoration of Liverpool Central Library which re-opens in May 2013, 3 major health schemes and 2,515 new homes, including the £25 million Anfield Village development.

More information about Liverpool Waters is available at:- liverpoolwaters.co.uk.

Liverpool student organises local charity music event to help tackle poverty in India
A Liverpool student is holding a local charity music event in a fortnight, to support a project that tackles poverty in India. Camille Chappell, age 21, will travel to India in June to work on the development programme for 10 weeks. Camille will team up with Indian volunteers to tackle some of the problems facing the local community, after getting a place on the government funded International Citizen Service (ICS).

ICS allows young people aged 18-25 to contribute to long-term development projects in countries like Nicaragua, India and Tanzania. The scheme offers young people the chance to develop personally and learn about team working and leadership on projects that are of genuine value to communities around the world. On return to the UK, ICS volunteers undertake an 'Action at Home Project', ensuring that their new skills also benefit their local communities.

Camille said:- "My music event is a way of making sure developing countries can continue to benefit from the work of future volunteers, so it's vital I reach my target. I have been contacting local venues, bands and businesses (to help with raffle prizes) to organise the event- which is all coming together nicely. I'm hoping everyone will come along on the night and give generously as a result of my effort! The project I will be working on is run by the development charity, Raleigh International and aims to improve access to sanitation and educate people about health and hygiene. This is a unique opportunity to work alongside people from a different culture who have requested help from young volunteers to fight poverty and make a difference where it's needed most. I'm really excited to get out there."

To sponsor Camille visit:- justgiving.com/Camille-Chappell or text:- CAMI91 with the amount you wish to donate to:- 70070.

To find out more about ICS or to apply, visit:- ics-uk.org.uk or call:- 0208 780 7400.
Liverpool man jailed for 'vicious and sustained' Lime Street attack
A Liverpool man who kicked and stamped a rail passenger he had knocked to the ground has been jailed for 12 months. Conor Joseph Deakin, 23, appeared at Liverpool Crown Court on Thursday, 28 February 2013, for sentence having pleaded guilty to actual bodily harm at an earlier hearing. The court was told Deakin, of Stamford Street, Liverpool, was at Liverpool Lime Street station at around 2.30am on Tuesday, 31 July 2012 when he began to shout abuse at a 52 year old rail passenger. When the rail passenger tried to placate Deakin he became aggressive and pushed the man to the ground. Deakin then subjected the man to a vicious attack in which he was kicked, spat at, stamped on and hit with his own walking stick. Rail staff alerted British Transport Police officers who used CCTV to locate Deakin and arrested him at the front entrance of the station. Following the assault, the victim was taken to hospital for treatment and, despite initially being discharged, was later re-admitted and was treated as an in-patient for more than a week. Detective Chief Inspector Malcolm McKinnon said:- "Deakin subjected the victim to a sustained and particularly vicious attack which left him requiring significant hospital treatment. Thankfully violence of this nature is rare on the rail network, but it is as unwelcome as it is unusual. When violence does occur British Transport Police will do everything in its power to bring offenders to justice and, as this case demonstrates, will not hesitate to put them before the courts."
Report changes, tax credit claimants told
TAX credits claimants are reminded by HM Revenue and Customs (HMRC) to report changes in their circumstances; or they may receive more money than they are entitled to. They would have to pay this back and might face a financial penalty. From April this year, any income increase for a household of more than £5,000 for the tax year will reduce a claimant's tax credits award for the 2013 to 2014 tax year. This amount has fallen from the previous figure of £10,000, after a Budget announcement in 2010. Claimants need to let HMRC know of any changes in their circumstances that they haven't already reported during the year. The changes could be about their working hours, childcare costs, living arrangements or income. They need to report the changes immediately and ensure the details they provide are correct. HMRC's Director General of Benefits and Credits, Nick Lodge, said:- "Many people forget or fail to tell us about important changes – such as having a partner move in or an increase in income – which will affect the amount of money they receive. This could mean that they don't get all the money they are entitled to. Or they could receive money that they have to pay back. We therefore urge them to report changes promptly, and make sure all details are accurate."