2013 'BANFF MOUNTAIN FILM FESTIVAL WORLD TOUR' HITS UK AND IRELAND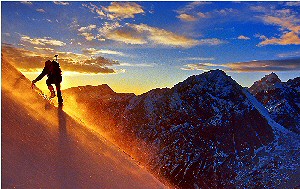 THE world-renowned Banff Mountain Film Festival (BMFF) returns to UK shores in 2013, visiting Ireland for the 1st time on its largest World Tour to date. Through the big screen, audiences are offered an intense and inspiring experience, as the films take them around the globe alongside some extraordinary adventurers.

BMFF is an international film competition hosted by The Banff Centre, based in the Canadian Rockies, and accepts over 300 entries every year. Following the original screenings that take place every autumn, 25 award-winning films and audience favourites are selected for the World Tour. To give you an indication of the tour's mind-blowing popularity, it now visits nearly 400 communities across 35 countries!

There are 35 screenings planned in UK alone, expected to attract over 16,000 adventure lovers and promising even more sold out shows than last year. Each location has handpicked films that best match local interests, from adrenaline-raising adventure-sport shorts to longer, heart-warming tales of environment and culture. Among the exhilarating and provocative titles to hit UK theatres this winter, highlights include:-

► CROSSING THE ICE – 2 Australians set off across the ice in a bid to be the 1st adventurers to walk unsupported from the coastline of Antarctica to the South Pole and back again. This epic expedition is an immensely emotional and physical struggle for the duo and concludes with an incredibly surprising and deeply moving twist.

► WIDEBOYZ – American off-width crack climbing has spawned a culture of rough-and-tumble characters that aren't afraid to bleed their way up a route. This film follows a pair of proper British lads as they spend two years training in a cellar before crossing the Atlantic to test themselves on some of the gnarliest cracks in the US. From the edge of their seats, viewers witness the duo's jaw-dropping 1st ascent of the world's hardest off-width climb Century Crack, which stunned both the British and American climbing circles.

Now in it's fourth year, the BMFF UK and Ireland tour is so much more than a series of film nights. The events are fun, social evenings where outdoor lovers of all backgrounds and ages come together to celebrate mountain culture. While the inspirational films are incentive enough, audiences also have a chance to win some lucrative prizes provided by the tour's sponsors.

This year BMFF is delighted to be working with Arc'teryx as the Presenting Partner of the 2013 UK and Ireland Tour. The festival's organisers are also pleased to welcome Patagonia as a new Principal Partner to the 2013 Tour as well as Cotswold Outdoor, Buff, Keen and Banff Lake Louise Tourism. The upcoming Tour is also supported by Sea to Summit, Black Diamond, World Expeditions, Clif Bar and Artemis.

UK and Ireland 2013 Tour dates are as follows:-
| | | |
| --- | --- | --- |
| Date | Venue | Ticket availability when this edition edition was put online. |
| 25 January 2013 | Forum Theatre, Malvern | (Sold Out) |
| 26 January 2013 | The Hall Venue Cymru, Llandudno | |
| 30 January 2013 | Mitchell Library Theatre, Glasgow | (Sold Out) |
| 31 January 2013 | Eden Court Theatre, Inverness | |
| 1 February 2013 | The Queen's Hall, Edinburgh | (Sold Out) |
| 2 February 2013 | The Playhouse, Whitley Bay/Newcastle | (Sold Out) |
| 6 February to 7 February 2013 | The Carriageworks, Leeds | (Sold Out) |
| 8 February 2013 | Theatre by the Lake, Keswick | (Sold Out) |
| 9 February 2013 | The Crescent Theatre, Birmingham | (Sold Out) |
| 13 February 2013 | Gulbenkian Theatre, Canterbury | |
| 15 February 2013 | Komedia, Bath | (Sold Out) |
| 16 February 2013 | Lighthouse Theatre, Poole | (Sold Out) |
| 21 February 2013 to 1 March 2013 | Union Chapel, London | (Sold Out) |
| 2 March 2013 | The Plaza, Stockport | |
| 7 March 2013 | The Grand Pavilion, Porthcawl/Bridgend | |
| 8 March 2013 | The Ffwrnes, Llanelli | |
| 9 March 2013 | Corn Exchange, Brighton | |
| 14 March 2013 | Dorking Halls, Dorking | |
| 15 March 2013 | Gatehouse Theatre, Stafford | |
| 16 March 2013 | Plaza Cinema, Crosby, Liverpool | plazacinema.org.uk |
| 21 March 2013 | City Hall, Salisbury | |
| 22 March 2013 | Corn Exchange, Exeter | |
| 23 March 2013 | Victoria Rooms, Bristol | |
| 5 April 2013 | Hall for Cornwall, Truro | |
| 10 April 2013 | Devere Hall, Cork | |
| 11 April 2013 | The Set, Kilkenny | |
| 13 April 2013 | Waterfront, Belfast | |
| TBC | Dublin | |
For Banff Mountain Film Festival World Tour tickets, full programme, merchandise and further information go to:- Banff-uk.com.

Local man set to conquer his fears to raise money for the Royal in memory of friend!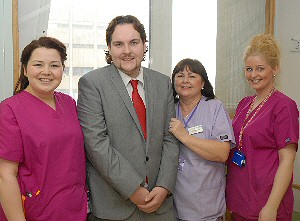 A 23 year old man from Huyton who is terrified of heights, is scaling the Sydney Harbour Bridge in order to raise money for the Royal Liverpool University Hospital.

Keith Armstrong is climbing every 1 of the bridge's 1,332 steps in order to raise money for the Bone Marrow Transplant Unit at the hospital. He is doing this as 1 of his closest friends, Naomi, who sadly passed away from pneumonia on New Year's Eve, suffered from cancer and was treated there.

Keith, who is a former cancer sufferer himself, had wanted to climb the iconic bridge for some time. However, it wasn't until his friend, 21 year old Naomi Daly, passed away that he organised the trip.

Keith said:- "Naomi was a beautiful, inspirational person who meant the world to me. I met her at a local event for people affected by cancer and we connected straight away. After she passed away, I said to her family that I wanted to do something in her memory. They told me about the wonderful care and treatment Naomi had while at the Royal and how much the refurbishment of the Bone Marrow Transplant Unit meant to her, so raising money for R Charity seemed like the perfect way to honour her memory. No doubt that when I do climb the bridge I will be a nervous wreck as I am petrified of heights but I know I will have a guardian angel with me, which will spur me on to complete the challenge."

The money Keith raises will help post-transplant patients as it will go towards improving facilities at the Bone Marrow Transplant Unit at the Royal.

Some patients with diseases such as lymphoma, leukaemia or myeloma need highly intensive treatment in the form of a bone marrow transplant. At the unit, which has been open since 1995, patients receive high dose chemotherapy sometimes combined with radiotherapy (depending on the underlying disease) followed by an infusion of bone marrow that has been collected from the patient or a donor who has a similar tissue type to the patient.

Keith continued:- "I really want to raise as much money as possible for the Royal so I am urging people to visit my page and give however much they can!"

For more information about Keith's challenge or to make a donation online.
What do you expect from us?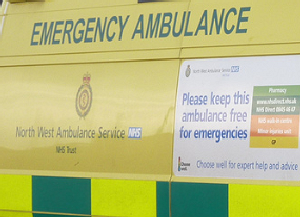 DON your headsets, and answer that 999 call within 5 seconds, we're inviting you to staff the North West Ambulance Service's (NWAS) Urgent Care Desk (UCC), from the comfort of your own desk, sofa, bed; all you need do is log on to Twitter! On Thursday, 7 March 2013, NWAS will be using the social media platform, Twitter, to tweet incidents live from the 999 call-centre, and will be focusing on the varied outcomes a 999 call can have. The Tweet-a-Thon is a launch event to showcase the Service's newest initiative called:- 'There's more to your Ambulance Service'. The campaign promotes the message that an emergency ambulance might not always be the most appropriate treatment for the patient, so your 999 call may not always end the way you might expect it to. Bob Williams, NWAS Acting Chief Executive, said:- "The aim of this campaign is not to discourage people from calling 999, it's to raise awareness that when a person calls our emergency number, our main aim is to deliver the most appropriate treatment to the patient; and this may not necessarily always be an emergency ambulance. For example, if a patient is in a life-threatening condition they require fast treatment, immediately, and a quick delivery to A&E. But for another patient, whose condition is not life-threatening, a visit from a community based specialist may be the most appropriate treatment option, and the fastest route to recovery, for them. The Ambulance Service can locate the most appropriate resource, and direct the patient to it." Members of the Trust's Communications team will be interviewing Senior Paramedics who provide detailed telephone patient assessments on the Urgent Care Desk, and will be discussing how and why patients are delivered to different treatment outcomes; other than A&E. We'll also be interviewing Emergency Medical Dispatchers, as well as the Senior Paramedics, about their roles and the daily challenges of being on the frontline of medical assistance when the North West is in its hour of need. We'll be using the handles #calling999 and #whathappensnext; and want to encourage those following to tweet us what treatment option they think the patient should have selected. We would like to reiterate that we do not want to discourage the public from calling 999, but want to raise awareness of all the routes to care available to the public, and to highlight that if you go to the right place first, you could theoretically, be on the route to recovery much more quickly. So please join us!