Patients at the Royal take up art while they wait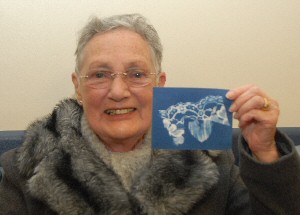 THE Royal, in collaboration with the Bluecoat Display Centre, has launched an interactive art project which involves patients in its Radiology Department creating 'camera-less photographs.'

For the past two Thursdays, the Royal had an artist in residence to help patients waiting for Radiology (X-Ray) tests to produce artwork using a process called Cyanotypes. This creates precise blue and white photographic images from objects, texts or acetates placed on sensitised paper. The process is how 'blue prints' were created in the early 19th Century.

The project is being led by Bluecoat Display Centre affiliated artist Sian Hughes and is aimed at helping to reduce the anxiety of patients waiting for diagnostic tests and results.
This project is also about involving them and staff to create an artistic centre piece for the waiting area later, which will be installed later in the year.
Sian said:- "This project at the Royal is part of the Bluecoat Display Centre's 'Making an Impact' outreach project, which aims to reach new audiences and to demonstrate the benefits that craft can have on a person's health and wellbeing. Good health and wellbeing are reliant on an array of multiple factors, not just physical, but also psychological and social. We firmly believe that the arts have an important part to play in improving the health and wellbeing of people in many ways."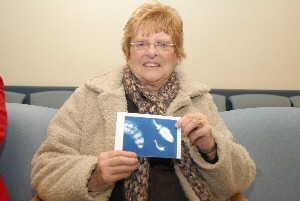 The project has received excellent feedback from patients and staff. Gladys Rooney from Broadgreen, who was in the department to have a scan on her leg for a suspected blood clot, said:- "It can be a nervous wait and this helps to relax you, take your mind of things and helps the time pass quicker. It also makes people talk to each other instead of all sitting in silence. They should do this in other departments. I was pleasantly surprised with the art work, I didn't think it would turn out so well."

Jean Melling from Allerton, who was accompanying her daughter, said:- "It helps to take the stress out of waiting for your tests and all this lovely art work helps to liven the place up and give the waiting area a bit more colour. I'm looking forward to taking my artwork home to show my grand-daughter, she'll be sorry she wasn't here to join in."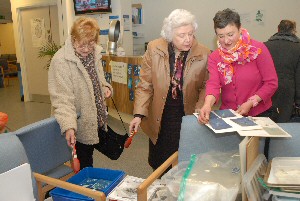 Liz McDonald, superintendent radiographer at the Royal, said:- "This project has been fantastic for the patients involved and really helped to relax them and keep them occupied at what can be quite a nerve-racking time. As part of the wider Arts for Health programme, this project supports the wellbeing of our patients, staff and visitors. The art created will also be a wonderful addition to our waiting area, which will benefit future patients and staff for many years to come."

The final day of the project runs from 10am to 2pm, on Thursday, 28 March 2013, at the Royal in the Radiology department.
Follow them @RoyalLpoolHosps on Twitter for photos and comments throughout the day.

Letters to the Editor:- "Care of Type 1 diabetes children in School"
"I am writing to let your readers know many children with health conditions such as Type 1 diabetes are not getting the care or support they need to manage their condition in school. One million school children have a health condition, including 29,000 with diabetes. We know children with diabetes can be excluded from school activities like PE, denied places on school trips, refused help with injecting – forcing their parents to go into school. This means that they are not able to fully achieve their academic potential and enjoy as normal a childhood as possible. These children have been completely forgotten and the Children's and Families Bill, which proposes the biggest shakeup to Special Education Needs provision for a generation, fails to ensure that they get the support they need to fully participate in school life. This is why Diabetes UK is calling for schools to have a statutory duty to provide support for children with diabetes and other health conditions. We would like parents and carers of children with Type 1 diabetes in Southport to tell us about their experiences of diabetes care in schools so we can share their experiences with MPs and Ministers and ensure that their voices are heard and their children are not forgotten. If any of your readers would like to get involved they can contact Diabetes Voices on:- 020 7424 1008 or email:- diabetesvoices@diabetes.org.uk" Helen Pattie, North West Regional Manager, Diabetes UK.
Firearms incident under investigation in Bootle
MERSEYSIDE Police are now investigating after shots were fired at a house in Sefton on the night of Tuesday, 26 March 2013. "Police Officers were called to Dapple Heath Avenue, in the L31 area, at around 10.10pm following reports of damage caused to a house. On arrival, they found damage to a front window but no-one inside was hurt. The scene was cordoned off and house to house enquiries carried out. Detectives are keen to trace a silver Ford Fiesta which was seen in Dapple Heath Avenue at around the time of the shooting." said the Merseyside Police Press Office.Supt Kevin Johnson added that:- "The actions of the people responsible are reckless in the extreme. They have discharged a gun at a house in a busy residential area and with people inside. It is fortunate that no-one was injured or killed. The occupants have been left extremely shaken up and our investigation will try to establish why this property was shot at. We will relentlessly pursue criminals who use firearms on our streets and I would call on anyone with information to come forward and share it with us so that we can take action." Call Merseyside Police on:- 101 or Crimestoppers on:- 0800 555 111.
Liverpool British Science Association SciBar Event Notice
ON Tuesday, 2 April 2013, the Liverpool British Science Association SciBar / will be holding a talk entitled:- "Time to abandon evidence based medicine?" The FREE event takes place from 7:30pm, at The Ship and Mitre, 133 Dale Street, Liverpool; at the extreme end of Dale Street, at its Lime Street Station end, just 10 minute walk from Moorfields Station. It will be hosted by David Healy. He is an internationally respected as a psychiatrist and psycho-pharmacologist and also a professor of Psychiatry at Cardiff University and Director of the North Wales Department of Psychological Medicine at Cardiff University. David believes that our personal experiences are worth a lot to big pharmaceutical companies and that they need to start caring, so the talk will look at:- "Evidence-based medicine." If you do not know what:- "Evidence-based medicine." is all about, well it covers how medicines are tested in clinical trials. Also, how the results are recorded and then published in medical journals as "evidence". In the talk he will explain why if you are not part of a trial and you tell your doctor about your personal experience, the information you report does not count as "scientific evidence", but only unreliable "anecdotal" evidence. "As always the audience will be welcome to give their own opinions and ask questions. Also, as David teaches, he loves taking questions, no matter how complicated or simple... Remember there's no such thing as a silly question at SciBar!" said Susanna who is one of the event organisers. For sat navs: Ship & Mitre is L3 2JH
JLS Set to Host HasHtag Party Event at EventCity This Weekend!
THE Mobo and Brit Award Winning Boy Band JLS are taking EventCity by storm this Saturday hosting HasHtag Party on 30 March 2013! Launching this weekend 'HasHtag Party' is on a mission to fill the void and provide a remedy to Boredom with a squad of DJ's and Dancers serving up hours of dance floor fillers, and entertainment strictly for Teens. JLS, will not only Host the event, but for the 1st time in the North West, this chart topping quartet will also deliver an EXCLUSIVE 1 hour DJ set! Having successfully dominated the pop world with a catalogue including Three UK number one singles, and an over 4 times platinum debut album, the band are now stepping in into the DJ Arena, with a bang! On a platform courtesy of 'HasHtag Party' Taking place in the North West leading leisure venue, EventCity, this trend setting event will house up to 5000 teens under one roof, partying to an array of elite entertainment. Andy Orr, Managing Director of EventCity said:- "EventCity has already hosted The X Factor auditions and we are keen to showcase our concert offering. We are looking forward to working with HasHtag Party to deliver this event and make it a brilliant night for JLS fans" Tickets start at a phenomenal price of £15, with a limited release of tickets for the opportunity to 'MEET & GREET' Aston, Marvin, Oritsé and JB, for a price crunching launch special of only £35! Tickets are now on sale! Available to purchase at the following outlets:- Rush4tickets and Ticketmaster.