Onesies, Zumba, Drops and Zips??? Refuse to ignore people in crisis this Red Cross Week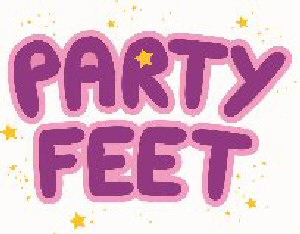 RED Cross Week runs from 5 May to 11 May 2013 and is a fundraising and awareness-raising week to raise funds to support British Red Cross projects both at home and abroad. All projects bring help to people in crisis; such as those in the UK whose lives are disrupted by fire or flooding, people who have no-one to look after them when discharged from hospital, or those affected by disasters overseas.

Senior Community Fundraiser from the British Red Cross, Alexis Fairclough from Merseyside, is appealing to the generosity of the public across the area to help this year during Red Cross Week (5-11 May). Alexis said:- "Thank you to everyone for your support across Merseyside for the British Red Cross. Your help, donations, taking part in events and assistance has helped the lives of vulnerable people right across the World and right here in Merseyside. I wanted to let you know with your support, last year, the total number of people we helped across the NorthWest was 66,628. We can't do it without the voluntary donations, corporate support and people who have taken part in our challenge events. You really do make it happen! Thank you and I hope you can help this year once again. Red Cross Week events are fun fundraising events anyone can get involved with. Can you put up a poster in work, school, college, the pub, the gym.... or anywhere you can to get people to help us refuse people in crisis and take part in one of our fun events in Merseyside, or even organise a small fundraiser yourself? Just £3 can provide hot drinks and snacks for a family of four after they have been rescued from a house fire. £5 could help train someone in life-saving first aid skills, £20 could pay for a 'Parcel of Hope' that contains food, milk and other essentials to support people returning from hospital and £50 could fund first aid training for a profoundly disabled person. We want to get as many people as possible involved in Red Cross Week this year right across Merseyside and get involved in fundraising for he worlds largest humanitarian organisation, dedicated to saving lives and changing lives every day, you WILL make a difference".

Here are some of our fun events you can join in with!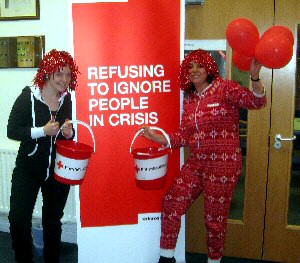 ONESIE WEDNESDAY, 8 MAY 2013!

What is Onesie Wednesday and how can I help?
The newest form of sleep-wear "The Onesie" is proving to be very popular, and no more so than in our very own Merseyside! On Wednesday, 8 May 2013, I am asking for people to Wear Your Onesie to work or school for Onesie Wednesday! You can do this anywhere! Whether you work in a pub, a shop, an office, a garage, drive a bus or taxi, go to school or University, a cafe, a library, the Council.... in fact EVERYONE could get involved for the day and have some fun!

To get involved in ONESIE Wednesday please email or call Alexis on 0151 702 5061 for your fundraising pack! University of Liverpool students will be out on the streets of Liverpool in their Onesies collecting on 8th May, and we're already looking at holding a "Pimp Your Onesie!" at our office in Liverpool, for those who'd like to "bling-up" their Onesie or Pimp their PJ's in time for the big day itself!!
The Big Red Drop
We're looking for dare devils to abseil 101 foot down the side of one of Wirrals finest landmarks, Leasowe Lighthouse in celebration of the lighthouse's 250th anniversary this year. The event is on Sunday, 28 April, you don't need to have abseiled before, you'll be in very safe hands with our abseil experts EightPointTwo. It's just £10 to register and all we are asking is you raise £1 per foot you drop!! To register your team please go to:- redcross.org.uk/leasowelighthouse or call:- 0151 702 5061

The Big Red Zumba
In association with Gemma from Party Feet come along and work your body to the Latin beat! Ditch the workout and join the party! This fun zumbathon will be held at David Lloyds Gym, Speke, on Sunday 19 May 12pm till 3pm. It's just £8 to take part in the Big Red Zumba, and all money raised will go to Red Cross Week. Call Alexis now on 0151 702 5061 to book your place.
Runcorn Bridge Zip Wire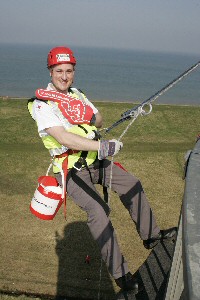 Back by popular demand towards the autumn on Sunday, 15 September 2013, is Runcorn Bridge Zip Wire event. Imagine the thrilling experience of flying across the Mersey Estuary, over 600 foot from a 90 metre high point, straight off the Runcorn Bridge!! This is a very popular event, and we only have limited places available, so you need to register now to guarantee your place. It's £10 to register and aim to raise £150 in sponsorship. Register now. If any of the above are not your cup of tea, but you would like to find out more about how you can help for Red Cross Week or take part in another of our events, whether its a run, trek, walk or swim, please go to:- redcross.org.uk or call Alexis on:- 0151 702 5061.

Fast Tag - the convenient way to travel through the Mersey Tunnels
FROM 1 April Mersey Tunnel tolls will be increased for drivers using cash; these increases will not apply to Fast Tag users. Fast Tag is a quicker and more convenient way to pay for tolls; it can be loaded with funds in advance of your journey, removing the need to carry cash or to wait for change. Regular users can budget with one monthly payment and receive a discount on all of their journeys in the process.

There is no upfront cost for the Tag, just an initial credit to your account, and it's easy to apply online. Once your account is in place the Tag can be topped up either by regular monthly direct debit or for less frequent users, by card payment as needed.

Councillor Liam Robinson, Chair of Merseytravel said:- "In the current economic climate any price increase is difficult; this is why we've tried to make it easier for people by not introducing the toll rise for Fast Tag users. I would urge anyone who makes regular journeys through the tunnels to get a Fast Tag and save themselves both time and money."

With effect from 00:01 hours Monday, 1 April 2013 toll rates per journey through the Mersey Tunnels will be as follows:
| | | |
| --- | --- | --- |
| Vehicle Toll Class | Cash Payments | Fast Tag |
| 1 | £1.60 | £1.30 |
| 2 | £3.20 | £2.60 |
| 3 | £4.80 | £3.90 |
| 4 | £6.40 | £5.20 |
£1m Fund Up for Grabs for North West Social Enterprise
THE Key Fund, Britain's largest regional investor in the social economy market, has earmarked a £1m fund for social enterprises in the North West.

Tailored loans of up to £150,000 are open to new and existing social enterprise activities across the region.

The North West Fund can be used to support revenue or capital costs, including bridging facilities, capital purchases, cashflow, refurbishment costs, running costs, set-up costs and wages.

The Key Fund, which has been established in Yorkshire and the Humber for over 10 years recently expanded into the North West.

Roy White, Lead Investment Officer for the North West, said:- "We're keen to invest the £1m before the end of 2013. Social enterprise is a growing sector and increasingly crucial, developing and regenerating areas, benefiting the communities they serve."

Key Fund has given loans, grants and equity investments to start up social entrepreneurs totalling over £28 million in the last ten years in Yorkshire. It is in itself a social enterprise that acts as a 'moral lender' helping those turned down finance from mainstream lenders.

Mr White added:- "We invest in all sorts of things but we are willing to be adventurous. If you're confident in an enterprise that is financially sustainable and benefiting the community it serves, we want to hear from you."

To apply or view case studies of successful enterprises, go to the website:- thekeyfund.co.uk.
Primary Care - Access Denied
NATIONAL, independent health and social care charity, The Patients Association, has revealed the findings of its new research into Primary Care Services. 79% of people wouldn't feel safe relying on NHS out-of-hours services in a medical emergency according to study by The Patients Association.

The report 'Primary Care: Access Denied' uncovers new evidence that; 61% of people have to wait longer than 48 hours to book an appointment with their GP and 57% said the process was either 'very difficult' or 'could have been easier'. These findings, compiled from a survey of patients and the public, also found 38% of people have had to take at least a day off from work to attend an appointment with their GP.

In the last year there has been a huge rise in the number of calls to The Patients Association's Helpline about primary care, and in particular GP services. Patients are telling the charity's Helpline that they face day-to-day challenges in accessing local community based healthcare, and a lack of confidence and understanding about when and where to seek help when their GP practice is closed.

The Patients Association's 'calls to action' for primary care are:
NHS Commissioning Board should review emergency care across sectors, not just at A&E departments but at primary care level, to reduce costly admissions and keep care local.

The Government, the NHS and GPs need to work together to expand choice and access to primary care services by addressing barriers to appointments both during and outside office hours. Individuals should have the right to choose any GP surgery based on their needs, not restrictive geographical boundaries.

CCG's should lead in delivering better local awareness campaigns to help improve patients understanding of when to use the range of services available, such as:- Urgent Care Clinics, walk-in centres, NHS 111 and NHS Direct.

Katherine Murphy, chief executive of The Patients Association, said:- "As many as 9 out of 10 public interactions with the health and social care system are through primary care, including GP services, so it is essential we make sure access is fair to all. What our survey shows is that public confidence in out-of-hours services is worryingly low and that is not always as easy as it should be to get an appointment with a GP. The majority of people are forced to take time off work simply to have a check-up and almost two thirds have to wait longer than 48 hours for an appointment. We need an NHS in every community that operates effectively, safely and compassionately during and outside office hours. Keeping people out of hospital and living independent, healthier lifestyles means delivering more integrated and accessible community based care. Our calls to action set out clear steps towards this vision."

This year, The Patients Association celebrates its 50th year of listening to patients and speaking up for positive change. The Patients Association exists through the support of its members and through charitable donations and for anyone concerned about patient care services its helpline is:- 0845 608 4455.
2 men arrested on suspicion of a possession of a firearm and theft
ON Wednesday, 20 March 2013, Merseyside Police confirmed that they had arrested 2 males from Netherton on suspicion of a possession of a Section 1 Firearm and theft. The arrests came by the Matrix Team was part of the response to recent firearms activity in the Sefton area. The 18 year old and the 21 year old have also been arrested on suspicion of possession of with intent to supply controlled drugs; have both been released on Police bail pending further enquiries. Merseyside Police Detectives are also appealing to the public for information about the whereabouts of a 09 plate white Volvo, that was stolen from Warrington on March 13 and recovered in Granams Croft, Netherton on 18 March 2013. Police are keen to talk to anyone who may have seen the four door, S40 Sport D5, in between the dates to come forward. Anyone with information are asked to contact the Matrix team on:- 0151 777 5747, or call Crimestoppers on:- 0800 555 111.