SMALL & FURRY EASTER FUN FOR KIDS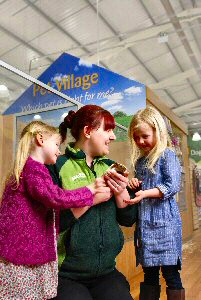 TO celebrate super furry small animals, Pets at Home, Southport will be providing Easter holiday fun for children, with a series of free pet workshops to coincide with National Pet Month.

Running from 1 April 2013, until 6 May 2013, National Pet Month is sponsored by Pets at Home and aims to raise awareness of responsible pet ownership and the mutual benefits of living with pets.

As part of National Pet Month, the Southport store will be holding its Kids' Holiday Pet Club workshops at 2pm throughout the week using fun, interactive activities to educate the next generation of pet owners on how to care for small furries responsibly.

Children attending the events will each receive their very own activity pack filled with the adventures of 'Pick n' Mix', a gang of small furry animal characters, who will illustrate how to keep pets, such as hamsters, degus, gerbils and guinea pigs, happy and healthy.

The store team will be on hand to share their knowledge, quizzing the children on pet care in a 'furry food challenge'. They will also help children get crafty and create their own hamster mask and hamster ears to become their own furry character.

Southport's young pet lovers will get the chance to meet the 'stars' of the workshops, including:- hamsters, gerbils and guinea pigs and assist the pet advisors when they provide them with a nutritious afternoon snack.

Store manager David Salisbury said:- "As well as being great fun, the workshops are designed to advise children on responsible pet ownership and about showcase each animal's unique welfare needs and dietary requirements before they consider becoming pet owners themselves. Young pet lovers in Southport will get an insight in to the level of care needed to ensure these types of pets live happy, healthy lives, as well as the workshops giving parents a fun activity to entertain their children during the school holidays!"

After completing the workshops, each child will receive a certificate and sticker, along with a pet promise card where they make their pledge to look after any pet they have according to the five welfare needs, covering habitat, health, wellbeing, diet and behaviour. To find out when Kids' Holiday Pet Club workshops will take place at Pets at Home Southport, please contact the store team.
ACOUSTIC ACT GYPSY FIRE SET TO IGNITE THE EPSTEIN
THE Epstein Theatre is fast gaining a reputation as the hottest venue for up and coming musicians and this trend is set to continue on 12 April as Gypsy Fire, innovators of acoustic musicianship are on stage for 1 night only. With explosive energy and undeniable talent which pushed the boundaries of what can be achieved with a pure acoustic set up Gypsy Fire deliver a stellar live performance which critics have described as a musical white knuckled ride. Featuring the acoustic guitars of Will Barnes and Stuart Carter-Smith, award winning jazz violinist Ben Holder and Double bassist Paul Jefferies, all of who have a life time of experience between them Gypsy Fire encompasses many different musical styles. Inspired by the likes of Django Reinhardt, Benny Goodman and Stéphane Grappelli, they span musical genres whilst always firmly rooted in the rhythms of gypsy jazz. Individually they are acclaimed soloists, together they are spectacular. Their set at the Epstein Theatre will feature tracks from their latest album which seeks to reinvent music from the worlds of classical, jazz, latin, and blues with each piece performed with passion and flair and always succeeds in drawing audiences in. Individually the quartets are acclaimed soloists, but when they are together, as Gypsy Fire, they are simply breathtaking. 7pm Doors open at 7pm for an 9pm Show, with tickets set to £15.00. The show has an age advisory notice of 14+. The Epstein Theatre box office is located on Hanover House, Liverpool, L1 3DZ, call:- 0844 888 4411* or you can also find out more information and book your ticket online at:- epsteinliverpool.co.uk* * Subject to booking fee.

Sefton volunteers turn timber into woodland products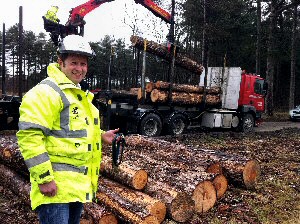 FORESTRY company UPM Tilhill, contractor Mike Gillett and haulier Les Hughes have donated pine logs from their contract at Formby's coastal woodlands to a local social enterprise, Workshop Wardens. With the help of local volunteers and apprentices, the logs will be used to create picnic tables, seating and litter bins, which will be eventually used in the coastal woodlands. Nigel Blandford of The Mersey Forest said:- "Sefton Council's Coast and Countryside young apprentices will turn the logs into planks, and they'll then go into their workshop and be turned into useful items by a group of adults with learning difficulties. The project will not only give individuals the opportunity to gain new skills, it will also provide useful woodland items which will be used by the public when they explore the coastal woodlands."

Mark Morgan of UPM Tilhill said:- "It's great to be able to carry out a commercial contract that also has a strong environmental and social dimension."

The essential woodland maintenance work currently being carried out at Sefton's coastal woodlands has been organised by The Mersey Forest and is being principally carried out to improve the habitat for Merseyside's isolated population of red squirrels. The project has seen some 4000 tonnes of wood harvested for saw logs, chipboard and wood fuel. It will be followed up with the replanting of 20,000 new pine trees in the autumn, which will guarantee a source of food for the red squirrels in the future. The Mersey Forest has been able to coordinate this woodland contract on behalf of four major landowners with help from the Heritage Lottery funded Sefton Landscape Partnership Scheme.

Merseytravel help Huyton Transport Ltd find a new breed of bus driver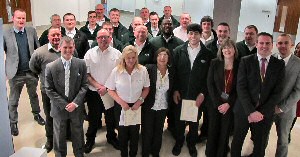 HUYTON Transport Ltd (HTL) is working in partnership with Job Centre Plus, Merseytravel and Warrington Collegiate to recruit new drivers into the industry. Following a successful pilot scheme last year that recruited 8 drivers, HTL are preparing to employ 24 new drivers into their operation with support from Merseytravel's Merseylearn project, which provides relevant training for successful applicants to make sure they have every chance to succeed in their new role.

HTL Operations Manager Darren Stewart said:- "We've made a real change in the way we recruit. We've worked closely with Job Centre Plus to give people a chance that in the past would have been overlooked. But in fact what's happened is that the new drivers have thrived on the opportunity. Merseytravel have provided the funding for the new employees to receive Passenger Carrying Vehicle (PCV) training through the Local Sustainable Transport Fund and combined with sector-specific pre–employment training provided by Warrington Collegiate they are ready to start with HTL."

Chair of Merseytravel Cllr Liam Robinson said:- "It's great to see operators getting involved with the project. We want our partners to recruit new people based on their attitude and their abilities to serve the Merseyside public. This type of scheme allows a new positive approach to recruitment. Not only does it create real job opportunities for Merseyside people but we know that customers will benefit from an increase in driver standards. Merseytravel is working with our partners to achieve world class customer service for all public transport users."

New recruit Steve Darlington certainly has felt the benefits:- "I can't wait to get started. HTL and Warrington Collegiate have been brilliant. They've taken me step by step through all the procedures. It's a learning curve but it's great to get the chance to learn. This time 6 months ago I lost my job and had no idea what to do. I'm proud to have the chance to be a bus driver now!"