APPRENTICES HELP BRING A SMILE TO FACES AT ALDER HEY WITH GARDEN PROJECT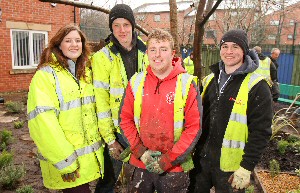 A GROUP of Redrow apprentices have brought joy to children at Alder Hey Hospital in Liverpool by creating a relaxing sensory garden. The apprentices transformed an outdoor area at the Dewi Jones Unit of Alder Hey Hospital which specialises in helping children with mental health issues. They created a sensory garden so that young patients will have somewhere to relax and enjoy themselves in a peaceful setting that includes a bird bath, bird table, benches, shrubs, plants, wind chimes and walkways.

Team member Rebecca Hornbuckle, a sales office assistant at Redrow Lancashire's head office in Chorley, said:- "We are all so excited to have been given the opportunity to work with Alder Hey and create a sensory garden for the children at the Dewi Jones Unit. We took part in most of the practical work on the day, with some supervision from experts. This included some heavy lifting of gravel bags and slates, digging out existing plants and shrubs and planting new flowers and shrubs together with laying down gravel and log rolls. We worked as a team, using our combined skills and pushing ourselves to ensure that the children would have a lovely place to relax in and enjoy. It was a great way for us as apprentices to work together and create something really worthwhile that would benefit the children of Alder Hey."

Rachel Donohoe, fundraising executive at the Alder Hey Imagine Appeal Office, said:- "We are so pleased that the apprentices have given up their time to benefit our hospital. This recreational space will be used therapeutically for patients and families. We are delighted that Redrow is continuing its ongoing support for Alder Hey and we're very excited to be working with the Redrow staff members on a number of projects throughout the year."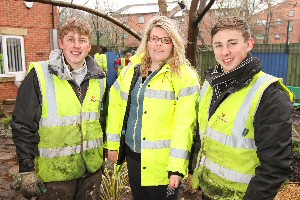 The team organised the voluntary community project as part of the Brathay Challenge 2013; the official search for apprentice team of the year which is organised by the Brathay Trust and supported by the National Apprenticeship Service

During the heats for the challenge, which runs until March 31, the team is also undertaking marketing activities to try to raise the profile of apprenticeships, through local media and also using social networking sites. They will also engage with local schools and colleges to spread the word.

Karen Jones, HR director at Redrow Homes, said:- "This challenge is a wonderful opportunity for our young trainees to build on their skills. It's a fantastic show case for the individuals involved and also serves to shine a national spotlight on apprenticeships as an alternative to university. At Redrow we are huge advocates of apprenticeships and believe that they are 1 of the best ways to future proof our business and ensure our employees have the skills set to succeed."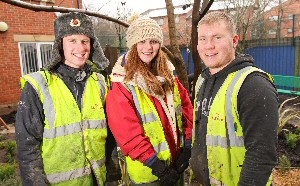 The project funds for the team were originally £250, but they received donations of goods and services from suppliers including Keyline Supplies, BRK Landscaping, SMP Playgrounds, James Chadwick & Sons LTD, Inspired Landscapes, Speedy Services, WPI Civil Engineering, CW Berrys, Newhall Landscapes, Ringwood Fencing and Tim Fellows Landscapes. To show your support for the North West group, visit their Twitter page, 'Apprentice Redrow' and Facebook page, 'Apprentice Redrow Northern.'

For more information about the Brathay Challenge 2013, visit:- brathay.org.uk. For more on career opportunities with Redrow, go to:- redrowplc.co.uk/Careers-And-Recruitment; for details of their new homes around the UK visit:- redrow.co.uk.

FACEBOOK SEARCH FOR TONGUE TWISTER EXPONENTS TO APPEAR IN NEW SOUTHPORT PLEASURELAND TV AD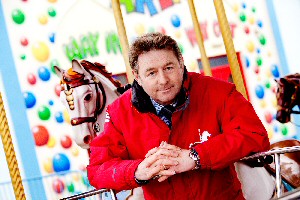 AN amusement park boss is searching for singing 'motormouths' in Southport to audition on Facebook for a part in his 2014 TV ad. The Southport Pleasureland ads, which feature a jingle of the park's name sung to Rossini's urgent William Tell Overture, will air Easter next year, but the hunt is on now to find up to eight vocalists, from all corners of the UK, capable of getting their lips around the tongue teaser. Sneak preview of this year's ad here but for next year the park will be featuring the faces and the voices of park fans from all over the UK. Said owner Norman Wallis:- "Our jingle is a bit of a roller coaster on the tongue, and of course the music is very fast, so yes, it's tricky. We want a representative from each part of the country to take part in making the ad which we'll then run on TV, with a longer version on our website, facebook page and on YouTube. Andy Warhol did say that in the future everyone would be famous for 15 minutes; this could be your chance. All entrants have to do is go to our website, then play the track to the jingle and record themselves singing along with their phone camera. Then just follow the link to Southport Pleasureland's official Facebook and post their entry there. Pleasureland will pick the best (or funniest), one from each region of the country, to feature in the ad. The ones the park uses will also receive a ticket to ride free at the park with a friend for the day. We hope this will be a lot of fun and people will take five minutes out to have a practice and then post their efforts on our Facebook page. Anyone can enter, no age restrictions... the more the merrier!"
Southport Pleasureland
READERS EASTER OFFER!
THIS is a superb offer for the family this Easter; get 5 free rides for every reader at Southport Pleasureland via our website!!! With plenty of rides, many new for 2013, the park offers real family fun. There's no entry fee, rides are from just £1 and Pleasureland will welcome the whole family, including the dog! Click on here to print off your ticket to ride today and to get more information!
ADDITIONAL SAILING TO MEET INCREASED DEMAND FOR IOM FESTIVAL OF MOTORCYCLING!
AN additional sailing has been scheduled for the new Isle of Man Festival of Motorcycling this summer, with motorcycle bookings at this point up 25% on last year's forward bookings position for the Manx Grand Prix.

The Festival, which encompasses the new Classic TT, the MGP, the 2 Day and Classic Trials and the VMCC Rally, takes place from 17 August 2013, until 1 September 2013.

To help cater for the increased demand, the Steam Packet Company has confirmed it will now operate an extra overnight Manannan sailing from Liverpool, departing at 03.00 on Saturday, August 24th to suit the start of the new Classic TT.

Steam Packet Company Chief Executive Mark Woodward said:- "Bookings at this stage indicate that the increasing popularity of the MGP we have witnessed in recent years is set to continue. The number of visiting motorcycles climbed 13% in 2011 and a further 9% last year. Now, with the rebranding to the Festival of Motorcycling by the Department of Economic Development, the number of motorbikes booked at this stage for 2013 is up by 25%, while demand for cars and vans is up 50% on the same point in 2012. Some of our of peak day inbound sailings are already full."

Trevor Hussey, Director of Motorsport, Department of Economic Development, commented:- "We introduced the Isle of Man Festival of Motorcycling concept, and the Classic TT event, to increase the number of visitors to the Isle of Man this year and the early indications are that, even in its first year, this will result in a significant increase in the number of visitors to the Isle of Man and a positive contribution to the local economy. The Motorsport team is working hard on all aspects of the new Festival of Motorcycling to establish the event in the racing calendar and ensure the event's long-term future."
NEXT OF KIN APPEAL - JAMES EDWARD HARRISON - WATERLOO!
SEFTON'S Coroner's office is appealing for help in tracing the next of kin of James Edward Harrison from Waterloo. Mr Harrison was found dead in his home in Hougoumont Avenue, Waterloo, on 19 March 2013. There are no suspicious circumstances surrounding his death. The 69 year old is believed to have had relatives in Liverpool. Anyone who can help the coroner locate any next of kin is asked to call Jeanette Lesbirel on:- 0151 777 3481.