National Beach Rescue Project Calls for Volunteers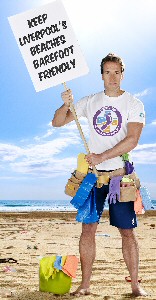 THE Barefoot Wine and Ben Fogle are leading the way in a campaign to keep Britain's beaches 'barefoot friendly' in 2013 and on Saturday, 1 June 2013, volunteers are encouraged to roll up their sleeves to clean New Brighton beach, Wirral. The national Barefoot Wine Beach Rescue Project, now in its 6th year, kicks off in May and continues throughout spring and summer with environmentalist and adventurer Ben Fogle as ambassador. Barefoot Wine has teamed up with environmental charity Surfers Against Sewage (SAS) to encourage volunteers to join the coastal clean. After collecting a Barefoot Wine/SAS t-shirt and any necessary kit, volunteers will spend an afternoon collecting litter along their local beach, and end the day with a celebratory glass of Barefoot Wine.

Ben Fogle, who also led the Barefoot Wine Beach Rescue Project in 2012, commented:- "I've been involved in environmental issues for years and I'm passionate about the outdoors. A seemingly clean beach can actually have huge amounts of litter and rubbish just hidden beneath the surface, it's a bit like sweeping rubbish under the carpet. The Barefoot Wine Beach Rescue Project makes tackling environmental issues fun and an activity that everyone can get involved with. The 2012 Barefoot Wine Beach Rescue Project saw over 3 tonnes of litter collected from the UK's coastline, including a sawn off shot gun, old signage and lots of tin cans! A staggering 10 tonnes of litter has been removed from our coastline since the campaign begun and I'm excited about building on this success and encouraging even more people to get involved."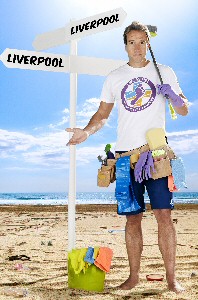 The beach provides a fantastic day out for everyone but currently there are almost 2,000 items of marine litter for every km of the UK's beaches. Marine litter can devastate our beaches and severely affect our enjoyment of these beautiful places. The majority of beach users rank cleanliness as a priority in choosing their destination and a 2005 ENCAMS study showed that 97% of people avoided beaches with 10, or more, large litter items per metre.

"Barefoot Wine is very proud to be working with Ben Fogle for what's set to be another exciting year of the Barefoot Wine Beach Rescue Project. Ben Fogle is the ideal ambassador to raise awareness of our coastline and inspire people to make the UK's beaches 'barefoot friendly' for future generations and beyond. We are pleased to be working with Surfers Against Sewage for the 6th year in a row and all our Barefooters are looking forward to helping out at the clean ups and serving volunteers a well deserved glass of Barefoot Wine!" said Barefoot Wine Marketing Manager, Yona Ellis.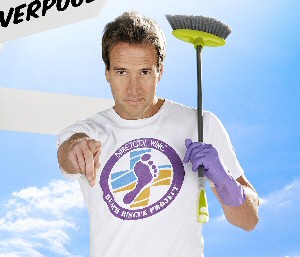 For more information about the Barefoot Wine Beach Rescue Project 2013 and for the full list of beach clean dates and locations, please visit:- barefootwine.co.uk. In addition to the 'barefoot friendly' beach clean tour, Barefoot Wine supports a range of community events, charity fundraisers, music festivals and sporting events. Since 2005, Barefoot Wine has supported over 3,000 charities around the world.

NEXT OF KIN APPEAL PETER RYAN, BOOTLE
SEFTON'S Coroner's Office have issued an appeal for help in tracing the next of kin of Peter Ryan. It is reported that the 63 year old was found dead in his flat in Hawthorne Road in Bootle on 6 February 2013. There are no suspicious circumstances surrounding his death. Mr Ryan is believed to have had a daughter and granddaughter living elsewhere in Merseyside. Anyone who can help the Coroner's Office to locate the families of Peter Ryan should call:- 0151 777 3480.
Magistrate takes inspiration for 'queer' business from tattoo!
LITTLE did magistrate Keynes Loftus know that when she had a tattoo on her wrist, it would go on to inspire a new business, a social venture, a trademarked brand, support from national adult store Nice 'n' Naughty, and a whole host of other accolades.

On a trip to Milton Keynes, Kathryn and group of University friends decided to have a tattoo which represented their friendship and celebrated the notion of difference. Each of them had the word 'other' tattooed on their wrist.

This was to be the start of a life changing period for Kathryn. Wanting to give something back to the LGBT community of Yorkshire which had supported her in 'coming out', she set up The Other Guide, a web resource aimed at supporting lesbian, bisexual and trans women in Yorkshire and Other Enterprises, a social enterprise, aimed at enhancing the lifestyles of the LGBT community.

Since then the venture has gone from strength to strength with Kathryn being asked to get involved in a wide variety of activities including organisation of events and fundraising, giving entrepreneurial talks in schools, supporting the Greater Police Authority's same sex domestic violence campaign, taking on the Sheffield Lesbian Network and contributing to national publications. Kathryn is an active member of the Leeds and Bradford LGBT Pride committees, a trustee of the Bradford Equity Partnership, has been promoted in 2 LGBT magazines and interviewed on her local radio station. Now somewhat of a local role model in Yorkshire, she has been nominated for the Entrepreneurial Excellence Award in LGBT at The National Diversity Awards. And all this on top of a full time job!

After much discussion the directors of The Other Guide took the decision to turn their share based company into a social enterprise (Community Interest Company) in order to maximise the potential to support the LGBTQI community at the heart of its work. The community of interest is the lesbian, gay, bisexual, transgender and intersex community and those questioning their sexuality.

Other Enterprises (UK) C.I.C provides an online resource called The Other Guide which is a 'one-stop-shop' listing businesses, meetings, groups, networking and social events across the Yorkshire region for lesbian, bisexual and trans women. It is unique in that it is the only web resource of its kind serving the entire Yorkshire region.

Other Enterprises (UK) C.I.C aims to create a more embracing and accepting society by promoting the message of it's ok to be 'other'; and in so doing, giving those that identify as 'other' in society the confidence to celebrate difference and diversity.

Our range of 'other' merchandise is used to promote the values of Other Enterprises (UK) C.I.C and any profits made are used to develop the online web resource, advocacy and awareness raising services that are provided.

Nice 'n' Naughty MD Simon Prescott says:- "I simply cannot believe the amount of work Kathryn has crammed into such a short period. We applaud the decision to change the business form a share based company to a social enterprise, in order to maximise their potential to support the LGBTQI community. Nice 'n' Naughty feel that there is now a real platform for anyone questioning their sexuality and we are proud to be spreading the word via our stores nationwide. Indeed we have always supported diversity and have supplied many of their customers a wide range of products, be it gay, lesbian, cross dressing, transgender or fetishisms. We are a non judgemental business whose aim is simply to help people safely enjoy their sexuality."

Kathryn says:- "The foundation of what we do is about breaking free from the constraints of labels and judgements and encouraging all members of society to see that difference is something we should embrace. It's good to be other."

If you would like to learn more about Other, information can be found in UK and European award winning adult store chain, Nice 'n' Naughty, who are proud to be involved with Kathryn's work. Information can also be found online at:- nicennaughty.co.uk and at:- otherenterprises.org

In support of Kathryn's new venture, Nice 'n' Naughty would also like to offer a 10% discount to anyone who shops at:- nicennaughty.co.uk with the coupon code 'OTHERNNN', which can be applied at the checkout.