Staff wait for the stars to pop in to their pop-up luggage shop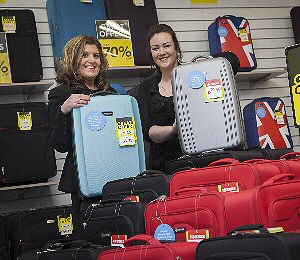 PREMIER league football players and television's hottest soap stars are regular customers for staff at a new Birkenhead luggage store. Sibelle Comert and Katt Owen are used to rubbing shoulders with top stars when they nip into the Antler shop at Liverpool John Lennon Airport to pick up last-minute luggage before jetting off on their travels. And they hoping they're going to attract a similar celeb clientele at the pop-up Antler store they have just opened in The Grange and Pyramids Shopping Centre in Birkenhead. Along with colleague Laura Greenaway, who usually works at the Antler store at the Cheshire Oaks outlet in Ellesmere Port, the team will be selling a wide selection of the long-established company's designer luggage; some items at up to 70% off; at the temporary shop for the next 6 weeks.

Sibelle said:- "Katt and I usually work together and last June we opened the Antler shop at the airport. During that time we've seen lots of famous faces coming in. That includes the stars of Liverpool and Everton Football Clubs like Steven Gerrard, Jamie Carragher, Phil Neville and Jan Mucha. We also saw the American TV star David Guest when he was in pantomime at the Liverpool Empire and members of the cast of the television soap Hollyoaks are always at the airport filming. I'm a big fan of Hollyoaks and watch it every night and I was thrilled recently to spot one of the cast using an Antler product – a blue Liquis case. So far we haven't had anyone famous coming into the pop-up store but so many well-known people live and work around the Merseyside area that I'm sure it will happen. They're sure to get a warm welcome from us if they come in."

Derek Millar, Commercial Director for The Grange and Pyramids Shopping Centre, said:- "We are always looking for ways of improving what we have on offer for our shoppers at the centre so it is fantastic to welcome the team at Antler who are offering some terrific deals to their customers. We are all dreaming of heading to those far away warmer climates and for those of us who will be, the Antler store is well worth a visit."

The pop-up store at The Grange and Pyramids Shopping Centre opened its doors for the first time during the recent very cold weather.

But Sibelle said:- "That didn't seem to stop people coming in. We were very busy on the first day, which shows you that even if the weather is bad people are still thinking about buying things for their holidays in the spring and summer. Amongst the most popular items we sell are the superlight cabin cases which are specially designed to fit the hand luggage requirements of airlines like Ryanair and Easyjet. We're selling large, medium and cabin-sized luggage from the Antler range and also the Revelation range, which is also part of Antler and is a little more affordable. We see this temporary store in the Grange and Pyramids as an exciting challenge and we are all bringing our own particular skills to running it. For instance, I love meeting people face to face and building a rapport with the customers. We are hoping to make it a success over the next 6 weeks and there are some fantastic discounted prices for people to take advantage of."
Liverpool Biennial Appoints Curators for 2014
THE Liverpool Biennial announces the joint appointment of Mai Abu ElDahab and Anthony Huberman as curators of the 2014 Biennial, which will take place from 5 July to the end of October 2014. Liverpool Biennial is now the largest contemporary art festival in the UK. During the festival every two years it commissions the most exciting artists from around the world, attracting over 690,000 visitors in 2012 and contributing £20m to Liverpool's economy. Mai Abu ElDahab is a curator from Cairo currently living in Brussels. She was from 2007 to 2012, the director of Objectif Exhibitions in Antwerp, where she curated a programme of solo shows including exhibitions by Guy Ben-Ner, Mariana Castillo-Deball, Michael Stevenson, Hassan Khan, Michael Portnoy, Norma Jeane and Tim Etchells, Patricia Esquivias and Barbara Visser, amongst many others. She recently edited and co-edited several publications including After Berkeley (2012), From Berkeley to Berkeley (2011), Circular Facts (2011) and Hassan Khan "The Agreement" (2011), all published by Sternberg Press. Prior to assuming the directorship in Antwerp, Abu ElDahab realised exhibitions as a freelancer as well as having been co-curator of the abruptly cancelled Manifesta 6 set to take place in Nicosia, Cyprus. She has written for notable publications including Artforum, Metropolis M, Mousse, and has been involved in an editorial capaCity with Dot Dot Dot, CAC Interviu and Aprior. Most recently, she commissioned and produced a 10-inch vinyl of songs written, composed and performed by artists entitled Behave Like an Audience, also published by Sternberg Press. Anthony Huberman is a curator and writer from Geneva currently based in New York, where he is the founding director of The Artist's Institute and a distinguished lecturer at Hunter College. In August 2013, he will become the Director of the CCA Wattis Institute, in San Francisco. Previously, he worked as chief curator of the Contemporary Art Museum St. Louis, curator of the Palais de Tokyo, Paris, and curator of SculptureCenter, New York, and has organized a wide variety of independent projects around the world. At The Artist's Institute, he worked with artists such as Thomas Bayrle, Haim Steinbach, Rosemarie Trockel, Jimmie Durham, and Jo Baer. As chief curator of the Contemporary Art Museum St. Louis (2007–10), he organized exhibitions of Richard Artschwager, Elad Lassry, Gedi Sibony, Lutz Bacher, Bruce Nauman, John Armleder, and Olivier Mosset, and he initiated The Front Room, an ongoing exhibition series with young artists. He has written for magazines such as Artforum, Afterall, Dot Dot Dot, Flash Art, and Mousse, among others, and is a contributing editor to Bomb magazine. The 2 curators will join the creative team under Artistic Director Sally Tallant who is developing the on-going programme of public discourse and long-term commissions and projects. "I am delighted that Anthony and Mai accepted our invitation to curate this edition of the Biennial. Together they bring extraordinary expertise and I am looking forward to working with them both to develop an exciting Biennial for 2014 in Liverpool."

MERSEYSIDE POLICE CHIEF CONSTABLE & POLICE AND CRIME COMMISSIONER ANNOUNCE STRATEGIC INTENTIONS FOR FORCE
MERSEYSIDE Police Chief Constable, Jon Murphy and Police and Crime Commissioner, Jane Kennedy have agreed a number of strategic intentions to reinforce Merseyside Police's position to fight crime and protect communities for 2013/14.

Chief Constable, Jon Murphy has announced his ambition to preserve the level of serving police officers at 4000 in order to focus on serious and organised crime and maintain the force's commitment to neighbourhood policing as outlined in the Commissioner, Jane Kennedy's Police and Crime Plan 2013/14.

Chief Constable, Jon Murphy said:- "I am proud to say that even in the face of unprecedented funding restrictions Merseyside Police continues to respond with courage, courtesy and professionalism, building upon strong community confidence and reducing crime levels; but we cannot afford to rest on our laurels. In order to face the future with confidence while delivering an excellent policing service to the people of Merseyside, I am committed to achieving and maintaining an operational capaCity of 4000 officers. This is combined with our dedication to retain as many of our experienced and skilled support staff as possible, ensuring that we have the right people in the right roles. We are on target to achieve the savings required by April 2014, but further Government cuts have yet to be announced. We therefore cannot afford to be complacent, and will continue to make changes to our back office functions to ensure that officers can be returned to front line policing roles. We will continue to act with openness, honesty and integrity and strive to find the most efficient and cost effective way to deliver policing in Merseyside. Throughout the process of identifying savings we have done everything in our power to protect front line policing and remain committed to proving an excellent policing service to the communities of Merseyside."

Merseyside Police and Crime Commissioner, Jane Kennedy added:- "Since taking up the post of Police and Crime Commissioner, I have been focused on ensuring that Merseyside Police has the resources it needs to tackle crime and keep Merseyside safe. This has not been an easy task, particularly in the face of massive budget cuts imposed by the coalition government, but I have been working closely with the Chief Constable to identify priorities in order to make sure that the force can continue to respond to the needs of the public in a resilient and effective way. My Police and Crime Plan sets out a number of priorities that the public and partners have told me matter to them. This includes a focus on serious and organised crime and neighbourhood policing. By committing to bringing officer levels to 4000 and maintaining this number moving forward, myself and the Chief Constable are taking steps to ensure Merseyside Police can actually deliver on these priorities and provide the best service possible."
CAN YOU HELP GIVE DANIEL A VOICE?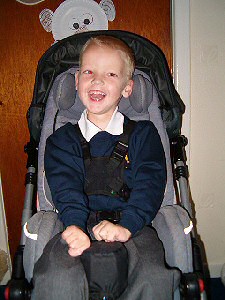 5 year old Daniel Jones from Prenton on Merseyside needs a specialist communication aid so he can tell people when he is happy or sad, hungry or in pain.

Daniel has Athetoid Cerebral Palsy which means he has no functional use of his limbs and is unable to talk. He currently has to rely on facial expressions and eye pointing to make his needs known; but a specialist communication package could transform his life.

Daniel has trialled an Eye-gaze communication system, which will enhance computer accessibility, through his school – Elleray Park in Wallasey; but there is no statutory money available locally for funding. The cost of the equipment – £4,160 – prompted his family to turn to leading UK children's disability charity Newlife Foundation for help.

Newlife has funded £206,646 of disability equipment for 160 children in the Merseyside area. But the charity is experiencing hugely increased demands on its resources; calls to the Newlife Nurse Helpline:- 0800 902 0095; have shot up and there are thousands more hits on the charity's website.

Newlife CEO Sheila Brown, OBE, said:- "Swingeing budget cuts across UK-wide statutory services mean more families than ever before are turning to Newlife for support in funding essential items of equipment like this communication aid for Daniel. So we are calling on 'local heroes' to help us help Daniel and his family."

Daniel's mum Sharon said:- "He has had an opportunity to trial the equipment and his teachers were amazed at how quickly he was able to understand and use it. Daniel has recently been assessed by an educational child psychologist who has said if he can get this communication package it will bring his development on so much. Daniel is a bright little boy but he is trapped in his body and he can't make his thoughts known to us. He understands everything we say to him, but he can't reply. The Eyegaze will give him a voice and greatly increase his opportunities through his education. The availability of different software packages means it will grow with him, enabling him to learn and develop in a way which isn't currently possible."

If you think you can help, the Newlife Community Fundraising Team can be contacted on freephone:- 0800 988 4640. Any individual or organisation thinking of running a fundraising event is asked to contact the team, who can offer support and guidance.

Newlife guarantees that 100% of any gift or donation will go directly to support disabled children on Merseyside. The charity is currently working with seven families in the area, with equipment needs totalling £7,388. Any money raised in excess of Daniel's needs will be used to help other disabled and terminally ill children on Merseyside.
UPDATE - Unfortunately Aled Jones is still
UPDATE - Unfortunately Aled Jones is still suffering from a severe chest infection and inflamed vocal chords which makes it impossible to sing. On doctor's orders, Aled had to cancel further performances this week at Gloucester Cathedral on 10 April and has now cancelled the Liverpool Cathedral event that was due to be held on 12 April 2013. Aled is very much hoping to continue the tour on Monday in Norwich. Refunds available at point of purchase.
Event listings update for 3013
WE are finishing off an update of are event information database and would like to know if you have a charity event or entertainment event on Merseyside, please let us know when, where and how to get more information about it. Email us to or newsroom email address:- news24@southportreporter.com all your information in the following format:- When, Title of the event, location and contact info, is it a pay for event or free event. Then please add your contact information should we require any more information. Please do not send pdf posters or leaflets. Keep it simple and to the point!