SYNEXUS OFFERING WOMEN OVER 60 A COMPLIMENTARY SCAN TO DETECT OSTEOPOROSIS
SYNEXUS, the world's largest multinational company dedicated to the successful recruitment and running of clinical studies, is currently recruiting patients for an Osteoporosis study and as part of its campaign is offering women in MERSEYSIDE over the age of 60, who have not already been diagnosed with Osteoporosis or taking medication for it, a complimentary scan to detect whether they have the condition.

Osteoporosis is a condition that affects the bones, causing them to become weak and fragile and more likely to break (fracture). These fractures most commonly occur in the spine, wrist and hip. Approximately 3 million people in the UK are thought to have osteoporosis, and there are over 230,000 fractures every year as a result.

DXA scans, which are a special type of X-ray that measure bone density, are most commonly used to diagnose osteoporosis. They can also be used to assess the risk of osteoporosis developing. Synexus has extensive experience in conducting clinical studies for Osteoporosis and has performed DXA scans on over 7000 patients in the last year alone.

As part of Synexus' recruitment campaign for a new Osteoporosis study that it is undertaking, it is offering complimentary DXA scans to women over the age of 60, who have not already been diagnosed with the condition or taking medication for it, at it's Dedicated Research Centre in MERSEYSIDE between now and the end of July.

The DXA scans take about 10-20 minutes and involve lying on a couch whilst the arm of the machine passes over the body; it does not involve being enclosed in a mechanical tunnel and the scan is simple and painless.

Women who would like to find out more or visit Synexus' Dedicated Clinical Research Centre in MERSEYSIDE for a complimentary DXA scan should contact:- 0151 550 9951 and quote reference number:- 8714

Patients whose DXA scan results detect Osteoporosis will be given the opportunity to participate in the Osteoporosis study that Synexus is undertaking. There is no obligation for people to participate and if they do decide to take part, their GP will be kept fully informed of their involvement. Patients will be reimbursed for all reasonable out of pocket expenses if they are accepted onto the study.

Not everyone will be suitable for the study but the DXA scan will give an indication whether a patient is at risk of developing Osteoporosis in the future and enable them to take preventative measures.

Mrs Patricia McNeilage first visited Synexus in 2008 after receiving a letter from her GP about an osteoporosis study that Synexus was running. As part of the recruitment campaign for the study Synexus was offering certain women local to Synexus' Dedicated Clinical Research Centres a complimentary DXA scan. When Mrs McNeilage had the scan at Synexus she was diagnosed with osteopenia which is the early signs of bone loss that can develop into osteoporosis.
Mrs McNeilage explains:- "After having the scan at Synexus I was diagnosed with osteopenia and the staff at the centre took the time to carefully explain to me what this meant. Although I did not meet the criteria to take part in the study if I hadn't of gone along to see Synexus that day I would never of known about the osteopenia. Because it was detected early I have been able to liaise with my GP and take action to prevent it from getting worse and turning into osteoporosis. I have been taking a calcium supplement since I was diagnosed and my last scan showed no signs of osteopenia. I am so thankful to Synexus, if it wasn't for them I could be suffering with severe osteoporosis now"

Since then Mrs McNeilage has visited Synexus several times to register her interest in other studies. She says:- "I would have no hesitation in taking part in a study with Synexus in the future. The staff are excellent and there is absolutely nothing to be afraid of. You get a thorough health examination from head to toe so, even if you don't get accepted to take part in the study, you have peace of mind about your health."

Participating in a Synexus clinical study means patients receive increased medical attention and may benefit from medications that aren't yet available to other sufferers of their condition, while making a positive contribution to the health of future generations.

For more information about Synexus and the other studies that it is currently conducting visit:- improvinghealth.com.

Ear's looking at 100,000 of you, kid!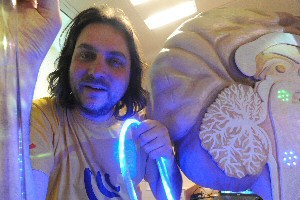 THE Bionic Ear Show from national charity Deafness Research UK passed a major milestone in April, having been seen and heard by over 100,000 children and adults throughout the UK since its launch in 2007. The award winning show has also passed the 10,000 mark this week for the number of adults who have received its free hearing screenings.

The road show's achievements were celebrated with 'business as usual', with several performances at Fircroft Primary School (Wandsworth, London) on 16 April 2013, followed by a show choc-full of fun science at the Science Alive Festival in Harlow in Essex on 17 April 2013.

Delivered by its ever popular and irrepressible presenter Tobin May, together with 'the world's largest ear', the roadshow tours the country with its message on good hearing health. The show has blossomed over the years, culminating in reaching the 2012 National Lottery Awards final.

"The thought that we have been seen by over 100,000 adults and children is an amazing and a humbling one. When we set out on the road for the first time, few would have predicted that we would reach so many people and enjoy such success and popular support from the businesses and communities we have visited. If you had told me back in 2007 that we would reach 100,000 people and be finalists in the National Lottery Awards, I would not have believed you." said Tobin.

The Bionic Ear Show is an interactive 'story of sound' that helps people to understand how the hearing system works, how hearing is lost, and how to look after it. While lots of fun, the show also explains how current and future medical research could provide effective treatments for hearing loss. As a former teacher, Tobin employs a variety of techniques and activities to get the hearing message across. These include a 22ft long display explaining how the ear works; plus group activities like 'guess that tune'.

"While Deafness Research UK remains committed to supporting world class research, it's vital we get the hearing health messages out there for all and, as our flagship outreach programme, the Bionic Ear Show has proved an undeniable success. The show stands as a visible testament to the positive impact that Deafness Research UK has had on people's lives and Tobin and the rest of the team who work on this project have played a key role in making sure that it has a lasting legacy in terms of education and awareness." said Vivienne Michael, Chief Executive of Deafness Research UK.

The idea of the show was originally conceived by Professor Matthew Holley of Sheffield University's Department of Biomedical Science. At the heart of the show's success is its ability to be both simple enough to keep children entertained, yet sophisticated enough for an expert not to be bored.

The show has literally reached the four corners of the UK, with extended stays with the people of the Shetland Islands, plus keynote visits to Northern Ireland, alongside hundreds of visits to schools and businesses throughout mainland UK. From large manufacturing concerns to small schools and community groups, from SMEs to oil rigs, no distance has been too great or location to remote for the Bionic Ear Show to reach. Thanks to sponsorship along the way, from Specsavers, the Scottish Government and BUPA to its current sponsor the Big Lottery Fund; it has all been delivered to audiences free of charge.

Hearing loss is a growing problem in the UK, affecting 1 in 6 people; that is more than 10 million people; so, despite reaching over 100,000 and counting, the show's messages are more relevant than ever. Tobin's infectious style captures the imagination and no scientific knowledge is required to enjoy the spectacle.

Anyone who would like the Bionic Ear Show to visit their school, community group or event free of charge should contact Laura Turner at Deafness Research UK on:- 020 7164 2294 or email Laura at:- laura.turner@deafnessresearch.org.uk.
You can also find out lots more about the Bionic Ear Show at:- bionicearshow.org.