Last few days of the BHF Charity Shop Sale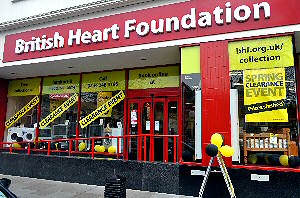 THE British Heart Foundation's Furniture and Electrical shop on Lord street has been holding an Easter stock clearance sale. The charity shop that specialise in 2nd hand house hold furniture and house hold electrical goods like TV. "Our shops always need good quality donations to raise vital funds for our life-saving work. We can sell all sorts of things in our Stores such as suites, sofas, chairs, dining sets, beds and wardrobes. That is not forgetting a large array of electrical items including TVs, Hi-Fis, washing machines, fridges and dishwashers. So, if you are doing a spring clean, please do not forget that the items you no longer need might just be what our customers require. Your donation of an item might just help save someone's life as a result. Also, if you are looking for a quirky, unique item or even a new sofa for your newly decorated room, why not pop on in and take a look at what is on offer. Again your purchase will help us. Our sale will be over very soon, so please do not miss the chance to get an even cheaper bargain! Also we are looking for more volunteers, so please ask in store, should you feel you can help us in anyway. You can find out more information about volunteering, giving donations and also about what we do by visiting our website at:- bhf.org.uk" a spokesman for the charity told us.
BHS store in Southport smash Easter fundraising support for the NSPCC
THE NSPCC are pleased to announce that the BHS store in Southport have raised over £430 for the NSPCC during an Easter week extravaganza to support the children's charity.

Staff at the BHS store in Southport took part in variety of Easter themed activities throughout the week including, an Easter egg raffle, face painting, fancy dress and in store collections.

In total BHS stores across the UK raised over a fantastic £104,454 over the Easter week, from Friday, 29 March to Saturday, 6 April 2013.

Alison Roberts, NSPCC corporate fundraising executive, said:- "BHS have been fantastic supporters of NSPCC and staff are always keen to get stuck in to fundraising activities. The Easter week extravaganza was a great success and we are thrilled that their efforts have paid off. It is a testament to their commitment and the generosity of their customers that they continue to raise so much for the NSPCC so thank you to BHS staff and customers for their ongoing support."

Since 2008 BHS has raised over £1.2 million for the NSPCC and have committed to continue to raise money and make a difference through 2013/2014.

All the money raised by BHS will make a massive difference to the lives of children and young people in Southport and across the UK. It could pay for more ChildLine counsellors to answer contacts from children by phone and online; help the NSPCC answer more calls from adults with concerns about a child; and enable the charity to develop innovative and pioneering services for children who have suffered abuse and harm.

If you would be interested in supporting the NSPCC in your local area, please contact the NSPCC North West fundraising team on:- 0844 892 0253 or please visit:- nspcc.org.uk.

SOUTHPORT BASED PADDY TO FRONT ADVERTISING CAMPAIGN FOR DEBUT MANCHESTER PET SHOW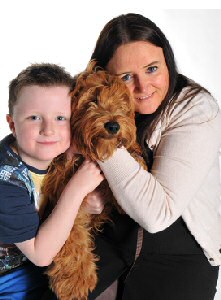 A 7 month old Cockerpoo, Paddy, owned by Kerry, Declan and Charlie Preston of Southport has been picked by a panel of judges to become the face of the Manchester Pet Show 2013 advertising campaign.

Hundreds of entries from across the North West were received through the show's social media competition earlier this year, with people submitting pictures of their perfect pet to front regional billboards, banners, direct mail, website and social media advertising.

A natural in front of the camera, Paddy proved he was the model candidate as he attended his 1st ever photo shoot last week, posing for his pictures.

Owner Kerry said:- "I was so thrilled to hear that Paddy had won the competition! Everyone obviously thinks their pet is the best but to have someone else think the same is just amazing! He loved the camera and we can't wait to see his pictures on the campaign advertising around the region."

Cat Geary, Director of Marketing & Events for Manchester Pet Show added:- "The campaign shoot was a huge success and Paddy was a true star in front of the camera. What better way to celebrate the 1st ever Manchester Pet Show coming to the North West than to have local pets front the campaign."

Paddy's pictures will now join a handful of other winners from across the region to front the marketing in the lead up to the show which debuts at EventCity this September.

5 different worlds; Discover Dogs, Discover Cats, Discover Small Furries, Discover Exotics, Discover Birds and Fish, will provide endless hours of entertainment with agility demonstrations, grooming techniques, impressive displays, retail outlets, activity zones, educational talks, animal clinics and opportunities to meet heroic 4 legged friends. Plus famous faces from the world of TV will be gracing the show to share their passion for pets.

Tickets are now on sale for the event that takes place over 7 September and 8 September 2013, at Event City, Manchester and tickets are available online for advance purchase.
Volunteers required to take part in the Big Beach Clean-up at Hightown and Hoylake
THE Marine Conservation Society (MCS) and Marks and Spencer (M&S) are organising beach cleans at Hightown and Hoylake and need plenty of local help to make sure the shoreline gets a tidy up ready for summer. The event is part of the nationwide Big Beach Clean-up which is now in it's second year and will see thousands of volunteers clean up almost 120 beaches around the UK coast as part of the M&S Forever Fish campaign. The clean up at Hightown will be held on Thursday, 25 April 2013, and at Hoylake on Friday, 26 April 2013, and will only take a few hours. Beach litter trends around the UK have been rising over the last 20 years and MCS works to highlight the dangers of rubbish both on the shore and in the sea. You can register at:- mcsuk.org/foreverfish and as an incentive volunteers who sign up in advance will receive on the day of the clean-up a £5 off a £30 spend on food and drink at M&S voucher (terms and conditions apply).