1st XtremeSTORM hits Southport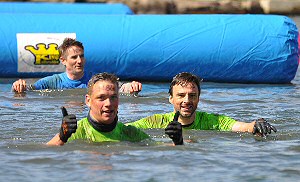 THE XtremeSTORM event was held on Saturday, 20 April 2013, all around Southport Beach, Victoria Park and the Marine Lake. This endurance event, not only tested those competing to their physical limits, but also their mental ones. The course was more than your average marathon and closer to a triathlon, as those brave enough to take the challenge battled endurance obstacles, mental challenges and also the cold water of Southport's Marine Lake. The course was 18km long and had 35 obstacles which had been specially built for the event by current and Ex-Military Forces personnel. Our hats off to STORM Consultancy's Managing Director, Jonathan Cunningham MBE, who came up with the idea for this event, for putting on what he promised would be a fantastic spectacle and advertisement for the town, for that is what he delivered! For those watching it was exhausting too, as it was a real whirlwind event trying to keep up with those taking part. Yet somehow, some of the teams, who were doing it for charity, managed not to lose their supporters as they shot along the course, so I think some of the supporters should look at running it themselves, if it is held next year! It might not have been a competitive race, but the faces of those who completed the course said it all, as they beamed in their achievements. Some of the competitors made it harder still, as not content with battling along a course that would make the SAS feel faint, they also dressed in fancy dress! Mind you, we think Batman and Robin might have taken the Joker's comment to heart:- "The only sensible way to live in this world is without rules. And tonight, you're going to break your one rule." Quite how they managed to complete the course is a mystery, but they did and at lightning speed! Let's hope this event returns in 2014, as it was truly impressive. Jonathan Cunningham MBE added that:- "I would like to thank everyone involved for their support and help in delivering what was a very successful event. I would like to say thanks to you all (by name) on here, but the list is far too long! It was such an impressive sight to see all those who entered, pushing themselves to the very edge of their physical and mental abilities and taking part for personal glory. It is a fantastic achievement by all those who raced around the course and completed in it. They are true athletes!" Luckily, if you did not see this event, or like us, found it far too hard to get around and photograph all the amazing challenges, then you will be pleased to know that it will be on TV very soon! The event was being filmed by both Sky Sports and British Euro Sport, along with the Discovery Channel, plus Channel 4. The main TV show on Channel 4 will be called XtremeSTORM and will premier on 12 May 2013.
We hope you enjoy our photographs that we have taken, and they can be located clicking on here now!!! Also to find out more about the event, why not read our report in last week's issue and also take a look at the events Facebook page and it's website.

KEEP up-2-date
with our free daily news emails.

Are you subscribed? Si

g

n

u

p

today

to

our daily email news service via... Formb

y

-

Re

p

orter

.com

.

If you subscribed you can keep in up-to-date with what's going on in and around Merseyside. It is free and we do not send out massive amounts of emails. Also your email is kept under the UK's Data Protection Act, so you can be sure that you will not have problems.
...HAPPY BIRTHDAY...
If you have someone you want to say happy birthday to, for free, then use the email address below to send us the names you want us say happy birthday to, and/or a photograph. Email us today!
| | | |
| --- | --- | --- |
| | Click on to read on! | Click on to read on! |